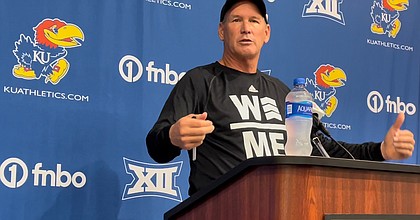 It may be cliché, and it isn't because he's unimpressed by his team's fast start, but Kansas football coach Lance Leipold made it clear Tuesday that the Jayhawks haven't done anything yet.
"Yeah, it's nice to be 3-0," he said during his regular weekly press conference at Mrkonic Auditorium. "But it's only as good as we're going to do this week."
Those words, while common throughout sports, rang out like they came from a man who has won a time or two in his life. Leipold, of course, has done plenty of that during stops at Division III Wisconsin-Whitewater, where he won six national championship, and Buffalo, where he went 24-10 and to three straight bowl games in his final three seasons.
While Leipold's process at Kansas has closely resembled the work he did at those schools, Leipold said the emphasis inside the program at this point is simply on continuing to do the things that have produced good early results.
"We're sitting in a spot that this program hasn't seen in a long time," he said. "But if we spend a lot of time worrying about that we're never going to keep moving to our fullest potential. I'm very proud of these guys, I'm very proud of our staff, all those things, but I don't walk up and down the hall and tell them how proud I am every minute."
The reason for that is simple. Kansas has another game to play on Saturday. It will come against unbeaten Duke (3-0) and kick off at 11 a.m. on FS1.

Just because it's one of the most highly anticipated KU football games in the last 13 years, and just because it promises to deliver an environment that has not been seen in Lawrence in more than a decade, does not mean that it's any more important to Leipold and his staff, or the Kansas players, than the three games that came before it or the eight games that will follow it.
"You have to keep your expectations and your work ethic and your attention to detail the same," Leipold said. "And we talked about that as a staff on Sunday. It's nice to see that our early start's being recognized, but shortly after that happens you have to just keep your head down and stay focused on what you've got to get done and get better at."
There are plenty of areas for the Jayhawks to work on, but they've been better than expected in far more facets of the game.
Leipold credits that to the approach, communication and buy-in that have been executed at a high level for months, and so much of it was derived from the earliest conversations Leipold and his assistants had with the players on the roster. When the new coaches arrived in Lawrence in the spring of 2021, they asked the returning players what they needed and wanted to see, and Leipold and his staff have built a lot of their plan around addressing those needs.
"That has helped us," Leipold said Tuesday.
Accountability, attention to detail and passion and enthusiasm were on the list. But so, too, was a consistent approach.
"A year ago, we talked about that as things started to change, they're going to see that the approach and expectations are going to stay consistent," Leipold said. "Our guys have handled it (well) and understood (that)."
They also have handled the extra attention that has been put on the program from all corners of the college football universe.
Pregame shows have talked about Kansas and Leipold, analysts have picked the Jayhawks to win in each of the past two weeks, and oddsmakers have even made the Jayhawks a 9-point favorite this week against Duke.
After a self-deprecating joke about what talking about him would do to ratings, Leipold said he was "proud" that the program was "getting recognition."
But he also knows all too well that the attention can disappear as quickly as it arrived if the Jayhawks don't continue to put in the work required to be worthy of that attention.
"I think we're doing a good job," he said of handling the increased attention. "It's easy to be distracted, but I think once they're in this building they've done a good job."
One of the reasons behind that is the focus, from top to bottom, has remained on the team above everything else. Leipold even subtly emphasized that point on Tuesday with his wardrobe, wearing a black, longsleeve Adidas T-Shirt that featured the word "We" written above the word "Me."
"That's what's important," Leipold said. "It isn't a player. It's not Lance Leipold. It's a program and a staff that's worked extremely hard since we arrived. It's a group of players that have bought in. For us to get our little time nationally is good. It's good for our current players, it's good for future players, it's good for this university and our community. But we're not DVRing it and running it back and forth, OK. It's just like everything else, and hopefully we can continue to build excitement and consistent excitement."