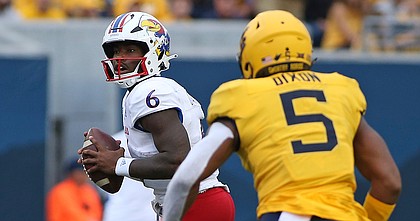 Kansas offensive coordinator Andy Kotelnicki likes to equate giving up sacks in football to a plane crash.
To be fair, KU's OC borrowed the philosophy from a chapter in the book "Outliers" by Malcolm Gladwell, but he still believes it nonetheless.
The chapter is called "The ethnic theory of plane crashes" and its principle theme is pretty simple.
"It's usually a series of little things that mount up (and lead to sacks)," Kotelnicki said.
In football, with both sacks and turnovers, there often is plenty of blame to go around when a breakdown occurs. On Wednesday, after Kotelnicki showed he was willing to knock on wood on in hopes of keeping the streak alive, he also offered a theory behind why KU's offensive line has had so much success keeping QB Jalon Daniels clean.
"A lot of times it's not just a bad decision by the quarterback," Kotelnicki said. "It's usually the receiver not running the route at the right depth or the left tackle oversetting, a lot of little things. To avoid sacks, to avoid the plane crash so to speak, it's about a lot of little things getting done correctly."
Those little things have been important for Kansas so far and they could be massive for the 2-0 Jayhawks this weekend at Houston.
Through two games, KU has yet to surrender a sack. That puts the Jayhawks tied for first nationally with eight other teams.
While little things leading to bigger issues is something Kotelnicki and the offense always try to avoid, he said Wednesday that there was another element of the offense's early success that has helped keep sacks off the board.
"Staying out of predictable situations," he said. "If you can stay out of third downs where you have to drop back all the time, that's part of it.
"It's a credit to our offensive line and everyone else involved in our blocking game," he added. "It's a credit to the rest of the offense to execute on first and second downs and to be able to be where they're supposed to be."
KU's first two opponents have presented little challenge in the pass rush department. But this week's foe likely will. Houston (1-1) ranks in a tie for third nationally with nine sacks in two games.
The defenses for West Virginia and Kansas sit tied for 33rd with a host of other teams with five sacks in two games.
Houston's Derek Parish, a 6-foot-2, 245-pound senior, ranks second nationally in total sacks, recording four solo sacks and two sack assists.
While Parish is certainly going to get a fair amount of attention from KU's offensive line on Saturday, he's far from the only one on the Houston defense that Kansas is worried about.
"I think their entire defensive line does," said Kotelnicki when asked if Parish popped off the screen while watching film. "This (defensive front) that we're playing against is very explosive and twitchy, and we'll have our hands full for sure."
KU center Mike Novitsky, who is the anchor of the O-Line, views it as his job to lead the charge in keeping all hands off of KU quarterback Jalon Daniels. And the stats through two games show that their efforts are working.
"It means we're doing what we should do," Novitsky said. "That's our job."
As such, Novitsky and the rest of his teammates in the trenches already have put in a lot of time studying Houston and they believe that Saturday's game will put their perfect season to date to the test.
"Their defense is very good, very athletic," Novitsky said. "Their front four is very physical. We've got a great challenge for us up front and we're excited for it. It's going to be great for us to see where we're at."
Kickoff is slated for 3 p.m. from TDECU Stadium in Houston. The game will be televised on ESPNU.