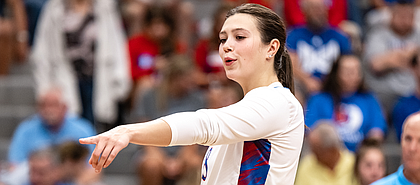 The 20th-ranked Kansas volleyball team stayed hot this weekend, sweeping three matches at the Black Knights Classic in West Point, New York, to move to 6-0 on the season.
On Friday, Kansas defeated Temple (25-15, 25-19, 25-17) and host school Army (25-21, 25-21, 25-20) behind an all-around attack that showed off the Jayhawks' depth.
Saturday morning, KU clobbered UConn in three sets, winning each one by the score of 25-14.
KU has lost just one set in six matches so far this season.
"From start to finish, that was one of the best 90 minutes we've played in quite some time," KU coach Ray Bechard said of sweep of UConn. "Little bit of a glitch with our serving, but other than that, we were consistently playing at a high level."
The fast start is significant for this team, which reached the Sweet 16 last season, because many of these same players were a part of last year's 2-3 start to open the season, which forced the Jayhawks to fight to find their footing before putting it all together for a deep postseason run later in the season.

In Friday's opener against Temple, super-senior Anezka Szabo and redshirt freshman Ayah Elnady tallied seven kills apiece to lead the Jayhawks' attack.
Sophomore London Davis added five kills and sophomore setter Camryn Turner led the way with 34 assists and five digs.
Elnady stayed red hot in the day's second match, recording 16 kills in the win over Army with zero hitting errors. She also joined teammate Lauren Dooley in recording three block assists. Super-senior Rachel Langs had four block assists against Temple.
Turner matched her assist output from Match 1 against Army, with 34, and recorded a team-high 14 digs.
"The Jayhawks had a good day," Bechard said after Friday's second win. "We had two quality opponents. We had to find different ways to win. Sometimes our serve reception wasn't up to standard, but we had some other people step up and do some good things and we are happy to get out of here with two good victories."
KU followed that up with an even better showing on Saturday. Szabo and sophomore Caroline Bien collected 11 kills apiece.
"Today I think we took a nice step forward with what lies ahead," Bechard said. "It was good to see all the phases come together. Ayah Elnady had a great weekend from a hitting efficiency standpoint. Camryn Turner was good and London Davis gave us a good push last night. We had a lot of different people step up, so I think there were moments for everyone to do their thing."
Next up, KU (6-0) will play at Kansas City on Wednesday before hosting Wichita State next Thursday and UNLV next Friday in their first home matches of the season at the Kansas Invitational.