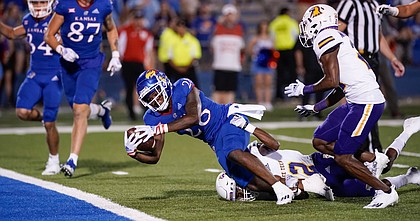 For months, coach Lance Leipold and the Kansas football team have talked about a renewed sense of confidence owing to the way they finished last season. They used those performances as motivational speeches, recruiting pitches and talking points about the direction they believe they are heading.
And while Friday's season opener was at times little more than a tune-up against an overmatched Football Championship Subdivision opponent, the early returns are positive.
The Jayhawks easily defeated Tennessee Tech 56-10 at David Booth Kansas Memorial Stadium before 34,902, starting Year 2 of Leipold's era with the first of what it hopes will be more than a few victories this season in front of the biggest opening-night crowd in eight years.
Related document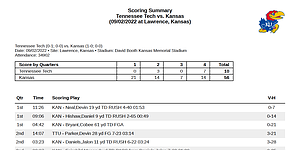 Box Score: KU 56, Tennessee Tech 10 ( .PDF )
"Most of the things that we just talked about also is about gaining confidence, and this team just hasn't had a lot of it," Leipold said. "We had it down the stretch last year and it's great to see them kind of take it and go with it again tonight."
Junior quarterback Jalon Daniels completed 15 of 18 passes for 189 yards, a touchdown and an interception before leaving the game in the final minute of the third quarter. Sophomore running back Devin Neal, the Lawrence High graduate, ran four times for 108 yards — his fourth career game in triple digits — and two touchdowns.
The Jayhawks racked up 502 total yards, including 246 in the first half, ran for seven of their eight touchdowns and were up 35-3 at halftime. Their 46-point margin of victory was their largest since they defeated Rhode Island, also an FCS opponent, 55-6 on Sept. 3, 2016.
Photo Gallery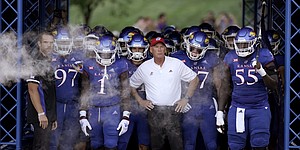 Kansas football v. Tennessee Tech
View a photo gallery from Friday's home opener between the Kansas Jayhawks and Tennessee Tech Golden Eagles at Memorial Stadium.
"I would say that I feel like we kept our foot on the pedal the entire game," Daniels said. "No letting up. Whatever play was called, we were able to go out there and execute it."
Friday's game was never going to be easy for the Golden Eagles, who went 3-8 last season but returned nine starters on offense and nine on defense. They appeared overmatched in nearly every phase; their quarterback, redshirt senior Jeremiah Oatsvall, a transfer who spent last season as a walk-on wide receiver at Memphis, was rarely given time to find his targets, and their defense did not consistently have the strength nor athleticism to control their opponent.
Kansas, which added 21 players via transfer since the end of last season and gave scholarships to six others from the high school ranks, already looked different than it did for significant stretches of last season. That was apparent from the opening minutes; it took six minutes for the Jayhawks to score two touchdowns, with Neal ripping off a 19-yard touchdown run and redshirt sophomore Daniel Hishaw Jr. running 9 yards for another.
Hishaw's touchdown, his first since 2020 as he missed all of last season with a hip injury, was preceded by a 56-yard pass from Daniels to redshirt sophomore Quentin Skinner.
"I had a flat route that was No. 1 in the progression," Daniels said. "I saw that they ended up having somebody outside of it. The safety ended up trying to take the corner route by LJ and he tried to cheat it, so that just leaves Q and a backside safety."
Kansas then blocked a field goal and returned it for a touchdown for the first time since 1996. Junior defensive end Jereme Robinson got his hands on Devin Parker's 50-yard field goal attempt and sophomore cornerback Cobee Bryant scooped the ball and returned it 61 yards for the touchdown.
Although Tennessee Tech made a 28-yard field goal attempt with 14:07 left in the second quarter, Kansas strung together two scoring drives in the final four minutes to keep its foot on the accelerator.
Daniels capped a six-play, 22-yard drive by going 11 yards for a touchdown on a designed run, and he then led the two-minute offense on an efficient seven-play, 63-yard drive over 1:29 that included seven passes, all completions, and a defensive pass interference penalty and ended with a 2-yard touchdown catch by senior tight end Mason Fairchild.
Both teams kept the clock moving in the second half. Kansas scored its fifth touchdown with 4:21 remaining in the third quarter when Neal, on the first play of the drive, ran 80 yards up the right side for the touchdown. It then added a sixth with 13:25 left in the fourth quarter with redshirt senior Jason Bean piloting the offense as redshirt sophomore running back Sevion Morrison, the transfer from Nebraska, ran 11 yards into the end zone before the lead hit 49-3.
Bean tacked on another touchdown on a 7-yard run with 9:46 to play, and Tennessee Tech finally found the end zone with 5 minutes remaining when Oatsvall completed a 4-yard pass to Heath Price.
Kansas went 6-for-7 in the red zone, with its only blemish a missed 40-yard field goal attempt by Jacob Borcila on the opening drive of the third quarter, and converted six of eight third-down attempts. Nine players had a catch, led by Arnold, who had four for 56 yards.
Tennessee Tech was held to just 190 total yards. Oatsvall went 10-for-18 for 76 yards, one touchdown and one interception and was sacked five times, including three by Lonnie Phelps Jr., a redshirt junior transfer from Miami (Ohio).
"We obviously made mistakes," Neal said, "but Week 1 — I don't ever get satisfied, but where we're at compared to last year first game, it's night and day."