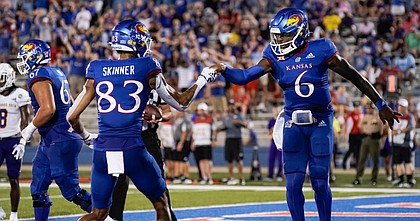 The Kansas football team got six touchdowns on the ground, another through the air and one more from its special teams in a 56-10 rout of visiting Tennessee Tech on Friday night at David Booth Kansas Memorial Stadium.
The win, which featured the largest opening night crowd in eight years (34,902), was exactly what the Jayhawks were hoping to get from the first game of Lance Leipold's second season at the helm — a dominant showing from start to finish that made a statement.
It wasn't just the Kansas offense that made the kind of noise that Kansas fans seldom have seen in recent years on Friday night.
Related document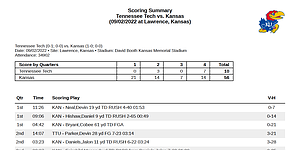 Box Score: KU 56, Tennessee Tech 10 ( .PDF )
The Kansas defense was stout from the opening series, forcing back-to-back three-and-outs to open the game, which gave the offense a chance to race out to a 14-0 lead.
By halftime, the Jayhawks led 35-3. Kansas (1-0) did not punt all night and also was penalized just four times.
Sophomore running back Devin Neal's 80-yard run late in the fourth quarter — his second TD of the night — represented the first points for either team in the second half and was effectively the play that slammed the door shut.
The FCS Golden Eagles (0-1) finally got into the end zone with five minutes to play in the game, but that came long after the game had been decided.
Kansas is now 1-0 for the second year in a row, having won both openers under Leipold. Last year's win came via a 17-14, come-from-behind win over South Dakota. So Friday's victory was drastically different than that.
Photo Gallery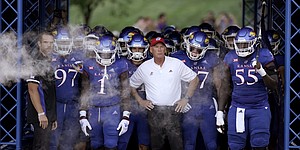 Kansas football v. Tennessee Tech
View a photo gallery from Friday's home opener between the Kansas Jayhawks and Tennessee Tech Golden Eagles at Memorial Stadium.
That's what the Jayhawks are hoping this entire season will be. After winning the opener in 2021, KU lost eight in a row before winning at Texas to finish the season 2-10.
KU will face a much tougher test in Week 2, when it travels to West Virginia next Saturday for its Big 12 opener.
The Mountaineers are coming off a tough loss at rival Pitt on Thursday night.
Kickoff for that one, on Sept. 10, is slated for 5 p.m.
Stay tuned to KUsports.com for much more on KU's season-opening victory over Tennessee Tech.
How they scored:
1Q
11:26 – Devin Neal 19 run. Jacob Borcila kick good.
The drive covered 40 yards in four plays and was kept alive by a 21-yard pass from Jalon Daniels to LJ Arnold on third-and-10 to keep the drive alive. KU 7, TTU 0.
9:06 – Daniel Hishaw Jr. 9 run. Borcila kick good.
The drive covered 65 yards in two plays and featured a deep ball from Daniels to Quentin Skinner on the first play of the drive. KU 14, TTU 0.
4:42 – Cobee Bryant 61 FG block return. Borcila kick good.
After Tennessee Tech picked up its first first down and moved into KU territory, the Jayhawks' defense stiffened and forced a 50-yard field goal attempt. Jereme Robinson blocked the kick and Bryant scooped it up and raced down the KU sideline to the end zone. KU 21, TTU 0.
2Q
14:07 – Devin Parker 28 field goal.
Gifted with possession in KU territory after a muffed punt by Luke Grimm, the Golden Eagles cracked the scoreboard to cap a seven-play drive. KU 21, TTU, 3.
3:23 – Jalon Daniels 11 run. Borcila kick good.
The Kansas defense gave the offense the ball back in another favorable situation and Daniels made it count. His run, on third-and-11, capped a six-play, 22-yard that took 3:24 off the clock. KU 28, TTU 3.
:07 – Mason Fairchild 2 pass from Jalon Daniels. Borcila kick good.
KU's offense looked sharp in the 2-minute drill, scoring its fifth touchdown of the first half on a seven-play, 63-yard drive that took 1:29 and featured seven Daniels completions. KU 35, TTU 3.
3Q
4:21 – Neal 80 run. Borcila kick good.
After a missed field goal by Tennessee Tech, the sophomore running back got the Jayhawks on the board for the first time in the second half in a single play, racing 80 yards around the right side on the first snap of the drive. KU 42, TTU 3.
4Q
13:25 – Sevion Morrison 11 run. Borcila kick good.
The Nebraska transfer became the third Kansas running back to score a touchdown in this one, punching it in from 11 yards out to cap a four-play, 76-yard drive that took 2:01. KU 49, TTU 3.
9:46 – Jason Bean 7 run. Borcila kick good.
KU's back-up quarterback, playing in relief of Daniels because of the lopsided score, added his name to the list of Jayhawks who scored with his legs. Bean's designed QB run to the right side capped a four-play, 25-yard scoring drive that came after an interception by Eriq Gilyard. KU 56, TTU 3.
5:00 – Heath Price 4 pass from Jeremiah Oatsvall. Parker kick.
Aided by a couple of penalties and the fact that the game had long been decided, the Golden Eagles finally reached the end zone on nine-play, 75-yard drive that took 4:46. KU 56, TTU 10.