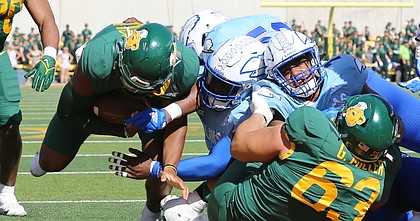 Waco, Texas — A second-half rally fell just short for the Kansas football team, which dropped its third consecutive game, 35-23 to Baylor Saturday afternoon at McLane Stadium.
The Jayhawks (5-3 overall, 2-3 Big 12) fell into a 28-3 hole in the first half and were outgained 250-61 yards in the process. That proved to be enough for Baylor (4-3, 2-2) to hold off the Jayhawks in the second half.
"We didn't get much of a rhythm," KU coach Lance Leipold said of the game's opening half. "We didn't convert on third down. We didn't punt the ball really well. And they (Baylor) pretty much dialed up what they needed to, run and play action, to make it very difficult for us."
Baylor's freshman running back, Richard Reese, gave KU fits, rushing for 186 yards on 31 attempts and two scores. In all, the Bears outgained the Jayhawks 437-288 in total yards and 273-56 on the ground.
Related document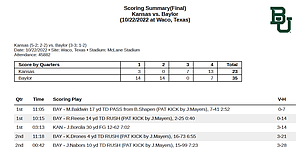 Box Score: Baylor 35, KU 23 ( .PDF )
For the second game in a row, KU's Jason Bean filled in for injured quarterback Jalon Daniels, who was suited up and threw the ball around during the pregame but did not play. Bean passed for 232 yards on 16 completions in 27 attempts with one touchdown. He also scrambled for 25 yards on eight attempts with a score on the ground.
Despite Daniels not playing Saturday, Leipold said KU's starting QB was "moving in the right direction" for the future.
It was a first half full of blunders for the Jayhawks, who went three-and-out on the opening drive and then fumbled on their second possession. Within the first five minutes of play, KU trailed 14-0 after Baylor capitalized on each mistake.
The Jayhawks then marched to a 12-play, 62-yard drive that was capped off by a 30-yard field goal from Jacob Borcila. Those were the only points of the first half for Kansas, though, as the Jayhawks punted on their next two drives and allowed the Bears to score 14 more to lead 28-3 at halftime.
In the midst of Baylor's first-half domination, KU cornerback Mello Dotson picked off a Blake Shapen pass but KU's offense responded by going three-and-out, foregoing any chance to gain some momentum.
"Even when Mello got the interception, we went three-and-out. And then we punt it to the 1 and then they go right down and score again," Leipold said. "That's the disappointing part of the game right now. We were making some of those plays early in the year; we're not right now."
The second half was a different story and KU played with more fire and physicality in the final two quarters.
The Jayhawks ripped off 20 unanswered points in the third and fourth quarters, capitalizing off the Bears' mistakes. Leipold said the talk at halftime was about fighting back.
"Obviously, when you're down more than three scores, 28-3, you're gonna have to close the gap a little bit," he said. "Late in the game you've got to try to make that happen, as well. So, it's score-related but also matchup-related sometimes, too."
Bean said the team came out "pissed off" following the first half rout and added, "once we get going on offense, I think it's kind of tough to stop us."
KU was within striking distance after a 4-yard touchdown run by Bean trimmed Baylor's lead 28-23 with a little under six and a half minutes remaining. But KU's run defense was victimized again, when Reese and the Bears sealed the deal with a seven-play, 69-yard scoring drive to set the final margin. Fifty-five of the 69 yards on the drive came on the ground, as the Bears marched down the field and kept the clock running, taking precious time away from KU's comeback hopes.
"The part I'll take away from this game is when Jason scored and there's five, six minutes to go, we're right there," Leipold said. "I won't put it on our defense because they gave us so many more opportunities to even keep us there when we were struggling at other times."
KU gets its bye week now, after opening the season with eight games in eight weeks. Leipold said it's a much-needed idle week, but that there would be no time to pull back after falling into a three-game skid.
"It's not an off week," Leipold said. "We've got a lot of work to do in a lot of different areas and things that we talk about and have to get better at."
Coming out of the bye, the Jayhawks will welcome No. 11 Oklahoma State to Lawrence on Nov. 5 for another tough Big 12 battle. Game time and network have yet to be announced.
Leipold said Saturday's loss was another learning experience for his program, but that the group needed to be able to start showing signs of fixing some of its mistakes.
"We continue to learn more about ourselves as we go," Leipold said. "We have to be able to recognize that, address it, and continue to have the burning desire to get better and find a way to win football games."