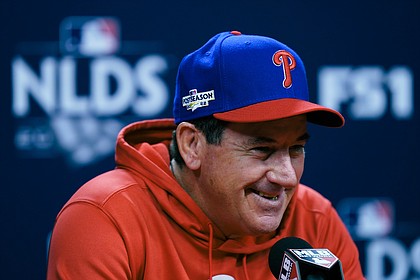 As the Major League Baseball season winds down, with four teams vying for the two spots in this year's World Series, former Kansas baseball player Rob Thomson is hoping to guide the Philadelphia Phillies to this year's Fall Classic.
A catcher at Kansas from 1983-85, Thomson has worked as the Phillies' manager throughout their playoff run after first being named interim manager in June and receiving the title full-time earlier this month.
The Phillies were seven games under .500 when Thomson took over and they now sit three wins away from the World Series, entering Friday's Game 3 of the National League Championship Series against San Diego, with the series tied at 1 win apiece.
During his days as a Jayhawk, Thomson delivered what still stands as the best individual hitting season in program history. He hit .443 during the 1984 season and left KU with a .369 career average. That mark is good for fifth on KU's career batting average list.
He also ended his KU career with the sixth best slugging percentage mark at .570 and ninth highest on-base percentage at .448. He was voted KU's MVP by his teammates after both the 1984 and 1985 seasons.
"Rob was a great baseball player during his time at Kansas," first-year KU coach Dan Fitzgerald said this week. "We're incredibly proud of what he's accomplished in his coaching career, and our program is cheering on him and the Phillies in their pursuit of a World Series championship."
The Phillies defeated the St. Louis Cardinals 2-0 in the wild card round and then knocked off the defending World Series champion Atlanta Braves in the National League Division Series, 3-1.
The 1984 season Thomson's best at Kansas in a number of ways. He led the Big Eight in batting average (.443), hits (70) and doubles (18) and also had a .671 slugging percentage and .485 on-base percentage, which both rank 10th on the KU single-season lists. Thomson toppped both of those single-season marks in 1985 with a .678 slugging percentage and .519 on-base percentage.
Thomson was drafted in the 32nd round of the 1985 MLB Draft by the Detroit Tigers. He played catcher and third base in the Tigers' minor league ranks, reaching as high as Class A before calling it a career. From there, he moved into coaching and has spent more than 30 years working in various positions with the Tigers, Phillies and New York Yankees.
Game 3 is set for a 6:37 p.m. first pitch on Friday night, and Game 4 is slated for a 6:45 p.m. start on Saturday night.