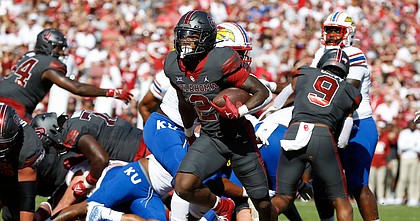 After starting the season with five consecutive victories, the No. 19 Kansas football team suddenly finds itself riding a two-game losing streak.
Oklahoma snapped its own three-game losing streak by rolling over the Jayhawks 52-42 on Saturday at Oklahoma Memorial Stadium in Norman, Oklahoma.
It marked Oklahoma's 18th consecutive win over Kansas — all by double digits — and Kansas still has not won in Norman since 1996 nor beaten OU period since 1997.
"I love seeing our guys in victory formation there at the end," OU coach Brent Venables said after the win. "It was a good, hard-fought win, dragging ourselves off the mat and getting back on the saddle."
The Jayhawks (5-2 overall, 2-2 Big 12) never led and gave up 701 yards of total offense, including 487 yards in the first half alone. That mark was the most by an Oklahoma team in the first half of a game since 1986.
"They came out clicking on all cylinders," Kansas coach Lance Leipold said. "They played very well, very aggressive. I think we were on our heels most of the day. It was like they were playing downhill."
Related document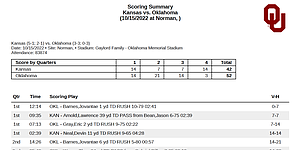 Box Score: Oklahoma 52, Kansas 42 ( .PDF )
Already playing without starting QB Jalon Daniels, who was on the sideline but not in uniform, the Jayhawks also lost starting cornerback Cobee Bryant to a gruesome lower leg injury late in the first half.
Leipold told reporters after the game that it was a wait and see situation with Bryant's injury. The sophomore from Evergreen, Alabama, entered Saturday leading KU in both interceptions (2) and pass break-ups (3), including the pick-six that helped seal the West Virginia win back in Week 2.
That was just one of the issues for a Kansas defense that was gashed by the Oklahoma offense all afternoon.
Eric Gray ran for 176 yards, Marvin Mims had a career-high nine catches for 106 yards and Brayden Willis had five catches for a career-best 102 yards for the Sooners.
"Very poor day, defensively, overall," Leipold said on the radio broadcast after Saturday's loss. "It just seemed like we were waiting and not closing the gaps. They're a big, physical team. They executed extremely well today and we didn't."
Oklahoma (4-3, 1-3) ran 100 plays to get those 700 yards, which kept the KU defense under duress and on its heels all afternoon.
"It's tough, you know, and it's hot and they're going fast and that's their M.O.," Leipold said when asked about the high-pace of OU's offense. "We need to be prepared for that and knew they would do it, but, uh, yeah."
KU's offense kept fighting throughout the game, cutting the OU lead to two scores early in the fourth quarter. But the defense could not come up with enough stops or slow Oklahoma down at all.
In his first game back from a head injury that kept him out of most of the previous two games, Oklahoma quarterback Dillon Gabriel looked to be in complete control throughout the day Saturday.
He finished 29-of-42 passing for 403 yards and two touchdowns and added another 37 yards and one touchdown on the ground.
OU's offense finished the day 16 of 21 on third down, which led to the Sooners' first conference win of the season and KU's worst loss of 2022.
"Their backs were to the wall a little bit in this situation, and they came out and played extremely well," Leipold said of the Sooners. "And we didn't quite match that. And we've got to find a way if we want to be that type of team, that we can do that."
Filling in for injured starter Jalon Daniels, Kansas quarterback Jason Bean threw for four touchdowns for the second week in a row but he also threw two interceptions while finishing 16-of-27 passing for 265 yards in his first start since Week 9 of the 2021 season.
Lawrence Arnold's career-high performance of 113 receiving yards on five receptions, with two touchdowns, and Mason Fairchild's six grabs for 106 yards and two touchdowns paced the KU offense. Devin Neal and Ky Thomas also both scored on the ground for KU. The TD run was Thomas' first as a Jayhawk.
KU's six touchdowns moved the team's total to 28 for the season, marking the most they've scored in a single season since recording 45 TDs in 2009.
Next up, Kansas will travel to Baylor for an 11 a.m. kickoff next Saturday.
"I'm proud of this group," Leipold said after the setback. "We battled to the end (and) we have to get on this bus and get back (home) and turn our attention to Baylor and try to get as healthy as we can to go down to Waco and play against the defending conference champs."
HOW THEY SCORED
First Quarter:
12:14 – Jovantae Barnes 1-yard run. Zach Schmit kick. On the opening drive of the game, the Sooners marched 79 yards in 10 plays and 2:41 with little resistance shown by the Kansas defense. OU QB Dillon Gabriel looked sharp on the drive, hitting on four of six passes and adding seven rushing yards to set up the score by the home team. (OU 7, KU 0).
9:35 – Lawrence Arnold 39-yard reception from Jason Bean. Jacob Borcila kick. This grab, which Arnold juggled before gaining control as he crossed the goal line, capped a six-play, 75-yard KU drive that took 2:39 off the clock. It's plays like that, that are going KU's way this season, that have created a whole different feel around this program. (KU 7, OU 7).
7:13 – Eric Gray 2-yard run. Schmit kick. The Sooners marched down the field with ease for the second time on the day to the tune of nine-play, 75-yard drive that took just 2:22 off the clock. The scoring play came on third-and-goal for the second straight drive. (OU 14, KU 7).
2:39 – Devin Neal 11-yard run. Borcila kick. Kansas answered another OU score with its second solid drive of the game. Bean hit Mason Fairchild for a 26-yard gain and a key first down and also ran a perfectly executed option with wideout Quentin Skinner to put the Jayhawks in the red zone. Neal did the rest to cap off the nine-play, 65-yard drive that took 4:28. (KU 14, OU 14).
Second Quarter:
14:26 – Barnes 6-yard run. Schmit kick. After giving the ball away with a fumble on their previous drive, the Sooners' defense forced a KU three-and-out and got the ball back for the offense. From there, OU ripped off its easiest drive of the day, covering 80 yards in five plays and just 57 seconds. (OU 21, KU 14).
5:42 – Theo Wease 24-yard pass from Dillon Gabriel. Schmit kick. OU's cruise-control ways kept going on this drive, with the Sooners gashing the KU D on the ground and through the air. The scoring play beat KU cornerback Cobbee Bryant on a double move that left Wease wide open for the easy score. (OU 28, KU 14).
2:40 – Eric Gray 28-yard run. Schmit kick. OU pushed its lead to three tocuhdowns with another quick-strike score, this one covering 54 yards in three plays and 49 seconds. (OU 35, KU 14).
1:36 – Mason Fairchild 18-yard pass from Bean. Borcila kick.
After Oklahoma opened up a three-score lead, the Jayhawks raced down the field before halftime to cut the lead back down to 14. Devin Neal ripped off a 46-yard run to jumpstart the drive and Bean threw a dime to his wide-open tight end for the score. The drive covered 75 yards in four plays and 1:04. (OU 35, KU 21).
Third Quarter:
10:16 – Dillon Gabriel 1-yard run. Schmit kick. An Oklahoma interception of Bean on the first drive of the second half set up the Sooners' sixth TD of the day. The drive traveled 47 yards in nine plays in 2:33. (OU 42, KU 21).
5:56 — Arnold 28-yard pass from Bean. Borcila kick. After an interception by Kenny Logan Jr., the Jayhawks scored quick on a three-play, 47-yard drive that took less than a minute and featured a second tough catch near the goal line by Arnold. (OU 42, KU 28).
2:36 — Brayden Willis 26-yard pass from Gabriel. Schmit kick. The Sooners extended their lead back to three scores with a 10-play, 75-yard scoring drive that took 3:20 and featured another pitch-and-catch to a wide-open wide receiver for the score. (OU 49, KU 28).
Fourth quarter:
10:33 – Ky Thomas 1-yard run. Borcila kick. The KU defense struggled mightily all day but it did force a couple of turnovers that the KU offense capitalized on. This one was of those moments, when a fumble recovery by the KU D led to the first Kansas touchdown of Thomas' career. (OU 49, KU 35).
5:18 - Zach Schmit 37-yard field goal. The Sooners kept rolling and only stalled when Kansas stacked the run and started using its timeouts to try to stay in the game. That led to OU coach Brent Venables deciding to take the field goal to ice the game and cap a 16-play, 5-minute drive that spanned just 55 yards. (OU 52, KU 35).
3:31 — Mason Fairchild 9-yard pass from Bean. Borcila kick. Showing off their never-say-die attitude, the Jayhawks kept pushing on offense and added another touchdown late in the fourth quarter, highlighted by two big catches from Fairchild, including the TD. (OU 52, KU 42).