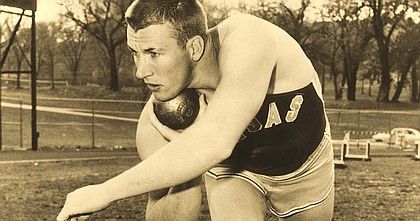 Former Lawrence high school legend and University of Kansas shot put standout Bill Nieder, who held significant records in the event at both schools, died last week, his family confirmed to the Journal-World.
Nieder was 89.
Known best for winning the gold medal at the 1960 Olympics in Rome, Nieder might never have dabbled in the shot put if not for a football injury during his sophomore season at KU.
Taken out after the whistle on a play against TCU in the season opener in 1953, Nieder tore up his knee and nearly had to have part of his leg amputated. Doctors at the time told him his athletic career had reached its end, but the fiery Nieder was undeterred.
It might have been the end of his football career, but so much still awaited him.
"He always told me that football was his main love," his nephew, Mike Nieder, told the Journal-World on Monday. "And maybe that's what motivated him to do so well in the shot because that was all he could do."
All he could do was pretty darn good. A two-time Olympic medalist, Nieder won silver in 1956 in Melbourne before winning gold four years later. But even that wasn't a walk in the park.
At the Olympic trials leading up to the 1960 Olympics, a pre-trials injury led to Nieder finishing fourth in the shot put and he qualified for the team as an alternate. As Team USA prepped for Rome, Nieder responded by breaking the world record in one of the final meets of the season.
Mike Nieder said his uncle used to tell him that one of the three team members came down with a "mystery illness" that allowed Nieder to join the team and win gold.
One other story Mike Nieder recalled hearing was that of a bet between his uncle and KU legend Wilt Chamberlain. Chamberlain, Mike Nieder recalled, bet Nieder that he could outdo him in the shot put. He did. But there was a catch. Rather than using the standard technique, Chamberlain stood backwards and used the leverage of his long arms while launching the shot over his head with both hands.
The throw would have been illegal in a track and field setting, but Mike Nieder said it won the bet.

Long before he became an Olympic champion, Nieder set the shot put record at LHS that stood for 59 years. Nieder always said he expected his high school mark to be broken and that he would treat the LHS athlete who broke it to a steak dinner.
That happened in 2012, when Nieder flew from California to Lawrence to treat former LHS track standout Blake Hocking to the meal. Hocking's record of 62 feet, 9 inches, was two feet better than Nieder's mark.
He became the country's first prep athlete to break the 60-foot barrier with a 12-pound shot and, later, the first college athlete to break the 60-foot mark with a 16-pound shot.
Nieder owned the world record three times before his career was finished and he went into the National Track & Field Hall of Fame in 2006.
After he was finished competing, Nieder stayed close to the sports world, working for 3M to help develop the world's first ever artificial athletic turf. He also later helped sell synthetic track surfaces.
According to the family, Nieder passed away peacefully at his home in Angels Camp, California, where he lived for the past two decades, splitting time between his home there and a home in Maui.
The family will host a celebration of life for Nieder on Nov. 13 at Ironstone Vineyards in Murphys, California.