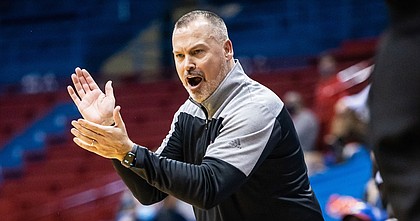 For the first time since 2012, the Kansas women's basketball team has been picked by the league coaches to finish in the top half of the Big 12 Conference standings in the preseason.
KU was picked to finish fifth in this year's Big 12 preseason coaches poll which was released Thursday. That's the highest for the program since it was picked to finish fourth in the 2012 poll.
It also illustrates that things are trending in the right direction for head coach Brandon Schneider's squad.
Just last year, the Jayhawks were picked to finish last in the Big 12 preseason poll and they blew that prediction out of the water by finishing fifth in the 2021-22 conference standings and reaching the NCAA Tournament for the first time in a decade.
KU also was picked to finish last in the Big 12 in 2019 and 2020 after being picked to finish second to last in 2018.
Needless to say, being picked as one of the more talented teams in the league is a new position for Schneider's program.
It's also warranted.
KU returns four starters and 11 players overall from last year's team, which finished fifth in the conference at 11-7 with a 21-10 overall record. That includes preseason all-Big 12 guard Holly Kersgieter and preseason honorable mention picks Zakiyah Franklin and Taiyanna Jackson.
All three returners played a huge role in the Jayhawks reaching their first NCAA Tournament since 2013 and advancing to the second round after a first-round win over Georgia Tech.
KU was one of six Big 12 teams to reach the NCAA Tournament last season and all six won at least one game in the postseason. In addition, the Big 12 ranked third in the conference NET rankings.
All four teams picked ahead of KU in this year's preseason poll received at least one first-place vote, led by preseason favorite Iowa State, which received four. Texas, which was second in the voting by a single point, also received four first-place votes, with Oklahoma and Baylor finishing in third and fourth-place respectively, with one first-place vote apiece.
KU finished fifth behind that group, with Kansas State, Texas Tech, West Virginia, Oklahoma State and TCU rounding out the preseason poll.
Kansas will open the 2022-23 season on Nov. 9, against Jacksonville, in the first of seven home games during nonconference play.
The Jayhawks will play a total of 16 games at Allen Fieldhouse this season, with the first Big 12 home game set for Jan. 4 against Texas Tech.
KU will not have any exhibition games this season.
2022-23 Preseason Big 12 Coaches Poll
1 - Iowa State, 75 (4)
2 - Texas, 74 (4)
3 - Oklahoma, 65 (1)
4 - Baylor, 62 (1)
5 - Kansas, 49
6 - Kansas State, 37
7 - Texas Tech, 29
8 - West Virginia, 26
9 - Oklahoma State, 23
10 - TCU, 10