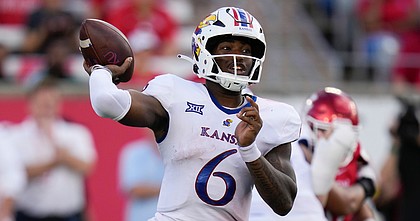 There's a book that Kansas football Offensive Coordinator Andy Kotelnicki considers to be his favorite that addresses and emphasizes the importance of a team coming together in the good times and the bad.
The book is called Extreme Ownership, and, according to Kotelnicki, there's a section in it that highlights a military debriefing after an incident of friendly fire that led to disaster.
"It talks about this mission they were on and they had an incident and (afterwards) every group immediately said, 'Hey, that's my fault. That's my fault. That's my fault,'" Kotelnicki said Wednesday. "To see that from our players is good. And, more importantly, we won the game still. For good football teams, that has to happen."
In case you haven't noticed by now, Kotelnicki is pretty well read and he likes to pull lessons from his various studies that he can pass along to his football players.
He recently quoted Leonardo Da Vinci, — although he initially attributed the quote to Socrates — he's referenced numerous books and motivational sayings and he's not afraid to drop a quote from one of the world's great philosophers at any moment and while discussing any topic.
Whether that makes him relatable or not is up to each individual player. But it does show the depth of his knowledge of the way things work when it comes to relationships.
Kotelnicki used the Extreme Ownership example to underscore how proud he was of Kansas quarterback Jalon Daniels for spending time this week trying to learn whatever he could about what went wrong last week that led the red-hot Kansas offense to stall to the tune of just 14 points in win over Iowa State.
"I appreciate that he's like, 'OK, I've got to be better,'" Kotelnicki said.
But that's not where it stopped. Kotelnicki certainly was not looking to Daniels as a scapegoat for the offense's struggles a week ago. He tossed blame in his own direction, as well.
"And I've got to be better for them," he said.
Regardless of where the blame lies, the most important thing to come of it, as it relates to this Kansas football team doing what it wants to the do the rest of the season, was that Daniels, Kotelnicki and surely others within the offense spent a good chunk of time obsessing over the things that went wrong this week, when they could have chosen instead to bask in the glow of the attention that is shining down on the program like nothing we've seen in recent memory.
Daniels illustrated that while explaining the way he rewatched the film from the Iowa State win.
"I know when there's going to be a big play coming up," he said. "And I might watch it once or twice. But I'm looking at the plays that I messed up on probably about 15, 20 times to not make that same mistake."
The notes he takes while rewinding the video are all of the mental variety, and Daniels said they're often tied to the smallest details — mechanics, technique and the like.
His coaches know by now how Daniels operates, and, more importantly, they know that he is more determined than ever because of the fast start to the season by both him as a quarterback and the team as a whole.
Asked if Kotelnicki or quarterbacks coach Jim Zebrowski had any extra words or advice for him after last week's showing, Daniels said the tutelage this week had been "pretty standard."
"Just play your game, play as yourself, don't switch for any situation," he said, recalling their advice to him. "I'm very, very critical of myself. I feel like if you're not your biggest critic then you're not that confident in what you can do."
It's clear that Daniels is a confident player, more so today than at any point in his football career. And that confidence is derived from his own knowledge that he has put in the time and work required to be great.
The Kansas Football Twitter account on Thursday featured a short video of a ride to practice with Daniels. While driving to the Anderson Family Football Complex in pure darkness at 5:30 a.m. one day this week, a tired-sounding Daniels talked about how proud he and his teammates were that all of their work in the offseason was paying off and bringing the program a great deal of positive attention.
As he and others have said countless times before, though, the work doesn't stop just because of the hot start.
While the attention on and praise of Kansas football on the outside has skyrocketed in the past couple of weeks, Daniels and Kotelnicki said it was business as usual inside the facility.
If anything, last week's sluggish offensive performance made sure of that.
"I missed throws that I haven't really missed this season," Daniels said, almost incredulously.

Added Kotelnicki: "When you have a little hiccup like that on one side of the ball, sometimes you get a little rude awakening and you go, 'OK, we don't have it all figured out.' And I don't think that we went into the game with that issue. I didn't think there was a lot of complacency with our guys going into the week, or the staff. It's tough. It's college football. Big time football. Obviously, we have a lot of things to improve on."
The 19th-ranked Jayhawks' next chance to show their growth and put this week's work and lessons into practice is slated for 11 a.m. Saturday against No. 17 TCU in front of a sellout crowd at David Booth Kansas Memorial Stadium.
ESPN's College Gameday will be in Lawrence for the game and will make Kansas the epicenter of college football for three hours Saturday morning.