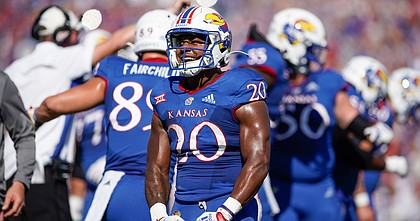 Kansas football coach Lance Leipold said Tuesday that running back Daniel Hishaw Jr. will be out for "an extended period of time" because of an undisclosed injury suffered during KU's 14-11 win over Iowa State last weekend.
Hishaw left last Saturday's game on a cart with what appeared to be a lower body injury and he was taken to Lawrence Memorial Hospital for further examination.
Leipold said Tuesday that he made it to the hospital last Saturday night to visit with the KU running back just before he was discharged.
"He was doing a lot better than I could've expected," Leipold said, adding that the redshirt sophomore back was in "decent spirits."
The speculation on message boards and social media was that Hishaw injured his hip. The third-year sophomore missed all of last season with what he described in August as a "rare" hip injury that happened during preseason camp in 2021.
However, Leipold said the specifics of Hishaw's injury and a timetable for how long he will be out were not yet available and that he would "let you know more as we move along."
The 5-foot-10, 210-pound redshirt sophomore from Moore, Oklahoma, was enjoying a breakout season before the injury. After missing all of last season, he appeared in all five of KU's games so far and was tied for the team lead in rushing touchdowns, with five, and also averaging six yards per carry on 44 attempts.
His powerful running style and ability to impact the game as a receiver gave the Jayhawks an additional weapon to utilize in their offense which has ranked among the most explosive in all of college football so far this season.
"I think his running style and physicality is what separated him," Leipold said Tuesday.
With Hishaw out, KU will lean more heavily on starter Devin Neal as well as backups Sevion Morrison and Torry Locklin. Neal leads all KU running backs with 333 yards on 49 carries and he also has recorded four rushing touchdowns.
Morrison (110 yards on 12 carries with one touchdown) and Locklin (five yards on three carries) have been used less, but both figure to see more snaps in the weeks ahead with Hishaw out.
Minnesota transfer Ky Thomas also could factor into the equation sooner rather than later. Thomas has missed the past two games with a lower leg injury, but Leipold said the Topeka native was back practicing and would be considered day-to-day.
"Ky's been practicing more," Leipold said. "I thought Ky had a good day today. We talked about the depth of that position (all preseason) and we've been utilizing a lot of people offensively. We've got to find a way to keep doing that. … "There's different styles there that all complement each other, and now you've got one piece of that group that's going to be missing unfortunately."
On this week's depth chart, Neal was still listed as KU's starting running back, with Morrison and Thomas listed as his immediate backups.