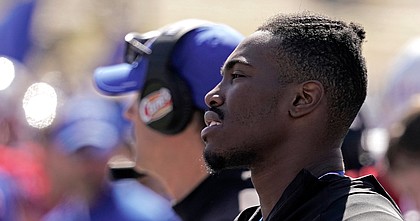 The situation surrounding Kansas football's quarterback position has taken a new turn.
KU coach Lance Leipold said Monday that quarterback Jason Bean, who has started the past four games for the Jayhawks, was somewhat limited during Monday's practice after coming out of the Texas Tech loss on Saturday and the Oklahoma State win before it.
"I don't have a lot (to update on Bean)," Leipold said of the KU QB who was hit in the midsection late in both games. "He didn't do very much today. He was out there, but we'll see."
At the same time, Leipold's update on injured starter Jalon Daniels came the closest to being positive news as it has in weeks.
Both realities leave the question about Saturday's starter against Texas — 2:30 p.m. at Memorial Stadium on FS1 — up in the air, and KU's depth chart, which had Daniels and Bean separated by an "or" continues to reflect that.
"He's close," Leipold said of Daniels on Monday. "He's taken more and more reps. He went today, and he's at the point where he can play at a level that's going to allow him to go out there and play freely."
If Daniels plays, Leipold said nobody should expect to see him at 100% the way he was at the beginning of the season. But he also said the evaluation of Daniels' availability was a daily to every-other-day conversation that likely will continue throughout the week.
"If you're watching him in warm-ups, you can see it," Leipold said. "He's really, really close, but there's a lot of factors that continue to go into that. We've got two regular season games left, so hopefully he's going to be out there for one or two of them."
In related QB news, freshman Ethan Vasko took the late snaps for Kansas when Bean exited the game against Texas Tech.
The game marked Vasko's first college appearance and, with three games remaining — counting the bowl game — Vasko could play in all three and still be able to redshirt. NCAA rules allow players to appear in up to four games before losing the chance to redshirt.
With Daniels out and trying to return, Leipold said KU's coaching staff had to create contingency plans for a lot of different scenarios in recent weeks in the event that Bean had to leave the game either because of injury or something trivial like an equipment malfunction.
There also, of course, was the creation of a plan to relieve Bean — and keep him healthy — in a game the Jayhawks were winning. Daniels' health and Vasko's redshirt potential played a factor in those talks. So did the presence of redshirt freshman QB Ben Easters.
All in all, Leipold liked what he saw from the planning stages all the way to Vasko entering last weekend's game.
"It was a small, small sample size," Leipold said. "But there were some flashes of Ethan Vasko that I was very, very pleased with for his first college experience. That shows he's going to be a good quarterback."
Sunflower Showdown set for primetime
The Big 12 Conference announced Monday that the Jayhawks' regular season finale slated for Nov. 26 at Kansas State will kick off at 7 p.m. on FOX.
The game could be big for both teams even beyond the annual bragging rights that are on the line when these two get together. For Kansas State, a berth in the Big 12 title game could be on the line. For Kansas, an additional win and the chance to improve KU's bowl positioning will be at stake.
This year's game will be the 120th played between the two programs. The KU-K-State series dates back to 1902, making it the fourth-longest active series in FBS and the second longest in-state rivalry among FBS programs.
The Jayhawks own the series advantage at 66-48-5, including a 28-27-3 advantage in games played in Manhattan. Kansas State, however, has won 13 in a row in the series and the last six games in Manhattan. KU's last win over the Wildcats came in 2008 in Lawrence. And the Jayhawks' last win in Manhattan came in 2007.