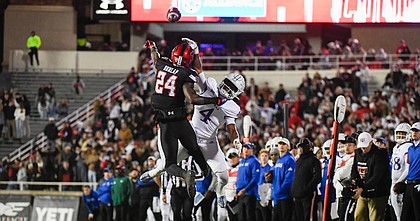 The Kansas football team's home finale for the 2022 season next weekend against Texas is slated for a 2:30 p.m. kickoff Saturday on FS1.
The start time was announced late Saturday night, after KU's road loss at Texas Tech.
The start times for all five Big 12 games next week were delayed until after this week's games to better give the conference's television partners the best shot at putting the biggest games in the prime slots.
No. 4 TCU, which won at Texas on Saturday night to remain unbeaten and in the hunt for a Big 12 and national title, will play host to Baylor at 11 a.m. next Saturday in FOX's national game of the week.
FOX's Big Noon Kickoff pregame show, which is similar to ESPN's College GameDay, is headed to Waco, Texas, for the TCU-Baylor game next weekend. Kickoff for that game is slated for 11 a.m. on FOX.
There were rumors floating around about FOX potentially bringing its pregame show to Lawrence for the KU-Texas game next weekend, but both KU and UT lost on Saturday night and TCU remained in the College Football Playoff hunt.
In addition to being a highly anticipated showdown with Texas after last year's wild overtime win in Austin, Saturday's home finale will be Senior Day for several Jayhawks, many of whom have been a big part of the turnaround under head coach Lance Leipold these past two seasons.
KU's regular season finale is slated for Nov. 26 at Kansas State, with a game time to be determined at a later date.
K-State is currently in sole possession of second place in the Big 12 and controls its own fate when it comes to earning a spot in the Big 12 title game against TCU.
If K-State wins out, the Wildcats will head to Arlington, Texas, for the Dec. 3 championship game in what would be an all-purple affair.
K-State plays at West Virginia next week before hosting Kansas in the regular season finale.
KU will learn which bowl it is headed to on Dec. 4, and the outcome of these final two regular season games could play a part in where the Jayhawks play this postseason.