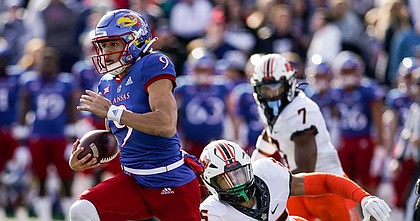 There are a dozen ways to evaluate Kansas quarterback Jason Bean's impact on this offense and why he has been able to keep KU afloat after starter Jalon Daniels went down with a shoulder injury midway through Game No. 6.
But the best indicator of who Bean is and why this has worked is a story he shared Tuesday about his jersey number.
After wearing No. 17 during his first season with the Jayhawks in 2021, Bean stuck with the number entering Year No. 2 and didn't really give much thought to it.
However, midway through the 2022 season — just before the Baylor game — Bean switched to No. 9 and has worn it ever since. Asked this week why he made the change, Bean's reason was short and simple.
"Coach Leipold just asked me if I wanted to change and I said yes," Bean told a group of reporters.
So, it was head coach Lance Leipold's idea?
"Yeah," Bean said.
Surely Bean had worn No. 9 before then, right?
"No. Never," Bean added.
And with that, during his fifth season as a college quarterback, a new era of Jason Bean football was born. Bean said Leipold never gave him a reason for why he sought the change. And Bean never asked.
Here's the funny part: He never requested No. 17 either.
"Whenever I got here they just gave it to me," he said. "So, I haven't really had a choice in either of those numbers."
Oddly enough, No. 17 was actually the first number Daniels wore as a Jayhawk before switching to No. 6 for his sophomore season in 2021.
Regardless of what number either KU QB is wearing on his jersey, the number that has mattered the most for these Jayhawks is one.
Last week, after coming up short in three previous attempts to become bowl eligible after a 5-0 start, Bean led the Jayhawks to the one win they needed to ensure that Leipold's second Kansas team will play in a bowl game later this year.
After last week's win, television cameras caught Bean doubled over and overwhelmed by emotion, a clear sign of what the win meant to him.
"I think (it was) just me realizing that we got the sixth win, obviously, and then just thinking about all the hard work and the tough summer workouts and waking up at 5 o'clock every morning," Bean said. "I think it's just a reflection of, 'We finally did it,' and just the excitement and thankfulness that we got the sixth win."
Bean was far from the only one on this roster to feel a little emotional about the victory. Leipold and KU offensive coordinator Andy Kotelnicki both said they were thrilled for each Jayhawk and staff member, but especially Bean.
"It's been a bumpy road at times for him," Leipold said. "Persevering and sticking with the program says a lot. We've seen more emotion from him, (him being) more vocal than maybe a year ago. It's been good to see."
Bean's play has been equally impressive. Although he does not carry himself with quite the same charisma and swagger as Daniels, the Kansas offense has not missed a beat with Bean at QB.
Kansas has averaged 34 points per game in his three starts, and that does not even take into account the 28 points he led the Jayahwks to in the second half of a 7-point loss to now-fourth-ranked TCU, when Bean came in off the bench after Daniels' injury.
During that time, he has accounted for 12 total touchdowns and completed at least 59% of his passes in each game, including a 78.3% clip in last week's win over Oklahoma State.
His coaches and teammates will line up to give Bean credit for the way he responded to both starting the season as the backup and being ready to take over when he was needed.
And Bean will be the first to deflect it.
"Everybody on this team, we've been through a lot to get to this position," Bean said. "And we're all just blessed to be here and finally get that sixth win for this city and just the guys who have been here for all those tough years. It just feels good to finally get that weight off our shoulders."
Kotelnicki said the way Bean has handled himself during the past five weeks has shown his character and how much he loves the KU football program.
"I think everyone can relate (to) that," Kotelnicki said. "I think that's what's important. That's what college athletics is. That's football. I think it's great to see somebody who struggled, (things) didn't go their way, who wasn't named the starting quarterback, to preserve and stick with it and get an opportunity and capitalize on it. I think everyone, maybe not in the college football environment, but everyone's dealt with that kind of stuff in their life before."
With the win they needed for bowl eligibility now in the bag, Bean and the Jayhawks will go looking for win No. 7 this weekend at Texas Tech. Kickoff is slated for 6 p.m. and the game will be shown on ESPN+.
Week 11 at a glance
Kansas Jayhawks (6-3, 3-3 Big 12) at Texas Tech Red Raiders (4-5, 2-4 Big 12)
• Jones AT&T; Stadium, Lubbock, Texas, 6 p.m.
• Broadcast: Big 12 Now via ESPN+
• Radio: KLZR 105.9 FM / KLWN 1320 AM
• Betting line: Kansas +4.5; over/under 64.5
• Series history: Texas Tech leads, 21-2, including a 10-1 mark in games played in Lubbock.

This season
Points per game: Kansas 37.9; TTU 39.1
Points allowed per game: Kansas 30.6; TTU 31.1
Yards per game: Kansas 436.3 (207 rushing, 229 passing); TTU 462.1 (143.6 rushing, 318.5 passing)
Yards allowed per game: Kansas 436.3 (155.9 rushing, 280.4 passing); TTU 372.8 (157.4 rushing, 215.4 passing)
Season turnover margin: Kansas +8; TTU -8