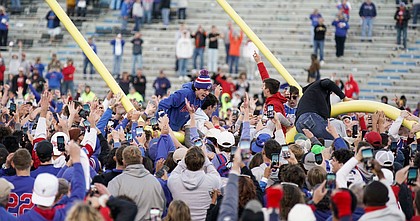 It took three losses and a bye week to get over the hump, but the Kansas football team is officially bowl-bound again for the first time since the 2008 season.
Where, who and when they'll play remains to be seen and could depend a lot on how things go in the final three games of the season. The way these guys see it, there's still more work to be done and more wins to achieve.
But after weeks of seeing their name show up on all of those bowl projection lists, the Jayhawks no longer have to hope they can get there.
They're in. Kansas secured win No. 6 on Saturday, with a convincing 37-16 win over No. 18 Oklahoma State at David Booth Kansas Memorial Stadium.
Photo Gallery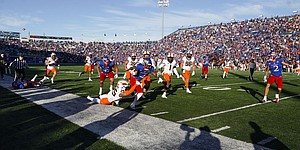 Kansas football v. Oklahoma State
View a gallery of photos from Saturday's game between the Kansas Jayhawks and Oklahoma State Cowboys.
And the reality and euphoria of what this team accomplished — after whiffing three times before, following that 5-0 start — set off a raucous celebration on the Memorial Stadium field.
It was nothing you haven't seen before, but this time it seemed wildly appropriate given the fact that, in more than a century of football, Kansas has been bowl eligible just 13 times.
The celebration began with thousands of fans rushing the field and ended with the south goalposts taking a cozy new spot at the bottom of nearby Potter Lake.
"I think it's awesome," KU coach Lance Leipold said after the win. "I think it's awesome."
Not only did Saturday's victory lock up KU's first bowl bid in 14 years, but it also marked the Jayhawks' first win over a ranked opponent since they beat Georgia Tech in 2010 and their first win over a ranked conference opponent since 2005.
Kansas (6-3 overall, 3-3 Big 12) also snapped a 12-game losing streak to Oklahoma State (6-3, 3-3), which had not lost to the Jayhawks since 2007.
None of it was ever in doubt. The Jayhawks never trailed and controlled the game from start to finish, knocking off an OSU team that now has dropped three of its past four games and played on Saturday without starting quarterback Spencer Sanders.
Related document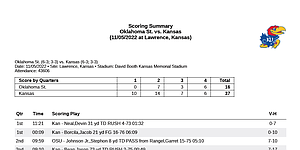 Box Score: KU 37, Oklahoma State 16 ( .PDF )
"I know they're banged up," Leipold said. "But I'm not going to let that take away from the performance. Last year, we didn't get a first down the first half (against OSU). And I think that's kind of a sign of really how far this football team's come."
The first sign of just how big Saturday would be came when sophomore running back Devin Neal rumbled for 24 yards and a first down on the Jayhawks' first offensive possession.
He added a 31-yard touchdown a couple of plays later and Kansas was on its way. Neal finished the day with 224 yards rushing on 32 carries and another 110 yards receiving on six receptions. He became the first player in KU history to top 200 rushing and 100 receiving yards in the same game.
The origins of his monster day could be traced back to the bus ride to the stadium. Somewhat randomly, Leipold came across a Tweet that highlighted Tony Sands' 58-carry, 396-yard performance against Missouri.
Leipold sent Neal the tweet.
"It was kind of like this might be one of those days," Leipold said of his digital message. "He knew he was going to be counted on in a lot of ways today, and I think it's kind of special that the hometown guy from Lawrence puts us into bowl eligibility."
Neal's response to the tweet was simple.
"I sent him the eyes emoji and let's go," Neal said. "I kind of took it as a challenge and kind of a trust moment. I was like, 'OK, this is what he wants me to do.'"
His teammates didn't mind either.
"The Real Deal Devin Neal. That's what his name is," senior safety Kenny Logan Jr. said. "Devin had a monster game today. I appreciate Devin. He played big and showed up and showed out tonight."
Added junior wideout Luke Grimm, who returned from injury to catch all seven of his targets for 65 yards: "I mean, it's insane. Three hundred and something total yards for him. For him to do that was awesome. It was just, hand the ball off to him and he's going to get 40 yards at some point. And he did that pretty much every three touches."
After jumping out to leads of 10-0 in the first quarter and 24-7 at the half, Kansas grabbed complete control on the opening drive of the third quarter.
The Jayhawks traveled 75 yards in 15 plays and 7:52 to push their lead to 31-7, putting a damper the rest of the day for the visitors.
The opening drive of the third quarter featured two fourth-down conversion passes by Bean — one to Jared Casey and the other to Neal. The second set the Jayhawks up with a first-and-goal at the 9-yard line, and, three plays later, Bean found Casey all alone in the back of the end zone for the back-breaking touchdown.
The Kansas defense followed that up by standing tall deep in its own end, when Rich Miller sacked OSU QB Garret Rangel on third down to force the Cowboys to kick a field goal.
The two series were indicative of exactly the way the day went for the home team, which played a complete game in all three phases to pick up the elusive sixth victory.

"We made some big stops today in some key moments," Leipold said.
Added Logan: "It was definitely a pretty put-together game."
In all, KU racked up 554 yards of total offense, including 351 on the ground. Quarterback Jason Bean, got in on the act, too. In his third consecutive start in place of injured QB Jalon Daniels, Bean completed 18 of 23 passes for 203 yards and two touchdowns with no interceptions. He also added 93 yards on the ground, including 73 on a long touchdown run.
"It was a lot easier to play ahead than behind 14 or 21," Bean said.
Asked if the North Texas transfer felt like he had been around Lawrence long enough to understand the significance of Saturday's win, Bean smiled and said, "Oh yeah."
"For sure," he added. "Especially going through last year and how tough last year was. Just seeing everybody's faces and the excitement and just the happiness around it, I'm just thankful to bring that to everyone."
Although he has seen Kansas fans on the field a handful of times in his career, Logan said he had never seen something like Saturday. He marveled at the goalposts coming down, which happened in a delayed manner after KU officials tried to protect them with a team of security guards in a tight circle around them. And he smiled bigger with every word he uttered when talking about what the win meant.
"Being able to see them rush the field and take the goalposts down was very exciting to me," Logan said. "The excitement was a little different today because of the bowl game."
That was the part Leipold enjoyed most. Sure, he was thrilled to lead this former laughingstock program back to bowl eligibility for the first time in 14 seasons. But what that feat meant to the KU veterans was the part that Leipold was most pleased about.
"I'm really proud of them and happy for them, especially the guys that have been around for a long time," he said. "They've persevered and stayed with this program. As I told them, we're pretty demanding. And the reason we are is for moments like this."