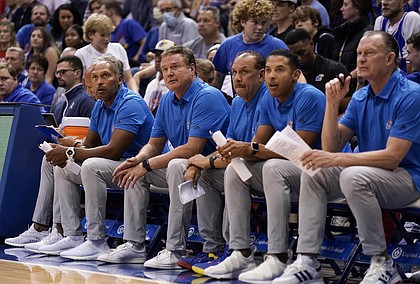 Shortly after Kansas' 94-63, exhibition victory over Pitt State on Thursday night at Allen Fieldhouse, Kansas basketball coach Bill Self acknowledged that he did not like the fact that Thursday's game was his last on the KU bench until the Jayhawks head to the Bahamas later this month.
But Self reiterated that he supported the decision by Kansas to self-impose a four-game suspension for him and assistant coach Kurtis Townsend for their role in the NCAA infractions case against the program.
"The institution certainly showed institutional responsibility (regarding) what went down," Self said. "I can't get into facts about anything, but KT and I are both are aligned with what the school has done and we support it. We think it was the appropriate thing to do to show the responsibility that we need to."
Related document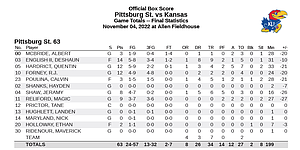 "I don't like it," Self added. "But I don't know that anybody would like sitting out. But it is the landscape that we are going to live by."
Self said he had complete confidence in assistant coach Norm Roberts' ability to function as the team's acting head coach while he's out and that he hoped his players would use it as something they can learn and mature from.
"It's still not good by any stretch," Self added. "I have to own it, though."
Asked if he was frustrated that KU's case was still ongoing five years after the FBI investigation first surfaced, Self said he was not going to talk about anything relating to the case, "because we've been told not to."
"But it's something that's been going on for quite a while," he added. "And it's certainly something that's been weighing on us daily during that period of time, so we're looking forward to a time when it's over."
Self said he had total faith in Roberts to run the show while he and Townsend were out, which is limited to just a 24-hour period on game days. Other than that, Self and Townsend both can be at practice and participate in all of KU's game preparations.
Self made sure to make one thing clear, though.
"He will be in charge," Self said of Roberts.
"Norm will do a great job," he added. "I mean, the guy's been a head coach in the Big East and we've been together a long time."
Self said that, per NCAA rules, KU staff members Brady Morningstar and Joe Dooley would be allowed to step into a more hands-on role on game nights.
"I don't know that responsibilities will change a ton," Self said. "I think it'll be pretty consistent except on game days. But once the game starts, it's about feel and that's going to all be on Norm and the staff."
Added Roberts: "We have a culture that's been built here, so we kind of end each other's sentences and those things. We always talk about faces change, expectations don't, so our players know our expectations and what we should do on the court."
Asked if he had any reaction to the rulings handed out in other cases that have passed through the IARP track, Self said simply, "I have no takeaway on that."
As for whether he was confident that KU's self-imposed sanctions would move the process closer to a resolution, which was the stated goal from KU Chancellor Douglas Girod and Athletic Director Travis Goff in Wednesday's news release, Self said, "I don't know. I don't know what I'm confident about or not confident about or anything like that. I don't remember the exact wording of the release, but I think that was the chancellor that said that, so that's a question for him."
New intro video
As expected, the video that plays before the KU starting lineup is introduced featured a whole lot of love for last season's national champions.
In addition to highlights of Ochai Agbaji, Remy Martin, Jalen Wilson and others from the 2021-22 team, the video was capped off by David McCormack's big bucket over Brady Manek in the national title game, followed by the iconic fist pump.
Photo Gallery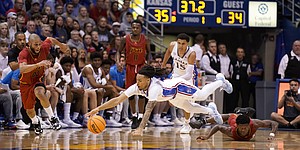 Kansas basketball v. Pitt State (exhibition)
View a gallery of images from Thursday night's exhibition against Pittsburg State at Allen Fieldhouse.
As promised, the crowd roared when the sequence played out on the board, much in the way it had for the past 14 years when Mario Chalmers' game-tying 3-pointer against Memphis was shown on the intro video.
Another new banner
The 2022-23 home season opened with a 2-minute tribute to Self's late father, Bill Self Sr., who died last year during the Jayhawks' run to the national title.
Throughout the remainder of the season, the Jayhawks adopted Self Sr.'s famed slogan, "Don't worry about the mules, just load the wagon." A makeshift banner even appeared in the student section during one game late last season.
On Thursday, a replica of that banner was permanently unveiled in the west rafters high above the benches.
"It meant so much to my mother and all my family to have this slogan that his father and grandfather probably taught him growing up on the farm, that this is how you should live your life," Self said in the video that accompanied the banner ceremony. "I know my father would be very proud to have this banner hanging in Allen Fieldhouse and it means the world to my family."
Muscadin tribute
Prior to Thursday's game, KU paid tribute to former Jayhawk Gethro Muscadin with a picture on the video board and moment of silence.
Muscadin, who played at KU for one season in 2020-21, died earlier this week after a months-long battle for his life following a car crash last December. He was 20.
Up next
Because the Jayhawks played a recent scrimmage against Illinois, they're allowed just one exhibition game this season. That makes next Monday's game against Omaha the regular season opener. Tipoff is slated for 7 p.m. from Allen Fieldhouse.
The Mavericks are led by first-year coach Chris Crutchfield and were picked to finish ninth in the Summit League in this year's preseason coaches poll.
Sophomore guard Frankie Fidler was tabbed as a preseason first-team selection, and he finished with 13 points, six assists and five rebounds in Omaha's 96-71 exhibition win over Mid-American Christian on Tuesday night.