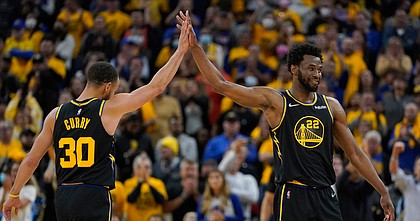 With the 2022 NBA Finals set, it's official that one former Kansas basketball player will be winning a world championship in the next couple of weeks.
Golden State forward Andrew Wiggins will have the most to say about which one it is.
Wiggins, who was the No. 1 overall pick in the 2014 NBA draft after a standout season at KU in 2013-14, has been one of the Warriors' best players this postseason. Golden State coach Steve Kerr called Wiggins' performance in the Western Conference Finals "brilliant" and the former KU star, now in his eighth season in the NBA, will finally get a crack at a championship.
Drafted by Cleveland with the No. 1 overall pick, Wiggins was traded to Minnesota before playing a single regular season game with the Cavs. In five and a half seasons with the Timberwolves, Wiggins averaged 19.7 points and 4.3 rebounds per game but the Wolves rarely won anything of importance.
Midway through the 2019-20 season, he was traded to Golden State. Playing in a lineup that includes Steph Curry, Klay Thompson, Draymond Green and up-and-comer Jordan Poole, Wiggins has settled into a perfect role and become a scoring threat and defensive stopper.
"I don't know where we'd be without him defensively," Kerr said after a recent Golden State win. Wiggs has just been so good. He's gotten so much better over the last couple years. He's a perfect fit next to our guys."
Boston's active roster does not feature any former Jayhawks, but its coaching staff does in Celtics Director of Player Development Aaron Miles.
Miles, who is officially listed as an assistant coach on the team roster, was hired by Boston when first-year Celtics coach Ime Udoka took over prior to the 2021-22 season. Coincidentally, he was plucked away from Golden State and he now will be coaching against his former friends with an NBA title on the line.
Prior to joining the Celtics, the former KU point guard was on Kerr's staff with the Warriors for two seasons after serving as the head coach of the Santa Cruz Warriors — Golden State's G League affiliate — for two seasons before that.
Interestingly enough, Miles was asked about Wiggins during the summer of 2020, when he was still coaching with the Warriors and the COVID-19 pandemic paused the NBA season.
"I think he's a perfect fit for what we do," Miles said then. "A perfect second or third option on the team that could eventually possibly be the No. 1 option in a couple years when it's his turn. We only had him for a short amount of time, but Steph had just got back healthy so we were going to get to see what those two would look like."
It has worked out well to say the least. Although his scoring average and opportunities have dipped during his two full seasons and part of a third with Golden State, Wiggins has managed to stay in the upper teens.
Beyond that, earlier this season, he was named an All-Star Game starter for the first time in his career.
Far more important than any of his offensive production, however, has been his defense, particularly in these playoffs, where he has successfully helped Golden State stave off Ja Morant and Luka Doncic en route to the NBA Finals.
Wiggins will have his work cut out for him again in the Finals against Boston, which features star scoring threats Jayson Tatum and Jaylen Brown. But Wiggins sounds ready for anything.
"I love taking on the challenge," he told C.J. Holmes of the San Francisco Chronicle on Monday. "Tatum, Brown, they're the best offensive players on Boston, so it's something I'm looking forward to."
Game 1 is slated for 8 p.m. Thursday on ABC.