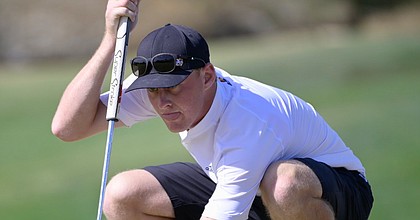 The Kansas men's golf team dropped six spots into a tie for 10th at the NCAA Championships on Saturday after shooting a 23-over team score at Grayhawk Golf Club in Scottsdale, Arizona.
KU was in a tie for fourth after an opening-round 6-over on Friday, which set a school record. But the course was much tougher for the Jayhawks on Saturday.
Senior Harry Hillier, who entered Day 2 in a tie for first in the individual standings, shot an 13-over 83 after enduring a stretch of eight bogeys on in a 10-hole stretch midway through his round. He added a double bogey and a triple bogey on back to back holes on the back nine and recorded just one birdie on the day.
Hillier will enter Round 3 at 11-over par and in a tie for 99th place in the individual standings.
Senior transfer Callum Bruce shot the team's best round of the day, carding an even-par 70. He sits in a tie for ninth place in the individual standings heading into Sunday's third round.
Senior Ben Sigel shot a 74 to deliver KU's next best finish of the day on Saturday. William Duquette added a 76 and Luke Kluver shot 77.
Kluver did not record a single birdie on Saturday and the Jayhawks' five golfers combined for just seven all day.
"It was hard out there - every shot, every putt. It was an absolute grind," KU coach Jamie Bermel said. "Not a lot of birdies, couldn't get too close to pins. But what a round from Callum Bruce today. He kind of saved us."
Bruce's 70 was tied for the best round of any player in the field that went off in the afternoon wave on Saturday.
Despite the rough second round, Kansas is still in position to advance with a solid showing on Sunday. All 30 teams are scheduled to play the first three rounds in a stroke play format. There then will be a 15-team cut after Sunday's third round. Following the fourth round on Monday, the final eight teams will advance to match play format on Tuesday to determine a champion.
It's crowded in the middle of the team standings, where KU is tied with Georgie for 10th, just one stroke ahead of two teams tied for 12th, two strokes ahead of three teams tied for 14th and four strokes up on two more teams tied for 17th.
The Jayhawks also are just three strokes out of sixth place and a single stroke behind eighth.
By being in the top 15, KU will tee off in the morning on Sunday, starting with Duquette at 9:27 a.m.
"It's a huge advantage to go in the morning because the wind picks up and the course bakes out and gets really firm and the putts are hard to make (in the afternoon)," Bermel said.