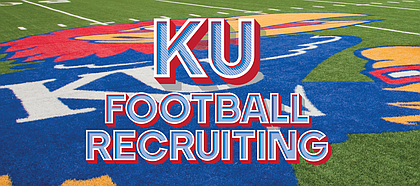 Junior college defensive back Jalen Dye quoted the late, great Kobe Bryant in announcing his commitment to the Kansas football program on Wednesday night.
Dye used the Bryant quote, "If you're going to bet on someone, bet on yourself," to share the news that he planned to continue his football career at KU.
"First and foremost I want to thank God for blessing me with the ability, the talent and the opportunity to continue to play at the next level," Dye wrote. "Second, I want to thank my family and all my coaches for always having my best interest at heart along with their constant support. With that being said, I will be committing to the University of Kansas."

The 6-foot, 185-pound DB can play both cornerback and safety. Dye comes to Kansas from Palomar College, where he made 52 tackles and recorded four interceptions and four pass breakups in 11 games last season.
Listed as a safety by Rivals.com, Dye will have three seasons of eligibility remaining.
Bryant was not the only well-known professional athlete tied to Dye's commitment message. Former Major League Baseball outfielder Jermaine Dye, who started his career with the Kansas City Royals, is Dye's father. The older Dye tweeted out his love for his son and his decision shortly after the new KU safety made his announcement.
"Congrats son," Jermaine Dye wrote. "All your hardwork is paying off. Continue to strive to be the best. #RockChalk."
Dye visited KU this week and, according to JayhawkSlant.com, was hosted by KU running back and Lawrence native Devin Neal.
He also had offers from Colorado State and UNLV.
His commitment comes one week after the Jayhawks landed a commitment from Eastern Michigan safety Jarrett Paul and former Purdue safety Marvin Grant. Both figure to add depth to what began as a thin position when the offseason arrived.
Kenny Logan, who led the Big 12 with 113 tackles last season and will be a senior in the fall, is entrenched as a starter at one safety spot. And defensive backs coach Jordan Peterson said recently that sophomore O.J. Burroughs was the leading contender to start alongside him. But Edwin White-Schultz and Jayson Gilliom, also sophomores, will compete to start, with Paul and now Dye in the mix, as well.