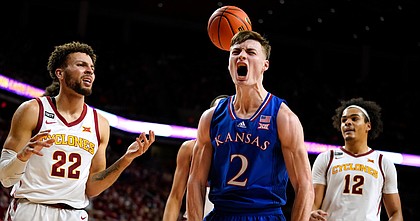 Kansas junior Christian Braun is staying in the NBA draft after making what his mother, Lisa, called "a tough decision" to forego his senior season at KU.
"He loves KU, but we're happy for him to start the next chapter," Lisa Braun told the Journal-World via text message on Tuesday night. "Once a Jayhawk, always a Jayhawk."
Braun's decision to officially enter the 2022 NBA draft — June 23 in New York — comes a little more than one week before the deadline for underclassmen to pull their names from the draft pool while still retaining their college eligibility.
Shortly after news surfaced that Braun was officially done at Kansas, WME Sports, the talent agency which recently signed on to handle all of the name, image and likeness deals for incoming KU freshman Gradey Dick, announced that Braun had joined the agency, as well. BDA Sports, which dubs itself a global marketing agency for professional basketball players, also is part of Braun's representation team.
Later Tuesday night, Braun announced the news himself on social media.
"While I am extremely excited for what the future holds, I would be lying if I said this wasn't a hard decision," Braun wrote. "I have a deep love for Kansas, my teammates, the coaching staff and our fans. I hope you saw that passion every single game."
Projected as a mid-to-late first-round pick by many mock drafts, Braun helped his case tremendously by putting on a strong showing at last week's NBA combine.
In addition to recording the third highest vertical jump at the entire combine — one inch better than teammate Ochai Agbaji in fourth place — Braun also filled up the stat sheet in different ways on the two days of scrimmages. On Day 1, he scored just six points but showcased his all-around game by recording seven rebounds, six assists and four steals. On Day 2, he showed he can score, too, by tallying 17 points.
Those performances, along with the positive feedback that Braun and his family and representatives received from NBA scouts and executives led to him making the decision to turn pro.
After one of the scrimmages in Chicago, Braun was asked by an in-house NBA Draft Twitter account what he thought he showed the dozens of eyes watching the draft prospects. He responded by saying simply, "I think I showed that I was a true athlete."
That fact, along with his fire and passion for the game, will likely be the biggest reason he gets drafted in this June's draft.
His departure opens the door for Kansas to add at least one player this offseason. Texas Tech transfer Kevin McCullar Jr. said last week that he will come to KU if he pulls his name from the draft, and, at 6-foot-6, 210 pounds with good athleticism and toughness, he would make a good replacement for Braun on KU's 2022-23 roster.
With Braun and KU teammate Ochai Agbaji staying in the draft, all eyes now turn to McCullar and Jalen Wilson, who both have until June 1 to make their decisions about next season.
Wilson joined Agbaji and Braun at the NBA combine last week after earning an invitation by playing well at the NBA's G League Elite Camp earlier in the week.
Unlike Braun, Wilson has not shown up on any of the major mock drafts in recent months, which makes his return to KU for the 2022-23 season at least a little more likely than Braun's was. Wilson continues to workout for NBA teams and likely will for another week while he mulls over his options of making the jump to the professional ranks or returning to KU to help the Jayhawks defend their national title.
As for the Braun family, Lisa, who has been like a second mother to KU point guard Dajuan Harris Jr. said they weren't quite done at KU yet.
"I will be in the stands cheering again next year," she said.
Added Braun in his farewell announcement: "While I may not be at Kansas next year, Lawrence will forever be home. Now it's time to continue to work and take everything I learned at Kansas to make myself the best I can possibly be. I hope to make you all proud and cannot wait to represent Kansas basketball at the next level."