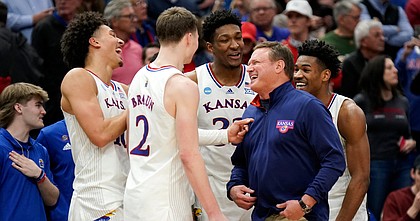 Kansas basketball coach Bill Self has made one thing abundantly clear about early-entry NBA draft hopefuls and his players testing their draft stock each summer.
He's in favor of it.
Sure, Self, like any coach, would love to see his best players stick around for four or even five seasons at Kansas. Their talent would increase KU's chance of winning each year and that continuity would allow the Jayhawks to tap into the one thing that has served them well during their deepest tourney runs — veteran players with good chemistry and familiarity coming together for a common goal.
But Self makes a pledge to those guys when he's recruiting them — and their parents — that he'll help them reach their dream of playing in the NBA. And he has never shown a desire to stand in their way when they've reached the point where they're ready to make the jump. In fact, he has flat-out told some guys who wanted to stay that they have to go because it's the best move for them and their careers.
"When testing first started, I think all of us coaches were like, 'Oh, if they test, they won't come back. We'll lose these guys,'" Self said on ESPN's broadcast of last week's combine scrimmages.
At least at Kansas — and at a lot of other schools as well — that has not proven to be the case.
It was pretty obvious that guys like Andrew Wiggins, Joel Embiid, Josh Jackson, Ben McLemore and Thomas Robinson, among others, needed to enter the draft when they did. Self was the first to tell each of them that, and their status as lottery picks validated the moves.
In recent years, though, KU's dabbling with offseason draft prep has been full of success stories for the Jayhawks.
This year alone, the decisions by Ochai Agbaji, Jalen Wilson and Remy Martin to return to college paved the way for Kansas to win a national title. All three of those players helped their stock in the process, as well.
Prior to that, you had Udoka Azubuike returning for the 2019-20 season. All he did was turn dominant in every aspect of the game and turn himself into a first-round pick.
Before that, Svi Mykhailiuk took his decision to the 11th hour in 2017 before deciding to come back to KU for his senior season. That season, in large part because of his ridiculous shooting numbers and KU's run to the 2018 Final Four, made Svi draft worthy and netted him somewhere in the $5-6 million range during his first four seasons as a pro.
"From my vantage point and the experiences that I've had with it, testing has been positive," Self said. "A lot of people have been nervous about their guys testing, but testing has been positive because the feedback that they get can make their career."
Self's a big believer in guys leaving school at the right time, whenever that may be. And this recent experience with Agbaji, who went from a draft question mark to a potential lottery pick has only added to that belief.
"Everybody's got their own calendar, so to speak," Self said on the broadcast when asked if Agbaji's path might inspire and help future Jayhawks and other college basketball players with their decisions. "And Och's wasn't until this year. He wasn't rated high coming out (of high school). And it took him this long to mature and be at the point where he could have a career as opposed to getting a cup of coffee.
I think it should help. I think it'll be good for Kansas players for sure. I don't know if it'll be good nationally. But certainly for our guys, they'll see the success (he had) and they'll realize that."
We know Agbaji's staying in the draft — June 23 in New York City — but what we need to find out for sure now is whether Christian Braun and Jalen Wilson will do the same.
Both have until June 1 (next Wednesday) to pull their names out of the draft pool in order to retain their college eligibility for the 2022-23 season.