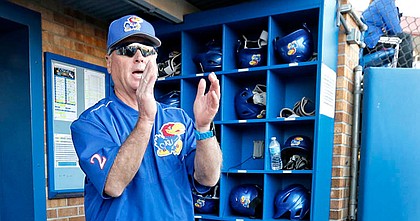 Kansas baseball coach Ritch Price has decided to retire after 20 seasons.
Price formalized his decision Sunday, a day after the Jayhawks finished the season with an 11-6 loss at No. 17 Texas. They finished the season 20-35, including 4-20 in the conference, and missed out on the eight-team Big 12 tournament, which begins Wednesday at Globe Life Field in Arlington, Texas.
"For the past 20 years, I have been honored and privileged to serve as the head baseball coach at the University of Kansas," Price said in a statement issued by the university Sunday afternoon. "After meeting with Travis Goff today, we agreed that it's time for me to announce my retirement."
Price was hired by Kansas on July 1, 2002, when he replaced Bobby Randall, and went 581-558-3 over his 20 seasons. The Jayhawks won the Big 12 tournament once, in 2006, and made three appearances in the NCAA Tournament — in 2006, 2009 and 2014. Kansas won 30 or more games 12 times during his tenure.
Fourteen of his players were named to the Big 12 first team and four — pitchers Jackson Goddard, Ryan Zeferjahn and Wes Benjamin and catcher Jaxx Groshans — were selected among the first five rounds in Major League Baseball's first-year player draft. Seven players — pitchers Wes Benjamin, Sam Freeman, Mike Zagurski, Tom Gorzelanny, Colton Murray and Brett Bochy and third baseman Travis Metcalf — made it to the major leagues.
Kansas will likely have another draft pick after next season in shortstop Maui Ahuna. Price said major-league scouts have told him that Ahuna, from Hilo, Hawaii, projects as a first-round pick.
"Ritch Price poured his heart and soul into the Kansas Baseball program for two decades, and we are forever grateful for his significant contributions to our university, athletic department and baseball program," athletic director Travis Goff said in the statement. "His pride for Kansas Baseball is unmatched and he has made an indelible impact on countless young men and our program. On behalf of the entire athletic department, we wish Ritch the very best in his well-deserved retirement."
Price, who is from Sweet Home, Oregon, coached for nine seasons at Cal Poly prior to being hired at Kansas and also was the head coach at a pair of high schools and a pair of community colleges. He was inducted into the California Community College Baseball Coaches Association Hall of Fame in May 2008.
His 20 years as a head coach in the Big 12 tie Texas' Augie Garrido, who retired in 2016 and died in 2018 following a stroke, as the most in conference history.
Associate head coach Ryan Graves has agreed to serve as Kansas' interim head coach.
In his statement, Price said he wanted to thank all of his players for their time with him at Kansas.
"I've always believed that baseball is a player's game and I've always taken great pride in being a player's coach," he said. "I'm so proud of the student-athletes who have played at KU during my tenure. My guys have represented our baseball program on the field, in the classroom and in our community in a first-class manner. I love you boys, you're the best!"