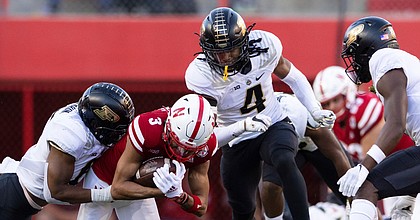 Marvin Grant, a highly regarded safety in the Class of 2019 who was a starter at Purdue last season, became the latest player to commit to transfer to Kansas when he did so on Thursday.
Grant, who is 6-foot-2 and 210 pounds, was the No. 138 prospect in his high school class, according to Rivals.com. He started all 13 games for the Boilermakers last season and finished second on the team with 52 tackles.
A graduate of Martin Luther King High in Detroit, Grant was a high school classmate of Kansas linebacker Rich Miller, who originally enrolled to play for coach Lance Leipold at Buffalo before following Leipold and several assistants to Kansas prior to last season.
He is the second safety who has decided to transfer to Kansas in the past two days. Jarrett Paul, who spent last season at Eastern Michigan after starting at Rutgers, committed to play for the Jayhawks at the end of his official visit on Wednesday.
Grant decided to transfer earlier this month and made an official visit to Kansas last week. Former Alabama safety Kaine Williams, who has since committed to Nebraska, and former Arizona State wide receiver LV Bunkley-Shelton, who committed to Oklahoma on Wednesday night, joined Grant on the visit.
As a redshirt junior in the fall, Grant will have three seasons of eligibility remaining: two plus the extra year of relief granted by the NCAA to players because of the COVID-19 pandemic.
A four-star prospect, Grant graduated from high school with scholarship offers from Michigan, Notre Dame, Cincinnati, Iowa, Iowa State and Pittsburgh, among other schools, but he had committed to play for Purdue prior to his senior season.
He played in three games in 2019 to preserve his redshirt, then played in four games in 2020 as a reserve and finished with 14 tackles and forced a pair of fumbles.
Grant should compete to start at Kansas, but he won't have the benefit of the spring to learn the playbook, which may make doing so more difficult.
Aside from Paul, Kenny Logan, who led the Big 12 with 113 tackles last season and will be a senior in the fall, is entrenched as a starter. Edwin White-Schultz, O.J. Burroughs and Jayson Gilliom, all of whom will be sophomores next season, competed to start alongside Logan during spring practice.
Williams is the fifth player to declare an intention to transfer to Kansas since May 1. In addition to Paul, Minnesota wide receiver Doug Emilien, Buffalo right tackle Deondre Doiron and Hutchinson Community College defensive end Davion Westmoreland also plan to join the Jayhawks.