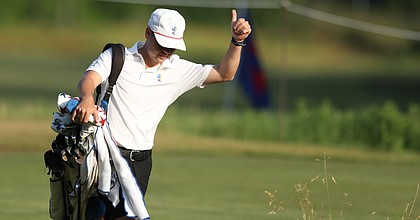 The Kansas men's golf team is headed to Scottsdale, Arizona for nationals after punching its ticket to college golf's biggest tournament on Wednesday at the Traditions Golf Club in Bryan, Texas.
The Jayhawks opened the day one stroke behind Oregon State for the fifth and final qualifying spot and shot three over par as a team on the day. That was more than good enough to advance, as the Oregon State squad that started the day at 1-under overall shot a 22-over in Round 3 to fall out of contention.
Kansas finished four strokes behind Georgia for fourth place and six strokes ahead of SMU, which finished at +9 in sixth. Arizona (-13) won the event, with Pepperdine (-8) and host school Texas A&M; (-4) also finishing in the top five to advance to the NCAA championships May 27 through June 1 in Arizona.
Sophomore Luke Kluver played his best round of the week to pace the Jayhawks on Wednesday. He shot a 2-under 70 and recorded five birdies. He was the only Jayhawk to break par in the final round.
Sophomore William Duquette shot 2-over par on Wednesday to finish at 1-under for the tournament. KU senior Harry Hillier shot even on Wednesday and also finished at 1-under for the tournament, tying with Duquette for 12th individually.
KU sophomore Davis Cooper shot a 3-over-par 75 on Wednesday and senior Ben Sigel shot a 4-over 76. The Jayhawks' scorecard was filled with birdies, pars and bogeys. Hillier's eagle on the par-5 eighth hole was the only other score on the entire card on Wednesday.
"We got off to a decent start today and just kept playing disciplined golf," KU coach Jamie Bermel told the Journal-World after Wednesday's round. "The course played harder today due to the wind, but we didn't make a double bogey the entire round. It feels awesome to qualify for the finals. I'm really happy for the guys."
Bermel also said he was happy to give all of the former KU golfers something to proud of, noting that so many of them "passionately care about their program."
The Jayhawks will travel to Arizona next Tuesday, with Bermel joining them in the desert on Wednesday. His youngest son, Charlie, is graduating from the Air Force Academy on Tuesday.
Final team scores from NCAA regional in Bryan, Texas:
1 – Arizona, -13 (276-287-288 — 851)
2 – Pepperdine, -8 (279-289-288 — 856)
3 – Texas A&M;, -4 (280-286-294 — 860)
4 – Georgia, -1 (279-285-299 — 863)
5 – Kansas, +3 (289-287-291 — 867)
6 – SMU, +14 (288-293-297 — 878)
7 – Tennessee, +16 (295-284-301 — 880)
8 – Michigan State, +20 (293-295-296 — 884)
9 – Oregon State, +21 (285-290-310 — 885)
10 – Colorado State, +24 (293-303-292 — 888)
11 – Boise State, +38 (296-301-305 — 902)
12 – SE Louisiana, +39 (306-296-301 — 903)
13 – Texas Southern, +92 (312-316-328 — 956)