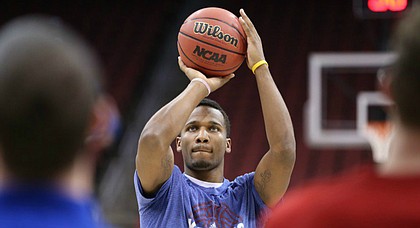 When Wayne Selden Jr. first set foot on the campus of the University of Kansas in the summer of 2013, he figured he would leave before graduating but always knew he would return.
Sunday, when hundreds of other KU graduates make their walk down Campanile hill and into Memorial Stadium as part of this year's graduation ceremony, Selden will be walking right there with them.
He is expected to join several members of this year's national championship team, along with former KU All-American Thomas Robinson in going through Sunday's commencement ceremony.

It's been six years since Selden, 27, left Lawrence after his junior season at KU to pursue a career in professional basketball. And while those six years took him to 10 different teams and a handful of different countries, his path never took him away from his goal of completing his degree.
"I'm just super excited," Selden told the Journal-World in the days leading up to his big walk. "I've been plugging away, small steps, a little bit at a time, and to finally be able to get here is like a real accomplishment. Regardless of how long I was going to be at Kansas, I knew what I set out to do and I knew I was always going to do it."
Selden said getting his degree in liberal arts and sciences would, in part, honor the love and support he always received from his mother. But there's more to it than that.
"It means a lot for a whole bunch of reasons," he said. "It's an accomplishment, yeah, but it's more of an inspiration. Guys coming from where I come from, the inner city and stuff like that, we don't all graduate. It just doesn't happen like that. So, to be able to be on both sides of that, to be able to play professional basketball and get my degree after I left school early, I hope is an inspiration to a bunch of young people who are watching."
Selden also said seeing past Jayhawks — most notably former teammate Naadir Tharpe — return to school to finish their degrees in recent years was an inspiration to him.
"Seeing guys go back and get their degrees really pushed me a little harder to get there," he said. "And then some of my best friends graduated pretty much on time, with Frank (Mason) and Jamari (Traylor) and Devonte' (Graham). So being in that crew with them now is a pretty cool."
Those keeping an eye on Selden's playing career have seen highs and lows. Injuries have kept him from carving out a consistent role in the NBA, taking him to Turkey and Israel to play in recent seasons. But he has played 127 games in the NBA over four seasons, and he's been healthy the past two seasons. He was the FIBA Europe Cup Final Four MVP in 2021 and believes that he's still got plenty of chances to get back to the NBA in the years ahead.
"The world is my oyster at this point and that's always good," he said. "I'm excited to see what will unfold with teams and calls coming in this summer and excited to see what next season will bring."
There's more to that world-at-his-fingertips mentality than just basketball, though.
Selden said getting his KU degree would open doors to other interests down the road. He listed pursuing a Master's degree, college coaching, becoming a basketball agent and other business opportunities as potential paths when his playing days are done. There's no hurry on that part, though.
"I want to play until the wheels fall off," he said. "But it just sets up my future and I'm interested in a lot of stuff. Whatever's for me will find me. I'm just thankful and blessed to be in this position.
"Yeah, I'm an alum, but now it's stamped official. I've graduated and I have a degree from the University of Kansas."