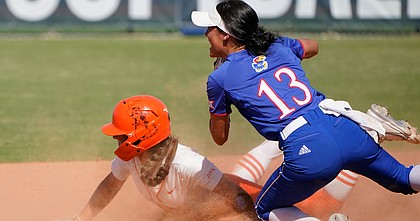 The Kansas softball team ended the 2022 season with a hard-fought, 2-0 loss to second-seeded Oklahoma State in the opening round of the Big 12 tournament on Thursday at Hall of Fame Stadium in Oklahoma City.
The loss ended the Jayhawks' season at 16-34 overall.
Entering the game as the No. 7 seed at the single-elimination tournament, the Jayhawks knew they had their work cut out for them. The Jayhawks were swept in three games at OSU earlier this season, losing by a combined total of 25-6.
That fact alone made Thursday's battle a moral victory of sorts.
KU sophomore Kasey Hamilton pitched six strong innings, giving up just six hits and two earned runs to keep the Jayhawks in the game. But her OSU counterpart, redshirt junior Kelly Maxwell, was even better, limiting the Kansas offense to just four hits all afternoon.
One of them was a double off the bat of senior second baseman Cheyenne Hornbuckle. The Jayhawks' three other hits came from junior third baseman Ashlyn Anderson, sophomore right fielder Lyric Moore and junior left fielder Shayna Espy.
Maxwell struck out nine Jayhawks and did not walk a single batter on Thursday, ensuring that none of those hits turned into any runs on the scoreboard. Hamilton walked four batters and hit another.
OSU got all the offense it needed in the bottom of the fifth inning, when a sacrifice fly and a steal of home plated the two Oklahoma State runs.
The win moved OSU into Friday's semifinals, where they will face the winner of Thursday night's quarterfinal matchup between No. 3 Texas and No. 6 Texas Tech.