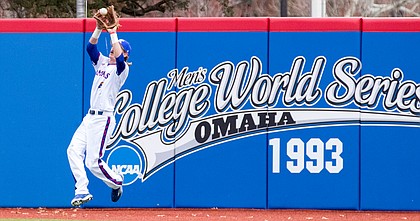 Despite having more wins at Kansas than the three coaches who came before him combined — in one less season — KU baseball coach Ritch Price deflected credit for the program's latest milestone to countless Jayhawks from the past.
One day after guiding KU to its 2,000th win in program history, Price reflected on a story he once heard during a lunch outing with former KU baseball coach Floyd Temple, who won 438 games in 28 seasons from 1954-81.

"He used to tell me about taking the hitters into the basement of Allen Fieldhouse, where there was no concrete. It was dirt," Price said during a sit-down interview with the Journal-World on Thursday. "That's where they rolled the cages out and where they would hit. I just have so much admiration for the coaches and players who came before me. To not have an indoor (facility) or a turf field in this climate, I tip my cap to them."
Wednesday's victory – 11-3 over Omaha in Nebraska — moved the Jayhawks to 19-27 on the season and set up a big weekend series with Kansas State. KU (3-12) and K-State (4-11) are currently battling for the eighth and final spot in the Big 12 tournament later this month, and the Jayhawks can't afford to fall behind any further.
Key injuries to KU's pitching staff have made things tough so far this season. But no matter what happens the rest of the way, 2022 will always be remembered as the year the Jayhawks joined the 2,000-win club.
They became the seventh current Big 12 baseball program to reach that mark. Texas leads the way with 3,507 all-time victories in 126 seasons, and Kansas State (1,927) and Texas Tech (1,847) are still trying to get to 2,000.
That's to say nothing of former conference foes Nebraska, Missouri and Texas A&M;, which also all eclipsed the 2,000 mark long ago. Even former in-state powerhouse Wichita State currently sits on 2,200 wins.

Kansas' 2,000 wins have come in 132 seasons, with the Jayhawks also recording 1,910 losses and 15 ties during that time.
"From where we stand, with the weather challenges and the history of our facilities, I think it's a hell of an accomplishment," former KU catcher Jeff Niemeier told the Journal-World on Thursday.
The KU baseball program's first victory came in 1880, when KU went 1-1 in its first season.
No head coach is listed for that season in the official records. In fact, the first 14 seasons of the program's existence are known in the KU media guide as the "Unknown Era." Those years, from 1880-1897, featured either no team or no known head coach.
In all, 32 head coaches have been responsible for KU's 2,000 wins.
One of them may be a little more popular than the others. Legendary Kansas basketball coach Phog Allen coached the KU baseball program to a 6-15 record during the 1941 and 1942 seasons.
To date, Price has been responsible for 580 of those 2,000 victories, but he takes very little credit for the feat.
"I didn't even know about it until two weeks ago," he said on Thursday. "It's an amazing accomplishment, though, and one that everybody who's ever been associated with the program should certainly be proud of."
One such player is Lawrence native Shane Wedd, a catcher and designated hitter from 1997-2000, who played for Bobby Randall.
Despite Wedd winning just 92 total games and 39% of his Big 12 Conference contests in his four years with the program, the born-and-bred Jayhawk said every player he has ever known has always felt great pride in being a Jayhawk.
"It is a tough place to win and there are all kinds of challenges, but there have been teams in every generation and every decade that have found ways to win and been successful," said Wedd, now an assistant coach at Sam Houston State. "That's a testament to all of the guys who played there. No matter how much success they had while they were there, they love KU and it's a special place to them. That's something that permeates throughout all the generations and leads to an accomplishment like this."
Price said that pride in the program has been his favorite part of all 20 teams he has led at Kansas. For the most part, year in and year out, his rosters have been full of competitive players who like to battle and cherish the complete Kansas experience, from weekend wins at Hoglund Ballpark to tutoring sessions on campus and everything in between.
Three of the five NCAA Regional appearances by a Kansas team have come under Price. But there's no debating that the 1993 squad that made it all the way to the College World Series is regarded as the program's gold standard.
That group, led by head coach Dave Bingham, proved to everyone that a college program in the Midwest not named Wichita State could compete with the big boys. And although the Jayhawks have yet to return to the College World Series since then, Wedd said what that team did gave every player who put on a Kansas uniform the belief that it can happen.
"It's been done," Wedd said. "Those guys literally went and played for a national championship."
Bingham, who led Kansas to 249 wins in eight seasons, said the collective piece of a group of grinders coming together led to that special season and a 45-18 record.
It started with him and his desire to prove himself. Before coming to Kansas in 1988, Bingham led the Emporia State program from 1974-87.
"When I first went to KU and Emporia, I had athletic directors who told me I was trying to do something that wasn't part of our heritage,'" Bingham recalled during a Thursday phone interview with the Journal-World from Arizona. "So we tried to do it in steps — get a few more players, a little more money and a little more support. It was kind of a chicken or the egg thing. Do you have the money to support it first or do you have players?"
Today, Bingham believes the program is in better shape than it's ever been and is pacing at a terrific rate. When he was hired in 1988, KU baseball had won 1,031 games in 108 years.
"So to add almost another 1,000 wins in (34) years is pretty significant," Bingham said. "It's a credit to the university that they've been able to support this program since 1880 and kind of grown with it."
That last part is what Niemeier believes is the most important aspect of where the program goes from here.
"I think the important thing is that we continue to strive to stay up in our facilities and keep the program — and all programs at KU — moving forward," he said. "Two thousand (wins) is just a number that makes people talk about it. I'm not sure it's really all that different than 1,999 or 2,001, but it does give you the opportunity to kind of reaffirm your pride in the program.
"It was a special place for all of us. And I think I speak for all of the guys I played with and all the guys who are still playing today when I say that."