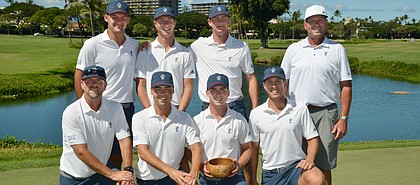 The Kansas men's golf team qualified for its sixth consecutive trip to the postseason on Wednesday, but there was no roar or wild celebration when the Jayhawks heard the news.
It's not that they weren't thrilled. Rather, the Jayhawks viewed their spot as the No. 5 seed in the 13-team Texas A&M; regional as the next step on their journey.
"Every year that's the expectation," KU coach Jamie Bermel told the Journal-World of earning a trip to NCAA regionals. "We want to play at the national final, and to get into the final you have to get in a regional. To do that, you have to be prepared every week and do what you need to do every week. We've done that, and that's pretty cool."
As the fifth seed, the Jayhawks, on paper, are in position to advance to the 30-team NCAA Championships, May 27 through June 1 in Scottsdale, Arizona, where the top five finishers at each regional will compete on college golf's biggest stage.
But before they start looking too far ahead, Bermel's bunch is planning to attack The Traditions Club course in Bryan, Texas, like their lives are on the line.
"When you get to this point in the season, they're all good," Bermel said. "Especially the top eight or nine teams in each regional. So we better have our eyes open and be locked in on what we need to do."
Ranked No. 29 nationally in the most recent Golfstat rankings, Bermel's group will head to the postseason with as much confidence as any team he's ever coached.
Part of that comes from success. The Jayhawks won four events during the fall season and added a fifth team title this spring. Beyond that, three KU golfers — sophomores Davis Cooper and Luke Kluver and senior Harry Hillier — walked away with individual titles at three of those five events, as well.
Bermel said it was the first time in his 30 years of coaching at Drake, Colorado State and Kansas that he watched three different players on his team win individual titles in the same season.
Experience is another factor that Bermel believes will work in the Jayhawks' favor. The six-man lineup that will head to Texas features three fifth-year seniors along with two players — seniors Hillier and Ben Sigel — who were on the KU team that won a regional title and advanced to the NCAA Championships in 2018. Senior transfer Callum Bruce also has played a ton of highly competitive golf during his college career.
In addition, four of the six players Kansas is taking to regionals have experience on the course they'll be competing on in Texas.
"I think this is the deepest team we've ever had," Bermel said Wednesday night. "We have a real chance for sure. Being the 5 seed is good. That means you've had a good year. But you just never know how these things are going to go."
Bermel's team plans to leave for Texas on May 13. The Jayhawks will play a practice round on May 15 and compete in regional competition May 16-18.
Sixth-ranked Pepperdine is the top seed in the region, followed by No. 12 Texas A&M;, No. 13 Georgia, No. 19 Tennessee and No. 29 Kansas. The rest of the regional field includes No. 33 Arizona, Michigan State, SMU, Boise State, Oregon State, Colorado State, Southeastern Louisiana and Texas Southern.
Bermel said he was far more concerned with his team and the Jayhawks' current form than that of any other club headed to Texas. And he noted that while the results didn't stack up quite the same in the spring as they did in the fall, the Jayhawks played plenty of good golf during the past couple of months.
"We're excited," Bermel said. "We're ready to get through finals, keep working and then we'll go tee it up and see what happens."