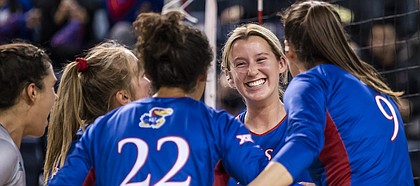 Kansas standout Caroline Bien has been named to the 20-person Women's Under-21 National Training Team for USA Volleyball, KU announced on Wednesday.
Late this month, the team will travel to Centenary College in Shreveport, Louisiana, to train from May 26 through June 4. From there, 12 players will be chosen to compete at the U21 Pan American Cup June 5-13 in Mexico.
While in Shreveport, the team also will spend time with the U.S. Women's National team has it prepares for the FIVB Volleyball Nations League event.
"I'm beyond excited for the opportunity to learn from great coaches alongside some of the best players in the country," Bien said in a release announcing her selection. "I'm looking forward to representing Kansas the best that I can."
After a strong freshman season that earned her an honorable mention All-American nod from the American Volleyball Coaches Association, as well as the AVCA Regional and Big 12 freshman of the year honors, Bien will return to KU for her sophomore season as one of the cornerstones of the program.
Last fall, she led the Jayhawks with 336 kills and finished the season with an attack percentage of .216. She recorded 10 or more kills in 19 of KU's 30 matches and helped the Jayhawks reach the Sweet 16 in the NCAA Tournament.
While some of her biggest numbers were recorded at the net, Bien showed the ability to play all over the court, as a six-rotation player, showing off her strong defensive prowess as often as she attacked on offense. KU coach Ray Bechard said that versatility and the well-rounded nature of her game should help her in Shreveport.
"We are very excited for Caroline and this opportunity with USA Volleyball," Bechard said in the release. "Her work ethic and her ability to impact a match in many different ways will serve her well through this process."
Bien is one of four players from the Big 12 Conference who was selected to the 20-person team. It will mark her second experience with USA Volleyball. In February, she competed in the U.S. Women's National Team Open Program.