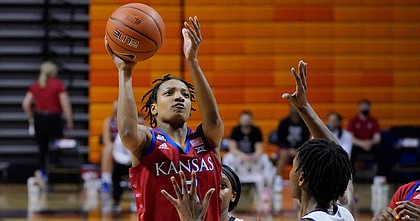 It wasn't long after former Kansas guard Aniya Thomas formally entered the transfer portal on March 29 that new Missouri State coach Beth Cunningham reached out to recruit her.
Cunningham, who earlier that month took over a team that is a perennial contender in the Missouri Valley Conference, had several scholarships available to give. Thomas, she quickly decided, needed one of them.
"She is someone that was intriguing right from the get-go and somebody that we aggressively went after," Cunningham said Monday. "We feel like she was somebody who could really come in and impact us from her experience and her leadership. There's no substitute for experience, and her having those four years at Kansas in a tremendous conference and the success they had this past year, that'll be invaluable for us as we move forward."
Cunningham's efforts paid off last week when Thomas, Kansas' longest-tenured player, decided to play her fifth season at Missouri State.
Thomas started 16 games for the Jayhawks last season and averaged 8.5 points and 2.5 rebounds per game while helping them reach the NCAA Tournament, and win a game in it, for the first time in nine years.
She decided to leave the program after the season to use her fifth year of eligibility, which was granted by the NCAA to all players who competed during the 2019-20 season because of hardships related to the pandemic, at a school where she could play significant minutes and continue learning about the game as she considers a career in coaching.
Cunningham, who played four seasons for Hall of Fame coach Muffet McGraw at Notre Dame, later served as the head coach at VCU for nine season before rejoining her alma mater as an assistant. After eight seasons on the bench with McGraw, she moved to Duke, where she was an assistant to Kara Lawson the last two seasons.
"I think more than anything, just her having an opportunity to be around different people and I think just to experience being in a different program, you learn a lot of different things," Cunningham said. "Certainly, there's probably some things that are similar but there's a lot of things that are different, and I think that kind of molds who you become as you jump into the coaching world and you take a little bit of everything from different people along the way that have impacted you."
Schneider said two weeks ago, before Thomas decided on Missouri State, that the decision to play at another school for a coach who could see the game differently and increase her potential professional opportunities would benefit her.
"I think for someone who wants to be a coach, her taking advantage of the opportunity to use a COVID year and make more connections, add another program to her list and potential networking was a really smart thing to do," Schneider said.
McGraw, who retired in April 2020 after 33 seasons at Notre Dame, has passionately spoke about the importance of finding roles and opportunities for women taking leadership roles, not just in coaching.
Cunningham, given her background, should be able to provide Thomas with such an opportunity, but she was also quick to note that Thomas hasn't given up thoughts of playing professionally once her college years end.
"Obviously, I've coached a lot of kids, whether it be at VCU or at Notre Dame or Duke, who have all those same aspirations, and I've helped a number of kids be able to achieve that dream and goal of playing at the next level," Cunningham said. "I think she just wanted to be in the best situation possible to be able to maximize that last year, and I think this is a great place for her."
Through their limited number of conversations over the past five weeks, Cunningham said what has become clear is Thomas' passion for winning, her competitive nature and her leadership instincts.
She has also always been close with her coaches, whether that be Cathy Self-Morgan at Duncanville High in Texas or with Schneider. Late last week, a few days after Thomas told her she would accept Missouri State's scholarship offer, Cunningham received a text message from her that read, "Coach, thank you so much for this opportunity."
"She's certainly going to impact us," Cunningham said. "She has an opportunity to play in front of a phenomenal fanbase in a town that really values women's basketball, and I think it will be great for her."