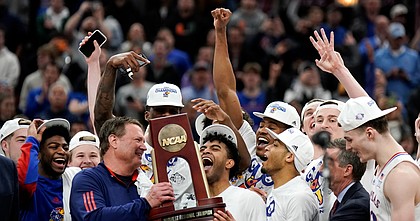 Chicago — The Kansas Jayhawks are headed back to the Final Four next week in New Orleans, and it was an unrelenting series of huge second-half plays in a 76-50 win over Miami on Sunday at the United Center that led them there.

Trailing by six at halftime after missing six free throws and all five of their 3-point attempts in the first half, the top-seeded Jayhawks (32-6) emerged from the locker room a different team, determined to make sure Miami's plans of crashing the Jayhawks' Elite Eight party lasted no longer.
"It was nothing anyone said," KU coach Bill Self said after Sunday's victory. "It was just these guys went out and did it."
Every one of them. Over and over. Until the Rock Chalk chant filled the United Center and the Jayhawks were decked out in brand-new regional championship hats and T-shirts while celebrating with friends and family members on the same court they had just dominated.
Photo Gallery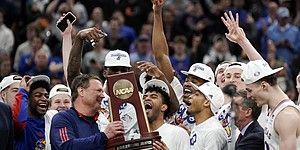 Kansas Basketball v. Miami (Elite 8)
View a photo gallery from the Jayhawks' Elite 8 matchup against Miami in Chicago.
Instead of sweat and squeaky sneakers, that court was now filled with red and blue confetti, a ladder at the basket on the north end and more hugs and high-fives between Jayhawks of all kinds, celebrating both the second-half dominance and next week's trip to the Big Easy.
Just like that, the Jayhawks' season-long goal of a national championship is suddenly just two wins away.
There's plenty of time to get into that, though. Sunday was a day for celebrating.
KU senior Remy Martin heard his name chanted with a fevered pitch throughout the United Center after he scored nine points and grabbed six rebounds in 24 minutes. Seniors Mitch Lightfoot and Ochai Agbaji discussed which would be the last to climb the ladder to cut the net and then watched as their head coach took that honor. Moments before that, Self, who lost his father in January, shared a big embrace with his mother, Margaret, after his fourth trip to the Final Four with the Jayhawks became official.
Self is now 4-5 in Elite Eight games at KU (4-7 all-time). And he continues to be fond of years that end with an 8 or a 2, having led the Jayhawks to the Final Four in 2008, 2012, 2018 and now 2022.

All of that was made possible by what could only be described as the Jayhawks' best half of the season, which followed one of their worst.
"These guys earned it," Self said after the win. "I'm so proud of them and for our program. Can't wait to get to New Orleans."
Related document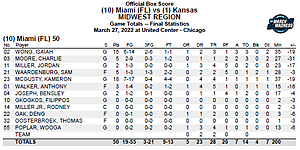 Box score: Kansas 76, Miami 50 ( .PDF )
Five minutes into the second half, on their first 3-point make of the day by Christian Braun, the Jayhawks grabbed a 43-40 lead. They never gave it back.
That 3-pointer, which followed a two-handed transition slam by Braun that tied the game at 40, was part of a 19-5 run that blew the game open.
Kansas outscored Miami 47-15 in the second half and that set the stage for the celebration of the season.
In a half that saw Kansas shoot 59% from the floor while holding the Hurricanes (26-11) to 21% shooting, there were two huge plays that served as a teaser for what was about to come.
The first came moments after Braun's 3-pointer. With Kansas leading 45-40 and in full-on attack mode on both ends, David McCormack wrestled the rebound away from Miami big man Sam Waardenburg and immediately went right back up. Hit by two guys, McCormack came down before the ball did. But when it did — falling softly through the net — he went into full mad-man mode, stomping along the baseline and all the way to the KU bench with big, bad steps befitting the massive play he just made. McCormack's free throw that followed put Kansas up 48-40 and pushed KU's second-half run to 14-5.
"I think it was a big momentum changer," said McCormack, who finished with 15 points on 6-of-7 shooting in 18 minutes. "I just know it pumped energy into the bench and everyone on the court, which made us guard better, move faster."
Four minutes later, All-American guard Ochai Agbaji delivered what turned out to be the actual dagger.
With Kansas racing up the court yet again, Midwest Regional Most Outstanding Player, Remy Martin, zipped a perfect pass to Agbaji in stride that opened an easy path to the basket. Perhaps playing too fast, and jumping too early, Agbaji shorted the layup and saw his momentum carry him to the opposite corner. A split-second after the miss, sophomore wing Jalen Wilson came flying in for the rebound, grabbing the ball off the glass and firing a pass to Agbaji in the corner all in the same motion.
Wide open and relaxed, Agbaji drilled the shot and Kansas led by a dozen.
"Plays like those, David's and-one and my 3, once we made those, it was just like no looking back," Agbaji said after the victory.
Eight minutes after his first triple of the night — in almost the exact same spot — Agbaji ripped the net again with another 3-pointer to give him a game-high 18 points on 8-of-12 shooting for the day. After the second one, the KU senior turned to the United Center stands and waved his hands as if to say, "It's over."
Truth be told, it was over the minute the second half started.
Photo Gallery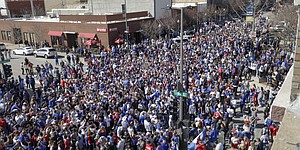 Downtown Lawrence celebrates Jayhawks run to Final Four
View a gallery of photos as fans in downtown Lawrence celebrate the Jayhawks' win to advance to the Final Four.
The Jayhawks have said all season that they believe they're at their best when they get out and run.
They proved that one more time during Sunday's second half, forcing misses and miscues by the Hurricanes and capitalizing on them immediately with relentless transition offense.
Braun's dunk that tied the game came on a pitch-ahead by Agbaji. Sixty-two seconds later, the roles were reversed and it was Braun who threw ahead to Agbaji for another easy bucket.
"The lid was going to come off eventually," said Self, who watched his team hit four consecutive half-court shots at the end of Saturday's practice and thought that might've been the moment that broke the seal. "But that was an impressive start to the second half."
And once it hit, the game was never in question.
With 2:40 remaining, Agbaji stood above the 3-point line while waiting for fellow-senior Mitch Lightfoot (9 points in 17 minute) to shoot free throws and yelled to the bench.
"Teahan," Agbaji shouted.
He then smiled and pointed at his wrist where his watch would be.
It was, in fact, Teahan Time for the 15th time this season.
And although the cult hero walk-on did not score in this one, no one cared. The fact that he played said everything that needed to be said.
The Jayhawks had won and were headed back to the Final Four, where they'll join a blue blood cast that includes Duke (32-6) and North Carolina (28-9) in one semifinal and old NCAA Tournament nemesis Villanova on KU's side.
Self's Jayhawks and Jay Wright's Wildcats (30-7) will play the early game next weekend in a rematch of the 2018 semifinal in San Antonio.
Tipoff is slated for 5:09 p.m. from the Caesars Superdome.
The Jayhawks, who are scheduled to arrive at Allen Fieldhouse at 9:15 p.m. Sunday night, will travel to New Orleans on Wednesday.