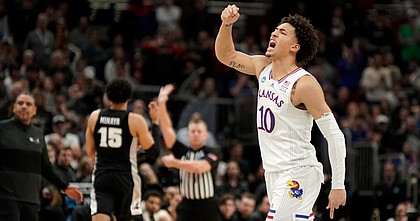 Chicago — Friday night, with its season on the line and the three other No. 1 seeds out of the NCAA Tournament already, top-seeded Kansas played a game that featured as many ugly moments as pretty and as many heart-stopping plays as easy ones.
The result was a 66-61 win over fourth-seeded Providence at United Center that sent the Jayhawks (31-6) to the Elite Eight for the eighth time under head coach Bill Self and the first time since 2018.
They'll play Miami on Sunday for a chance to punch their ticket to the Final Four in New Orleans.
"We're ecstatic that we're here," Kansas coach Bill Self said after the win.
Friday's victory, in so many ways, resembled the way in which the Jayhawks won their second-round game over a tough Creighton team.
Remy Martin went nuts. Jalen Wilson got on the glass. The KU defense played with incredible passion. And Kansas won its eighth game in a row because of a rare combination of beauty and toughness that even Gaston from Beauty and the Beast would blush at.
None of it bothered Kansas a bit.
Photo Gallery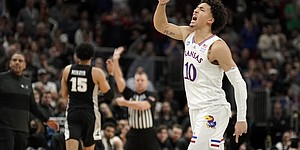 Kansas basketball v. Providence (NCAA Sweet 16)
View a gallery of photos from the Kansas Jayhawks' Sweet Sixteen matchup against the Providence Friars on Friday in Chicago.
"If we win like that every game, I'm not really tripping," said Wilson, who finished with 16 points and 11 rebounds in 38 minutes. "Games will get like that. And like Coach said, if our offense is bad, we need to make them play worse than us."
Kansas did that to perfection in the game's first 20 minutes. The Jayhawks shot just 35% from the floor in the first half but still held a nine-point halftime lead because they limited Providence to 20% shooting.
Some of Providence's offensive issues came from missing open looks. But the way Kansas pressured the ball and contested everything made those tough to come by.
The Friars (27-6) missed their first 11 3-pointers — some of them by miles — before finally hitting one with 1:50 to play in the half. And they finished the game just 4-of-23 from behind the arc.
"I think the first half was about as well as we could guard," Self said after the victory. "We played really well defensively and rebounding the ball the first half and didn't have as much to show for it, considering Providence couldn't make a shot. Of course, we couldn't really either."
Martin did over and over again, on his way to a game-high 23 points on 7-of-13 shooting.
The first few minutes of Friday's battle featured both teams playing like first-graders running in an open field with blindfolds on and no instructions on where to go.
Related document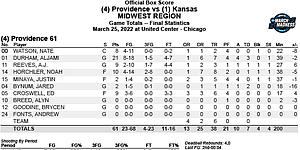 Box score: Kansas 66, Providence 61 ( .PDF )
Up and down they went, jacking up missed shot after missed shot and hustling after every pass, miss and loose ball. Most of KU's misses in that stretch came in the paint while the Friars missed from anywhere and everywhere else.
Tied at 4 at the first media timeout, Self responded by plugging Martin and Mitch Lightfoot into the lineup for Dajuan Harris Jr. and David McCormack. The Jayhawks immediately took off.
Martin scored seven straight points for the Jayhawks to give the top seed a bit of a cushion. And he just kept going from there, scoring 11 of the next 13 points for Kansas to give the Jayhawks a 17-8 lead.
"This is the second game in a row where he's come in in the first half and just completely taken over," Wilson said of Martin. "(He's) playing with so much confidence. We love it. We love him playing like that. We need him playing like that. He's been able to save us out of situations when we need a shot late in the clock. He's able to create his own shot. That's something not a lot of guys can do, especially at his speed. So, we're just loving his confidence."
After Martin calmed the waters for Kansas, Wilson then took his turn, scoring seven straight points to push the Jayhawks' lead to 24-12.
KU led by as many as 13 with 14:53 to play in the game after a no-look slip pass from Martin to Lightfoot led to a two-handed dunk.
That was the last time things looked easy for Kansas. Providence responded with a 21-8 run to tie the game at 44 with 7:17 to play and actually took a 48-47 lead on a layup by Noah Horchler (10 points and eight rebounds on 4-of-14 shooting) with 5:49 to play.
Kansas immediately responded with five straight points from Wilson and Christian Braun and Providence never led again.
Wilson played a big role in responding every time Providence made things tight or took the lead.
His drive to the rim 18 seconds after Providence tied the game put KU back up 46-44. And his three-point play after Horchler's layin put the Friars ahead was a mixture of power, passion and putting the team on his back.
"I saw how excited they were getting, they started to talk a little bit; I'm so confident in me and my team that I know that that fuels us just as much," Wilson said. "Plus, we never get rattled. Like I said, we've seen every single type of game and situation. I'm just confident whatever comes our way."
KU's run grew to 7-0 on the possession that followed Braun's drive, when Wilson jumped to deflect a pass by Providence guard Al Durham (21 points, seven rebounds in 39 minutes) and raced the other way looking for more. His wild shot on the right side missed long, but David McCormack was there to put it back to give Kansas a 54-48 lead.
Asked after the game if the wild miss was a pass or a shot, Wilson grinned and answered quickly: "Pass."
"Yeah. Right," Self said.
After the game, Self marveled about how many individual plays were made by different players to help Kansas survive and move on to Sunday.
Wilson and Martin made plenty of them. But senior All-American Ochai Agbaji (five points on 2-of-8 shooting) and Braun (six points and 10 rebounds) teamed up for another that may have been the knockout blow. With Kansas leading by five and the clock winding under four minutes to play, Braun threw a perfectly placed pinpoint lob to Agbaji, who back-cut Providence's Justin Minaya and wound up dunking over him on the play.
Kansas led 57-50 and the Friars never got closer than four the rest of the way.
"Toughest team will always win," Wilson said. "I try to be the toughest guy on the court I can be, and also the toughest team on the court. (If) we play with that mindset and a chip on our shoulder, we can get through any situation. Like tonight."
Next up, KU will face No. 10 seed Miami at 1:20 p.m. Sunday on CBS. The Hurricanes beat No. 11 seed Iowa State 70-56 on Friday.
Here's a look at our coverage from the Windy City so far:
• Survive & Advance: Top-seeded Kansas reaches Elite Eight with grind-it-out, 66-61 over Providence
• Ochai Agbaji's lob dunk gives Kansas the lift it needs to hold off Providence
• The KU Sports Ratings following Sweet 16 win over Providence
• Photo gallery: Kansas vs. Providence
• Game Day Breakdown: Kansas vs. Providence
• Sweet 16 Notebook: Jayhawks, Friars mirror each other
• Photo gallery from Thursday's open practices
• Providence eager to face college basketball blue blood
• Bill Self on leaving Illinois: 'It's worked out well for us'
• Basketball Friends breaks down what's at stake for KU in Chicago
• Experienced transfers lead Providence to Sweet 16
• Former Kansas guard Charlie Moore's long basketball journey takes him back to Chicago