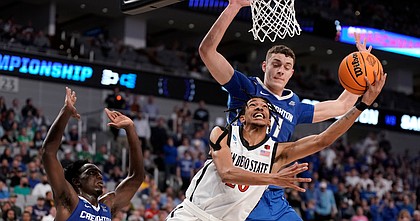 FORT WORTH, Texas — When KeyShawn Feazell decided to transfer to Creighton in May, he envisioned himself holding down a starting role, playing big minutes and making a considerable impact.
The fifth-year senior forward should finally get to do those things on Saturday — though not under the circumstances he would have wanted.
Feazell is expected to replace sophomore center Ryan Kalkbrenner, the Big East's Defensive Player of the Year, in No. 9 seed Creighton's second-round NCAA Tournament game against No. 1 seed Kansas at Dickies Arena.
Kalkbrenner, who is 7-foot-1 and is averaging 13.1 points, 7.7 rebounds and 2.6 blocks this season, injured his left knee in the Bluejays' first-round victory over San Diego State on Thursday.
Coach Greg McDermott said Kalkbrenner did not injure the ACL but could not give a more accurate diagnosis except to say the sophomore will miss two or three months. That injury opens an opportunity for Feazell, a little-used reserve who has played more than 10 minutes only four times since mid-December.
"It's kind of sad that he went down the way he did, but it's kind of what we've been doing all year, just figuring it out, next man up," said Feazell, whose only other NCAA Tournament experience prior to this season was a three-minute appearance in one game as a sophomore at Mississippi State. "We've been battling injuries and adversity all year, so we've been figuring it out to this point. I feel like we're going to continue to do the same thing and just keep going."
Feazell transferred to Creighton from McNeese State, where he started 20 of 21 games and averaged 13.1 points and 9.9 rebounds. He transferred there after playing sparingly over three seasons at Mississippi State in which he totaled 84 points in 7.1 minutes per game.
His circumstances changed, though, because of the emergence of Kalkbrenner, who went from playing an average of 13.6 minutes as a freshman to ranking second in Division I with 3.8 offensive rebounds a game and ninth with 2.7 blocks entering the NCAA Tournament.
Kalkbrenner was trying to get back on defense after a turnover when, with 2:42 remaining in overtime against the Aztecs, his left knee buckled and he collapsed to the court in obvious pain.
"Twenty-three wins is what he's done," McDermott said. "Getting us to the Big East championship (game) and anchoring the top defense in the Big East, that's what he's done, and it's been pretty cool to watch.
"Obviously, we wish we had him tomorrow, but I'm ecstatic that the news was not as bad as we thought it was going to be."
Kalkbrenner's season-ending injury is the second to a starter that Creighton has had to confront within a month. Starting point guard Ryan Nembhard, the Big East's Freshman of the Year, broke his right wrist in a win at St. John's on Feb. 23.
Nembhard's absence led to a greater opportunity for fellow freshman Trey Alexander, who embraced that against San Diego State by scoring 13 of his career-high 18 points in the second half — including the runner in the lane with 11.2 seconds remaining in the second half that completed the Bluejays' comeback from 14 points down and forced overtime.
With Kalkbrenner out, Creighton will have to change the way it approaches playing Kansas. McDermott said the Bluejays had to change their ball-screen defense late Thursday, and with Feazell being 6-foot-9, four inches shorter than his teammate, they'll play smaller against the Jayhawks.
That will also force Kansas to change the way it approaches playing Creighton.
"We will prepare that they will run the same stuff, because we have no idea what they'll run if they don't," Jayhawks coach Bill Self said. "We may prepare that they may play a different lineup and maybe slide guys up a spot to play smaller or something like that, but as far as us knowing what they'll do in the scouting, I think the biggest thing is to rely on principles as much as anything else."
Kalkbrenner's injury leaves Creighton with seven scholarship players, and that includes forward Modestas Kancleris, a 6-foot-9 redshirt freshman from Lithuania who has appeared in just 13 games. He was the only one of the seven who didn't play against San Diego State but may be pressed into service on Saturday behind Feazell.
Creighton, which received votes in the Associated Press poll six times this season, reached the Sweet 16 a year ago. If it does so again, it'll be under vastly different circumstances.
"Our guys aren't afraid of anything," McDermott said. "They haven't been all year, and they've had a crazy way of responding to adversity all season long, and I'm not sure I've ever experienced anything quite like it.
"So, I wouldn't count us out because of that. We're fired up to play, and then we're in a position with the short bench that we're just going to let it rip and see what happens."