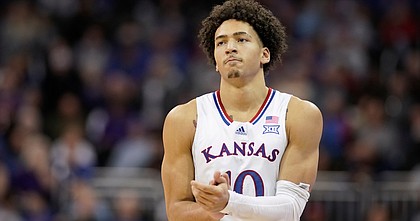 Throughout his basketball career, Kansas sophomore Jalen Wilson has prided himself on the ability to overcome adversity.
Injuries, limited playing time and other obstacles, all dating back to seventh grade, have followed him wherever he's been.
But the tough times he faced last fall, at the start of what turned out to be his first Big 12 championship season as a contributor, challenged him in ways he never had felt and pushed him to a place he never imagined going.
What began as a disaster on Oct. 31, 2021, with a DUI arrest on the Sunday morning before the season's first game, turned into a success story. And Wilson and his family will tell you that every bit of it was earned.
"I'm usually really tough on myself, but I am proud that I made it through it," Wilson told the Journal-World during a recent sit-down interview. "When we won the Big 12, I was just looking around the Fieldhouse and kept thinking, 'Man, I really overcame that.' I was just so overwhelmed with joy after that game, just seeing how happy everyone was and knowing I was a part of that."
Back to the beginning
Before we move to the success portion of Wilson's story, we first must go back to the beginning — to the night in late October when one bad decision instantly changed the outlook of his third season with the Jayhawks.
"I just think the mindset was, 'Oh, I'll make it home. I'll get home safe,'" said Wilson of his thought process before getting behind the wheel that night.

He was safe. But not unscathed.
As soon as he saw the lights and heard the sirens, Wilson's mind immediately flashed forward to KU's upcoming season opener against Michigan State in New York City. The 2021 NBA draft prospect who decided to return to school for his redshirt sophomore season knew then that he would not be playing in that game and on one of college basketball's biggest stages.
"I was looking forward to that game for so long," Wilson said. "And I was just devastated. Then it became, 'Man, when is the next game I'm even going to play again?' That was a lot to handle."
Things only got heavier from there.
Wilson's DUI arrest came four days before his 21st birthday and just two days before Las Vegas Raiders wide receiver Henry Ruggs was arrested for driving under the influence after slamming his car into another vehicle at 156 miles per hour, killing one person and ending the receiver's multi-million-dollar career.
Wilson's cousin, Terrale Johnson, saw news reports of Ruggs' incident and immediately thought of Wilson. But he decided it was too soon to send his cousin the story. It wasn't. Within an hour, Wilson sent a link to the story to Johnson with the words, 'Yo, cuz' attached to the text message.
"That was a big moment for him," Johnson told the Journal-World. "It was like, 'Look how bad it could've been.' From there, I think he really understood that he had to take the negative and make it a positive. I think all of this woke him up."
It also embarrassed him.
Earlier this year, Wilson received a diversion in his DUI case, which required him to enroll in a DUI victim impact panel through Mothers Against Drunk Driving. While the stories he heard as a part of that panel made him feel "so low," still months after his arrest, Wilson said the education he received actually helped.
"I was just really disappointed in myself that I let it happen," he said. "I just felt so embarrassed that I even got myself in that situation. Especially something so dangerous. So, I had to take a couple seconds to just breathe and accept that it happened, embrace it and learn from it."
Getting through the early part
The first sign that something was wrong came in the form of a FaceTime call that showed Wilson sitting in the dark.
That was enough to tell Johnson that he needed to do something to help his cousin.
Without hesitating, the former Kansas State football player hopped in his car and made the 90-mile drive from Manhattan to Lawrence to check on Wilson.
As Johnson drove down I-70, Wilson sent him a series of texts that read, 'Where you at?'
"That's how I knew how stressed he was," Johnson told the Journal-World.
By the time Johnson arrived at KU's McCarthy Hall that day, Wilson had no interest in coming outside. He told Johnson he was sick — as much in his mind as in his stomach — and didn't have it in him to hang.
So Johnson left and came back the very next day.
Upon his return to Lawrence, Johnson found Wilson in a slightly better head space and the two grabbed wings from Jefferson's and talked for a while.
These I've-got-your-back moments have been a huge part of Johnson and Wilson's relationship. And Johnson sensed that this one meant a little more than any of the others.
The two cousins even have a saying for it, reminding each other, "We've seen monsters before," any time things have gone off the rails.
"He straight up told me there were times when he was on the bench thinking, 'Am I going to have to transfer? What school will want me,'" Johnson said of the doubt and disappointment Wilson dealt with earlier this season. "And it was always, 'No. We've seen monsters before. I can't leave. I have to keep fighting.' He said once his mind shifted, it made everything 10 times easier."
Long before Wilson learned what his team punishment would be, the KU sophomore stood in front of his teammates and apologized.
"I just felt like I let them down," he said. "And I wanted to make it clear that they should learn from me. I want everyone to learn from me. People can say it doesn't happen, but I promise you it happens. And it doesn't have to."
Raised to handle this
Wilson stayed with his team in Lawrence throughout the days that followed his arrest. He wanted to attack the aftermath head on and was determined to handle it himself rather than leaning on his mom, Lisa, and dad, Derale, to do it for him.
"I wanted to be as visible as possible," Wilson said. "I didn't want to get in trouble and then try to hide."
Although the tone was much more serious, Lisa said the whole thing reminded her of the lesson her son learned in seventh grade, in Orlando, where he found himself riding the bench for his DI Premier AAU team and wanted to quit.
"No, no, no," she remembered telling him then. "You're going to figure out why you're on the bench and figure out how to get off of it."
While an upcoming stint on the KU bench was suddenly in his future, Wilson's focus in those first few days was on more important things than basketball.
"That morning was tough," Lisa told the Journal-World of the hours after her son's arrest. "But we didn't let Jalen mope about this. We had our moment and shed some tears, but once that was over, it was let's go into repair mode. What do we do now?"
Her first two pieces of advice were to delete the Twitter app from his phone and to stay off of the device as much as possible.
Wilson then called his pastor and talked for two hours. He followed that up by reaching out to family friends who had been like big brothers to him throughout his childhood.
From there, Wilson penned an apology for social media and showed up to KU's annual media day on Nov. 2, in uniform and ready to talk about his mistake.
The words he posted online pointed to a promise that Wilson's actions from then on would reveal his true character. His answers to questions from reporters demonstrated that he knew it would take hard work to show that.

"My main focus now is just to really take responsibility and own up to what I've done," he said then.
Despite the suspension, Wilson made the trip to New York. And it crushed him.
He knew that sitting on the bench at Madison Square Garden would be a drag and that he would be shown in street clothes on ESPN, with his arrest and suspension discussed on the broadcast. Still, it was important that he be there.
"It would've been the easy way out to just sit in the hotel room," he said. "But I had to go to the arena in front of however many thousands of fans and sit and watch my team play."
KU won that night — without him — and Wilson, though happy for his teammates, hated not being a part of the victory.
"I was just so ready to set the tone for the whole season and show how hard I worked all summer," he said. "That was going to be the day to do it. But I always believed I would get another opportunity. I knew that wasn't going to be it."
Getting back on track
Wilson's return to active status marked the beginning of a different kind of rough path.
Beginning with KU's fourth game of the regular season — a 71-59 win over North Texas in Orlando — Wilson found himself so concerned about the four games he lost to suspension that he began trying to make up for lost time.
"After I got in trouble, I started thinking, 'Now I have to do double,'" Wilson said. "Every shot, I was thinking, 'I have to make this.'"

When he missed, the pressure on the next shot intensified. It was a cycle that was completely foreign to Wilson, who was used to playing big roles and taking whatever shots he wanted.
KU coach Bill Self noticed the strain.
"Jalen's always been a team guy first," the Kansas coach said recently. "But when you get kind of derailed like that, when he came back, it was all team and fitting in. I think that created some confidence issues."
The more Wilson pushed, the more his frustration affected him. Shots missed. His role off the bench was awkward. And he struggled to get comfortable and have fun.
"He didn't think it would take that long," Lisa said. "He just kept saying, 'I don't feel like me, I don't look like me, I'm not acting like me.' That was a struggle. Jalen was at a point then where he was playing on eggshells. And I just kept telling him, 'Don't give up. Just keep fighting and doing what you do best.'"
While his parents' guidance early on helped him face his responsibilities, Wilson said his mother's consistent support helped him get his game back on track.
Lisa has sent her son a text before every game since at least seventh grade, and she was not about to stop because of his misstep.
"Now we're back to seventh grade," Lisa explained. "What are you going to do to get off that bench?"
That reminder inspired Wilson to shift his focus from worrying about his stats and minutes to simply helping the team.
"I just stopped thinking about the NBA at all," Wilson said. "Even now, I don't even think about it. I was so focused in the beginning on, 'Man, I'm playing bad so now I'm not going to go to the NBA or my stock's this or whatever.' You're in college. That's not how it's supposed to be. The NBA's always going to be there. It ain't going nowhere."
That shift coincided with the start of Big 12 play and Wilson went on to earn third-team all-Big 12 honors from the league's coaches, averaging 13.4 points and 8.0 rebounds while shooting 53% from the floor in all 18 regular season conference games.
Wilson said he first got his confidence back during a 20-point performance at Texas Tech. Even though KU lost that night, he played 32 minutes and made six of eight shots. He scored in double figures in 10 of the next 13 games and averaged 14 points and 7.8 rebounds per game during that stretch. Kansas also went 11-2 with Wilson finding his form again.
"I do think having the league, in his mind, was like having a second season," Self said of Big 12 play. "His season was just starting. That was the end of the old and now the new starts."
Fighting to the finish
With his season back on track and a lifetime's worth of lessons permanently on his mind, the Denton, Texas, native, will open NCAA Tournament play with the Jayhawks on Thursday, 40 miles from his hometown in Fort Worth, Texas.
Believing that he'd get to where he stands today helped him push through the hardest parts of the past few months.
During the KU-KSU game in Manhattan, Johnson said he could hear K-State fans tearing into his cousin on the TV broadcast. In Austin, Texas, Lisa sat two seats from a man in his 60s who screamed "D-U-I" at her son every time he touched the ball. Similar chants were heard in road venues throughout the season.
"I knew that this was going to create a lot of adversity for Jalen," Lisa said. "But we raised our kids to be put in uncomfortable situations."
Until this season, Wilson said he thought that meant fighting through injury, playing with pain and having tough conversations with coaches and teammates. He never knew how easy those things would seem in comparison to what he had to go through this season.
"I think it just made me appreciate basketball even more, realizing how quickly it can be taken away," he said. "After getting hurt (as a freshman), I said that I valued it, but after having it taken away like this, because of me willingly doing something stupid, I think now I value it even more."
Wilson plans to continue to be a positive role model for anyone paying attention and hopes that people will find strength in how he handled his rough season.
"I didn't stop fighting, I didn't stop believing, I kept going," he said. "To anybody going through adversity of any kind, I'd say just embrace it. Don't run from mistakes or hard times because I think at the end of it is definitely something special."
Added Lisa: "It's been challenging for us all, but I'm proud of how he responded to it. Not everybody would bounce back like Jalen did."