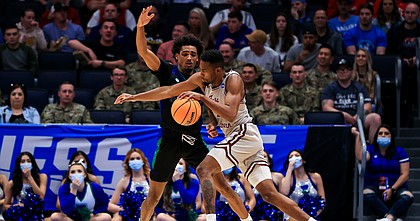 Texas Southern University topped Texas A&M; Corpus Christi, 76-67, on Tuesday night in Dayton, Ohio, at the first of four First Four games in this year's NCAA Tournament.
The Tigers now will face top-seeded Kansas (28-6) in the opening round on Thursday night at Dickies Arena in Fort Worth, Texas.
Tipoff time is set for 8:57 p.m. Central.

No Texas Southern starter scored more than 7 points in Tuesday's win, but the Tigers saw three reserves reach double figures. 6-foot-3, senior guard Bryson Etienne led the way with 21 points, while 6-9 senior forward John Walker III added 16 points and 5-10 junior PJ Henry scored 14.
Starting forward Brison Greshman, 6-9 from New Orleans, scored 6 points and tallied a game-high 14 rebounds in the Tigers' win.
Here's a primer on KU's first-round opponent. Oddsmakers listed Kansas as a 22.5-point favorite in this matchup.
TEXAS SOUTHERN TIGERS
Located: Houston
Record: 19-12, 13-5 SWAC
Qualification: SWAC champion; as No. 2 seed, beat No. 1 Alcorn State 87-62 in final
Coach: Johnny Jones (Fourth season, 75-51)
Top players: Senior forward John Walker III, 9.9 points per game; senior forward Joirdon Karl Nicholas, 9.2 ppg, 6 rebounds per game; senior forward Brison Gresham, 7.2 ppg, 6.8 rpg, 2.2 blocks per game; senior guard Bryson Etienne, 8.5 ppg.
NET ranking: 197
KenPom.com ranking: 188
NCAA Tournament appearances: NCAA Tournament appearances: 10th; last in 2021, an 88-62 loss to No. 1 seed Michigan State after a 60-52 win over Mount St. Mary's in a First Four game.
Strengths: Allows 65.5 ppg, 65th in Division I; holds opponents to 39.6% shooting (23rd); holds opponents to 29.1% from 3-point range (18th); grabs 39.5 rebounds per game (19th) and 12.1 offensive rebounds per game (34th); 5 blocks per game (20th).
Weaknesses: Adjusted offensive efficiency of 98.1, according to KenPom.com, 270th out of 350 teams in Division 1; makes 67.1% of its free throws (308th); commits 14.9 turnovers per game (323rd) and has a 0.72 assist-to-turnover ratio (342nd); 10.8 assists per game (320th).
Notable wins: At Florida, 69-54
Notable losses: None