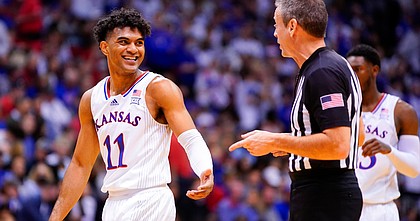 The big question throughout the several weeks that Kansas guard Remy Martin sat out with a bone bruise in his right knee was whether he had enough time to work back into the rotation without disrupting the Jayhawks' rhythm.
In three games last weekend at the Big 12 tournament — all Kansas victories — Martin answered that question with a resounding yes.
But it wasn't just his impact and production during 56 combined minutes at T-Mobile Center that mattered the most. It was how energized and optimistic his teammates were about him being back that stood out.
"His energy, his talking on the court, keeping guys composed throughout the game. I thought he did really good at that," senior guard and tournament MVP Ochai Agbaji said after Saturday's 74-65 win over Texas Tech. "Everything else besides scoring. I know everyone sees the scoring, but behind the scenes he was making sure guys were aligned and stuff. It was great to see that, and moving forward we're going to need that from him."
Related document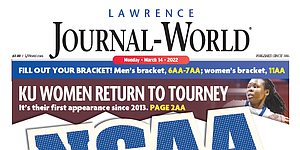 Perhaps this was what the Remy Martin Experience was going to look like all along. Forget about the preseason conference player of the year honor, the expected acclimation time or the adjustments required to play for a head coach as demanding as Bill Self.
Martin was always going to fit with the Jayhawks if he played like this.
In so many words, Self said as much following Saturday's celebration of the 2022 Big 12 tourney title.
"From my perspective, the thing that you have to do when you play a team like Tech (is) you have to have a guy make a shot when you run bad offense," Self said when asked about Martin's 12-point, 26-minute effort. "He's a guy that gives us an extra element that can kind of go get his own a little bit. That can allow you to have good possessions even though you really don't run good stuff."
By definition, a lot of that comes off script. And while that can be tough for the KU coaches — and even Martin's teammates and fans — to watch at times, it seems to provide some serious juice when it goes well.
For his part, Martin has not wavered during his time at Kansas.
Through the good times and the bad, the former Arizona State standout has kept his focus on helping Kansas win however he can and through whatever means necessary. On the court. From the bench. In the locker room. Away from basketball altogether.
It was the work he put in in those settings, prior to last weekend, that led to the overflow of joy and emotion during the on-court celebration after last Saturday's win over Texas Tech in the Big 12 title game. Whether through his youthful exuberance in congratulating Agbaji while he received his MVP trophy or while repeatedly slapping the cardboard logo that signified that Kansas officially had punched its ticket to the Big Dance, it was clear that Martin was having a blast.

He's not exactly a rent-a-player because all signs point to him being a true part of this team and his teammates both liking and rooting for him. But he has never been the one to make it about him. In fact, on more than a few occasions, Martin has referenced wanting to do this or that for the guys, for the team or to help his teammates win. He said from the beginning that his No. 1 goal when he decided to come to Kansas was to win and compete for a national championship.
He said the same after Saturday's win over Texas Tech, which, when graded on a scale, was easily his best and most important game as a Jayhawk.
"Ultimately, I just wanted to go out there and win," he said after scoring 12 points on 4-of-9 shooting, with four rebounds, four assists and zero turnovers. "Like I've said all the time, if I get 5 minutes or 25 minutes, I just try my best to help this team win. It's what I've wanted to do my whole life ever since I was a kid. Just being able to contribute in any type of way is awesome."
Related document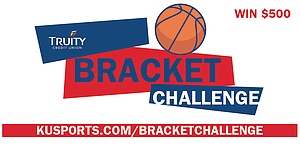 2022 Men's NCAA Tournament Bracket ( .PDF )
It seems possible that his role could be growing right before our eyes.
Self said Martin's showing at the Big 12 tournament made him feel better about riding with him in crucial moments. Martin said Self's decision to stick with him for big minutes in a big game felt good because it showed that he had earned Self's trust.
He also said his injured knee feels "great" and he showed signs of quickness and a speed burst — both in transition and in half-court sets — that had not been there since December.
Even Martin's defense has improved.
"He's been practicing, he's been trying and he really tried defensively in this tournament," KU assistant coach Kurtis Townsend said of Martin during the on-court celebration last Saturday. "So he's getting better and we need him in the (NCAA) tournament, so I think it's great."

It's all shaping up for Martin to enter the NCAA Tournament as a true X-Factor for top-seeded Kansas, which will open play at 8:57 p.m. Thursday in Fort Worth, Texas.
"Just the speed he brings when he's healthy is something that no team in the country has," KU junior Christian Braun said. "He's one of the fastest players in the country (and) he kind of brings a different element to our team offensively, and then he makes great defensive plays. If he's doing that, he brings us different elements we haven't had in the past."
Having Martin at all seems like a bonus right now for a Kansas team that won 28 games largely without him. And even though he has played in the NCAA Tournament three times before in his career, Martin seems to have a different perspective on the upcoming trip to his final NCAA Tournament.
Instead of playing in one of the First Four games, as he did in 2018 and 2019 as an 11 seed in both of his tourney appearances at Arizona State, Martin is emerging as a key piece for a true national title contender.
"I'm happy that I'm here," Martin said Saturday. "I'm happy that we're winning. I'm just happy that I get to go out there and play as hard as I can. I'm happy to be here because we get to go to the tournament and we have a chance to really go far in the tournament. I'm just happy."
———
Enter our 2022 NCAA Tournament Bracket Challenge HERE for a chance to win $500.