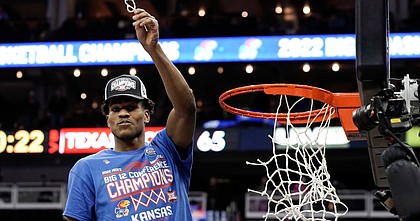 Kansas City, Mo. — For a full 40 minutes on Saturday night, the sixth-ranked Kansas men's basketball team pushed and pounded a physically imposing Texas Tech team for every inch it got during a 74-65 win in the Big 12 championship game.
And for the next 40 minutes, the Jayhawks were too happy to feel a single one of the bumps and bruises they collected during the hard-fought game that validated their regular season conference title.
"I am on a euphoric high from winning," said KU big man David McCormack, who led the Jayhawks with 18 points and 11 rebounds in Saturday's win.
Photo Gallery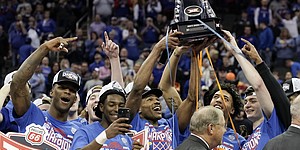 Kansas basketball v. Texas Tech (Big 12 Tournament Championship)
View a gallery of images from the championship game of the Big 12 Tournament between the Kansas Jayhawks and Texas Tech Red Raiders on Saturday at T-Mobile Center.
Confetti fell. Kansas players climbed the podium. And the Jayhawks, as a group, collected two more trophies following Saturday's win — one for the team title and one belonging to tournament MVP Ochai Agbaji.
These types of moments, of course, have been commonplace throughout Kansas basketball's rich history. But it had been four years since the program celebrated this achievement in this building, and only a couple of players on this roster were there for that one back in 2018.
Never was that more evident than during the customary net-cutting ceremony on the court at the north basket.
After trying to figure out what order the players would climb the ladder in — freshmen went first, with Zach Clemence leading off — a couple of KU veterans even had a tough time figuring out exactly what to do.
As he grabbed the scissors from freshman guard Bobby Pettiford, Agbaji asked a simple question: "What do I do?"
He soon figured it out and, at the top of the ladder, after clipping his keepsake, showed it off to both sides of the area with a big smile and a gesture of joy and approval.
"I've cut down nets in high school," said Agbaji, who scored 16 points in Saturday's win, grabbing seven rebounds in 38:19 minutes of playing time. "But this one's different."
The same was true for senior guard Remy Martin, who played arguably his best game as a Jayhawk on Saturday, finishing with 12 points, four rebounds, four assists, three steals and zero turnovers in 26 minutes.
"I don't think we would've won the game without Remy," Kansas coach Bill Self said on the court after the win. "I thought he was great."
As he left the T-Mobile Center locker room with his sunglasses on and his piece of the net tied to his hat, Martin was asked to recall the last time he participated in a net-cutting ceremony.
"Never," he said. "I've never cut nets, and I'm planning to cut a couple more."
Related document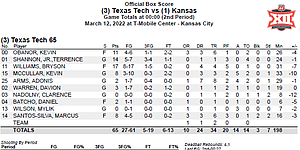 Box score: Kansas 74, Texas Tech 65 ( .PDF )
Forced into action a little more because of two quick fouls on KU point guard Dajuan Harris Jr., Martin showed that his production and improvement that splashed during the first two days of the tournament was no fluke.
Against one of the nation's toughest defenses, on one of college basketball's biggest stages, Martin enjoyed moments where he absolutely took over.
He scored the final 10 points of the first half for Kansas, which led by one (37-36) at the break. And he was a key part of pushing the pace and keeping KU (28-6) in attack mode from start to finish.
Martin, who has said throughout his time with the program that his main priority was winning, admitted after Saturday's victory that he was "happy I got to contribute a little bit more today."
"It means a lot just for the simple fact of him trusting me," Martin added of Self's decision to play him his highest number of minutes since Dec. 18.
After the first round of on-court celebrations had subsided, Self doubled down on just how big this tournament was for Martin.
"I don't know that I anticipated him playing that many minutes," Self began. "But now that he has, it will certainly give me more confidence to know that we can go that direction and ride with it."
Added Agbaji of his roommate Martin: "He was great. This was his tournament, I think. He played so good."
Operating in sync from the opening game of the season through Saturday's tough win over Texas Tech (25-9), Agbaji and Self both emphasized how much of a team effort their latest victory was.
"We had a whole team step up," Self said. "It's always sweet to win (and) these guys deserve it. I thought this tournament was the best we've played for a while. We're a different ballclub than we were a couple months ago."
The team's toughness has a lot to do with that reality, and Self, who never tosses that word around lightly, went to it repeatedly in the aftermath of Saturday's victory.
He talked about Jalen Wilson being the team's best player in the second half, scoring all 12 of his points in the final 20 minutes, with most of them coming off of what Self called "power ball."
He talked about Martin's speed and quickness creating a different dimension and offered, as his best example, the play where Martin jumped into a passing lane after a Kansas bucket and forced Texas Techc forward Kevin Obanor to hesitate and then step over the end line giving the ball back to Kansas, which led 66-60 at the time. Wilson followed with one of those tough buckets on the ensuing possession and the four quick points essentially sealed the victory.
Self also praised McCormack for his gritty performance, saying, "He put us on his back last week when we beat Texas in a brawl and today he basically did the same thing in a pretty physical game, as well."
"I've coached them pretty hard and been on their butt all year long," Self said on the court during the celebration. "But I think they're playing to a toughness level that we haven't played to all year long."
With that has come newfound confidence and an even greater sense of togetherness.
While Saturday's win — and the celebration that followed — was big for so many people in this program, those who spoke after the victory made it clear that no one in the Kansas locker room viewed their latest achievement as the top of the mountain.
Far from it, in fact.
"In the locker room, when we walked in, the first thing we said is 'six games,'" Braun said Saturday night. "So we're already set on our next goal. We've got six games left to accomplish our goal and that's what we want to do."
Added Agbaji: "I think it started on the podium even before that. We were like, 'We like this feeling, let's do it again,' that kind of stuff. So we were enjoying the moment but also knowing that we want more."
After enjoying the tournament title for a few hours Saturday night, Self said KU's focus would shift to the next step in the journey on Sunday.
Along with the rest of the college basketball world, the Jayhawks will learn their postseason path during the NCAA Tournament Selection Show at 5 p.m. Sunday on CBS.
Most projections have Kansas as one of the four No. 1 seeds, and Self and the Jayhawks believe they have earned that.
"I'm not an expert," Self said. "But there's no way we're not a 1 seed. I don't know where we'll go. I'd bet we'll be in the Midwest, but who knows."
Added Agbaji: "I believe (we are). I think we should (be). But that doesn't mean anything in the grand scheme of things. We've just got to be ready to play one game at a time. … We have more trophies to chase. These guys know it. We were saying it on the podium. We've gone 2-for-2; we're trying to go 3-for-3."