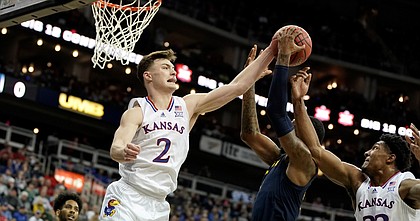 Kansas City, Mo. — As he walked off the T-Mobile Center on Thursday afternoon floor after being ejected 10 minutes into an 87-63 loss to top-seeded Kansas, West Virginia coach Bob Huggins perfectly summed up the day in four words.
"We have no chance," cameras captured Huggins saying as he retired to the back for the day.
While Huggins' claim likely was in reference to what he believed was an uneven whistle during Thursday's Big 12 quarterfinal matchup with the Jayhawks, they captured the reality of the day very well.
As it turned out, the ninth-seeded Mountaineers (16-17) indeed had no chance against a hot-starting Kansas team that raced out to leads of 13-2 and 24-4 to set the tone for the rest of the game. The five points that pushed KU to 24 came off of free throws resulting from three consecutive technical fouls called on West Virginia midway through the first half.
KU sophomore Jalen Wilson shot them all and made five of the six.
Photo Gallery
Kansas basketball v. West Virginia (Big 12 Tournament)
View a photo gallery from Thursday's Big 12 Tournament game between the Kansas Jayhawks and the West Virginia Mountaineers.
Kansas coach Bill Self, however, was disappointed that Huggins was not on the court for the remainder of the game.
"Nobody wants that," Self said. "We caught a big break there, but it's not a break that we wanted."
KU veterans Christian Braun and David McCormack have an ongoing debate about which is a better free throw shooter. McCormack recently made 22 in a row. And Braun would take himself in that debate every time. But Braun said giving Wilson the chance to shoot the technical foul shots was "only fair" because he got a crack at them during KU's win at St. John's back in December.
Self said he could not remember three consecutive technical fouls leading to six free throws in a row for one of his teams.
"I don't," he said. "And I didn't like it. The only thing that was positive about it — and there wasn't anything from a game standpoint — was Jalen Wilson's family likes me a lot more today than maybe some other days. And CB and Dave's probably would've liked me more, too, if I had picked them."
By game's end, Kansas (26-6) was whistled for 21 fouls compared to 17 for West Virginia. But very few of those mattered after the Jayhawks' torrid start.
Senior guard Ochai Agbaji scored nine of KU's first 11 points, twice finishing lobs above the rim, to put Kansas in good shape right out of the gate. Agbaji, who led the Big 12 in scoring this season at 19.8 points per game finished with 18 points on 7-of-15 shooting in 30 minutes.
He was particularly important at the start of both halves, getting Kansas out to the big lead early and squelching any hopes WVU had at a comeback early in the second half after the Mountaineers hit KU with a 7-0 run that trimmed a 41-19 halftime lead to 15 points.

"Och got us off to a great start," Self said. "I thought he played really well. He didn't shoot the ball particularly well. He was just 1-of-6 from 3-point range. But we'll live with those all day. He was really good. I thought we were pretty balanced, though."
Braun added 11 points and a career-high 14 rebounds. Wilson scored 15 points on 5-of-9 shooting and 11 of the 12 Jayhawks who played scored at least one basket. That included senior walk-on Chris Teahan, who checked in with just under 3 minutes to play in the blowout.
While Agbaji's start to the first half was key in Kansas flexing its muscles early, he said his early second-half contributions might have been more important.
"Just (trying) to make a play to get us going, get our momentum back," he said after the victory. "They came out the second half kind of hot there, so (we wanted) to kind of just shut that down, get back to what we were doing in the first half and being aggressive overall."
Agbaji added that the 24-4 surge to start the game could not have been drawn up any better.
"I think we were all just energized, ready to go and ready to prove something in that game," he said.
Perhaps the biggest thing the veteran Jayhawks proved was that they understand that the postseason is a different animal that requires a different focus and intensity.
That understanding was on full display in both the way KU opened the game and the way they saw it start to slip away early in the second half.
WVU shot 51.9% in the second half after making just 16.1% of its shots in the first half, following a 1-for-20 start from the field.
Related document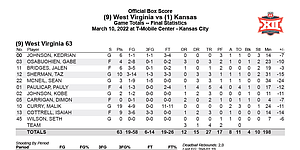 Box Score: KU 87, WVU 63 ( .PDF )
"It shouldn't be (this) way, but sometimes the natural tendency is to play to the score," Self said. "I think that we lost some intensity on (defense) in the second half."
Kansas had plenty on offense to make that a moot point. KU shot 52% for the game, 88% from the free throw line and held advantages of 48-22 in the paint and 18-4 in second-chance points.
The Jayhawks also out-rebounded the Mountaineers 48-27, helping offset their 17 turnovers.
"That's always the key against them for us," said Braun, deflecting some of the credit for his big rebounding day. "They're a really good rebounding team and everybody did a good job blocking out and a lot of them kind of dropped into my hands."
Thursday's win gives KU a three-game season-sweep of West Virginia and moved KU to 4-0 against the Mountaineers in the Big 12 tournament. The Jayhawks have won all four of those games by double digits.
Kansas also advanced to the Big 12 semifinals for the 22nd time in 25 Big 12 tournaments.
KU's reward is a rubber match with fifth-seeded TCU, which the Jayhawks will be playing for the third time in 11 days. Friday's tipoff is set for 6 p.m. on ESPN2.
The Horned Frogs (20-11) defeated No. 4 seed Texas 70-65 in Thursday's opening game, coming back from a 40-20 deficit late in the first half.
KU and TCU split their first two meetings this season, with each team winning on its home floor.
All of that left Agbaji smiling on his way out of T-Mobile Center on Thursday night.
"It feels great," Agbaji said of Thursday's return to normalcy at the Big 12 tournament. "I haven't really felt this energy inside this building since my freshman year here. So definitely not taking any of this for granted."