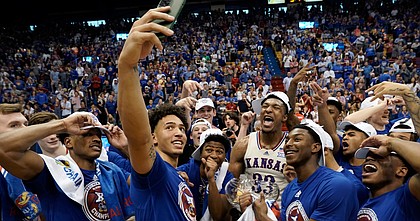 It took 45 minutes for Kansas to win and about 45 seconds to kick off the celebration.
And what a celebration it was.
After a grueling, exhausting and physical battle with No. 21 Texas, it was the 6th-ranked Jayhawks who were left standing with a new batch of Big 12 championship hats and T-Shirts for their collection.
KU's 70-63 overtime win over Texas on Saturday, in the final game of the regular season, locked up a piece of the 2022 Big 12 title, KU's 16th in the last 18 seasons. It also marked the 39th consecutive win on Senior Night for Kansas, which has not lost its home finale since 1983.
"We needed to beat Texas," KU junior Christian Braun said after the victory. "We had one goal today and that was to win a piece of the Big 12 championship and we took care of business."
That achievement set off an hour-long celebration that began with euphoria and included six senior speeches framed by one of the biggest feel-good moments of the season.
The first Jayhawk to jump into the fun, though, was sophomore wing Jalen Wilson, who spent the final several seconds of Saturday's win roaring with the fans and tapping his ring finger to show just where that new Big 12 championship ring will land one day.
Photo Gallery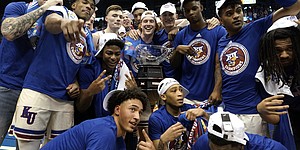 Kansas basketball v. Texas (Senior Day)
View a gallery of images from Senior Day as the Kansas Jayhawks host the Texas Longhorns.
It was a lot like that moment in the Super Bowl when Rams defensive lineman Aaron Donald made the same gesture and yelled "ring me" to anyone who would listen.
"I picked that up from him," Wilson said with a huge smile.
Less than 3 minutes after the final horn sounded on Saturday's scrum, the new trophy was already out on the same Allen Fieldhouse floor that was full of sweat and struggle all afternoon.
In all, five tables worth of Big 12 trophies were on display from 3-point line to 3-point line, and the most recent one, which featured the year 2022 on it, was handed to KU's six seniors by Kansas Athletic Director Travis Goff.
KU senior David McCormack sat for a second by himself under the north goal, attempting to catch his breath after delivering 22 points and 10 rebounds, including a perfect 10-of-10 mark at the free throw line.
Before the teams shook hands, nearly half of the KU roster flashed the Horns down symbol as the KU crowd chanted "S-E-C, S-E-C!" to remind the Longhorns of their future home.
Wilson, who carried Kansas (25-6 overall, 14-4 Big 12) in the first half and finished with 17 points and 13 rebounds stomped and stormed around the floor as the final seconds ticked down, slapping his ring finger with his opposite hand, reminding everyone watching that the Jayhawks were Big 12 champs. Saturday marked the first win over Texas for Wilson, who, because of injury, was not a part of KU's wins during the 2019-20 season.
Related document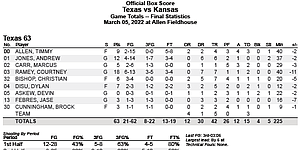 Box score: Kansas 70, Texas 63 ( .PDF )
And then there was senior guard Ochai Agbaji. Even after one of the roughest games of his career — and, by far the roughest of his season —KU's leading scorer could be seen flashing that signature smile that made him a fan favorite throughout his career.
Agbaji finished his final game inside Allen Fieldhouse with eight points and six rebounds on 1-of-11 shooting and an 0-for-5 clip from 3-point range. His only field goal of the game came with 2:38 to play in OT and tied the game at 61.
From there, the Jayhawks outscored Texas 9-2 in a fight to the finish that KU coach Bill Self compared to a terrible movie with a great ending.
Agbaji scored six of his eight points in the OT, including the final two free throws of the game that set the final margin.
McCormack scored four points in the OT, two at the free throw line to give Kansas the lead for good and two more on a crucial dunk after a shaky press break by his teammates.
"How fitting is it, on a night that we don't make shots, that we played through our big and David McCormack basically put us on his back and won us this championship," Self said after the victory. "That was a heck of a win against a really good team."
Asked about those words from his head coach, the much-maligned McCormack smiled and, moments after admitting he was "exhausted" said Self's faith in him was a big confidence boost.
"He trusts me when high stakes are on the line," McCormack said.
KU's starting big man made just six of 13 shots from the floor on Saturday and struggled with bunnies and foul trouble throughout the night. But he played 36 minutes and was out there for every second that mattered.
When it was over, he said every minute of the fight it took to come out victorious was worth it.
"I can't even put it into words," McCormack said. "It makes it that much more special to know that it wasn't a blowout win and we really fought for this one. I wouldn't have wanted to win it any other way."
It was clear early on that winning on Saturday was going to require a fight. KU's seven-point advantage at the final horn was the largest of the day for either day, and the game was played with the vibe of a four- or six-point lead feeling like double digits.
Kansas led 35-33 at halftime and nearly won it in regulation after getting two cracks in the final 15 seconds.
The first came on an inbounds play to Agbaji that had him isolated at the top of the key looking for a second screen to get free. Self called the strategy "dumb" and Kansas called timeout with 2.2 seconds remaining to draw up one last play.
That, too, went to Agbaji — this time in the post — but he got stripped on his way up and never got a shot off.
KU senior Jalen Coleman-Lands did, banking a sharp-angled shot in from in front of the Kansas bench, setting off a temporary moment of madness inside the Fieldhouse. But officials reviewed the shot and ruled that it was a tick too late.
To overtime they went, and Kansas, which has been led by its offense all season proved it could buckle down on defense when it mattered most.
"We won it on that end the second half," Self said, pointing to the defensive side of the court, where KU also held Texas to just six points in the five minute overtime period.
He added: "For us to be better defensively than offensively, at least it shows us we can do that. … There may be another game or two where the lid's on the basket. But how often do you beat a top-20 team shooting 30%? We'll take it."
One of the biggest elements of KU's defense was the job the Jayhawks did on Texas forward Timmy Allen. After roughing up Kansas for 23 points in UT's win in Austin last month, Allen was held to nine points on 2-of-15 shooting while playing 40 minutes on Saturday.
"He was way too comfortable last game," Wilson said. "Taking him out was the biggest key today."
That may have been true in terms of following the scouting report and KU's game plan. But the biggest key to all of it was simply to win. The Jayhawks gave everything they had to do that and left Allen Fieldhouse feeling like their season had just begun.
"I think we're just now beginning to know what we can do," Wilson said. "Today was great. No matter who struggled or played good, I think all it was today was winning. I think we all had the same mindset of being a champion today and (sending) the seniors out right."
Next up, KU will open play in the Big 12 tournament next Thursday as the top seed. They will face the winner of Wednesday's 8-9 game at 2 p.m. Thursday.
Self went into Saturday expecting Baylor to win to earn a tie for the regular season crown and he told the Allen Fieldhouse crowd that that set the stage for some fun next week.
"I told our guys, let's go to Kansas City and figure out who the best team in the Big 12 actually is," Self said. "If we had lost this game, we'd be going into Kansas City trying to recapture some momentum. And I don't think that'll be the case now."