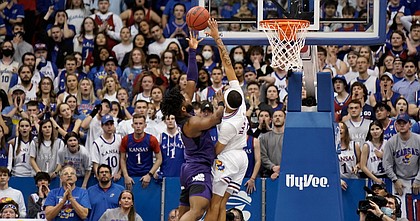 The idea for sixth-ranked Kansas entering Thursday's home rematch with TCU — two nights after losing to the Horned Frogs on the road — was to compete harder and play with better effort.
The Jayhawks did that in a big way and, yet, still needed, of all things, a Dajuan Harris Jr. block in the final few seconds to survive, 72-68 at Allen Filedhouse.
The funny part about Harris' big block, which he said he preferred to his game-winning bucket against Iowa State, was that Harris' offense was just as crucial to helping the Jayhawks fend off the Horned Frogs.
After back-to-back games with goose eggs in the scoring column, Harris scored 11 points on 5-of-9 shooting, including a clutch 3-pointer late during the stretch that gave Kansas control.
Photo Gallery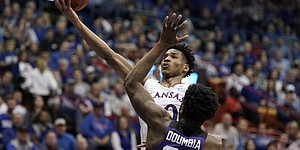 Kansas basketball v. TCU
View a gallery of images from Thursday night's game between the Kansas Jayhawks and TCU Horned Frogs.
"(Wednesday) we watched film from the last TCU game and coach called me something I didn't like, so I had to show him that I wasn't that word he called me," Harris said after Thursday's victory.
Asked to elaborate on Self's criticism, Harris said he could not say the word.
"I can't repeat it either," senior guard Ochai Agbaji said. "It was kind of just challenging Juan to step up to the plate and that's exactly what he did."
Self agreed, saying that Harris set the tone defensively from the jump, but that the Jayhawks need his offense as much as anyone's to play to their ceiling.
"We're a better team when people have to guard him," Self said of Harris.
The win moved Kansas to 13-4 in Big 12 play and into a tie with Baylor atop the conference standings.
Both teams will close out the regular season on Saturday and the outcomes of those games will determine this year's regular season champion.
If both win or both lose, they'll share it. If one wins and the other loses, the winner takes the trophy outright.
Kansas plays No. 21 Texas at 3 p.m. Baylor plays host to Iowa State at 5 p.m.

Related document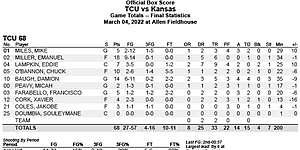 Box score: Kansas 72, TCU 68 ( .PDF )
The stakes could not be higher, and they would have been non-existent for Kansas (24-6) had it not been for a gritty win on Thursday night.
"It was a good win for us," Self said. "A really good win."
The Harris block of a hard drive by TCU guard Mike Miles Jr. sealed the victory and came with Kansas leading by three with less than 10 seconds to play.
Self said the Jayhawks discussed whether to foul and put TCU at the free throw line during the official review of a shot clock violation, but Self said all of his players said, "Nah, let's guard them." Jalen Wilson's was the first voice Self heard.
With KU prepared to play it out, Miles (5 points on 2-of-12 shooting) sprinted the length of the floor looking for the quick two. Harris sprinted with him and rose to the rim in the paint, getting the fingers of his right hand on the ball.
Self said Harris "guarded it perfectly."
In the moments that followed, the fans and players alike finally let go of the tension that was bouncing off the walls of Allen Fieldhouse throughout the night.
Asked after the game if Thursday night felt like the Big 12 title was on the line, Self said it did to him.
"I tried not to say that to the players," he added. "But they probably felt it, too."
Throughout the first half, the Jayhawks showed much better fire, passion and intensity than they displayed at any point during Tuesday's loss in Fort Worth, Texas.
And for a while it worked.
Kansas built leads of 18-6 and 27-16 with an overwhelming surge of effort and defensive desire. Naturally, that brought the home crowd into the action and KU's sixth man in the stands was just as effective against TCU as any Kansas player on the court.
Time after time, the Horned Frogs took haymakers from the Jayhawks. But they never went down.
Even after a 3-pointer from Agbaji (22 points on 8-of-19 shooting) that raised the decibel level inside Allen Fieldhouse by 20 points itself — and the Kansas lead to 12-4 — TCU coach Jamie Dixon refused to blink.
KUsports Email Newsletter
Instead of using the quick-trigger timeout that most coaches cling to as their security blanket during their trips to KU's home gym, Dixon let his players play through it. Their athleticism and effort easily allowed them to crawl back into the game.
KU's struggles defending the rim didn't hurt.
TCU was 12-for-21 (57.1%) on 2-point field goals in the first half. Most of them came on uncontested layups from point-blank range.
TCU closed the first half on an 18-9 run to send the teams to the locker room tied at 35.
"We played better than we did down there in the first half (Thursday), but down there we had a one-point lead at halftime," Self said. "We didn't even have that at home."
In fact, TCU (19-10 overall, 8-9 Big 12) played from in front for much of the second half, but a Kansas surge that was sparked by big buckets from Harris, Joe Yesufu and Christian Braun gave the Jayhawks the lead at the 9:03 mark. It wasn't until Braun's 3-pointer with 3:26 to play that the Jayhawks led by more than one possession.
That one started with what Self said was David McCormack's best play of the night. Facing a double-team in the post, McCormack quickly and decisively skipped a pass to Wilson in the corner. Wilson then moved the ball to Braun on the wing and Braun buried it to put the Jayhawks up 67-61.
A smoother reverse layup by Harris on the following possession pushed the Kansas lead to eight, which was just good enough to get by.
Now, a season's worth of battles with some of the best statistical defenses in the country comes down to a single day. Rather than feeling the weight of that, Self sounded like a coach looking forward to it.
"Baylor's got to take care of business, but I anticipate they will," he said. "And we've got to (win) to get a piece of (the Big 12 title). Saturday will have a different type of fun pressure to it. I think tonight was more of a nervous pressure."