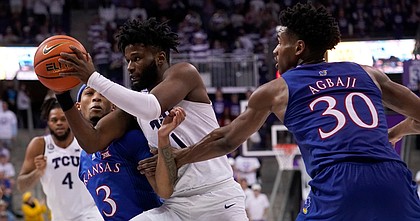 There are a dozen different reasons the sixth-ranked Kansas men's basketball team lost in ugly fashion on Tuesday night at TCU.
But the biggest area that KU coach Bill Self wants to see corrected before Thursday's rematch at Allen Fieldhouse has nothing to do with boxing out, making jump shots or better ball movement.
"I think this is more between the ears than it is other things," Self said after Tuesday's 74-64 setback that dropped the Jayhawks a half game behind Baylor in the Big 12 standings. "We've just got to compete harder."
In many ways, that approach could make the quick turnaround a little easier. After all, Kansas (23-6 overall, 12-4 Big 12) already has a good, fresh look at TCU's personnel, and it wasn't the Jayhawks' scouting report that was the issue on Tuesday night. It was their execution of the game plan.
"They're a great rebounding team," Kansas forward David McCormack said after Tuesday's loss, which featured TCU dominating the glass. "It's definitely a quick turnaround. I think we know what we need to do as far as scouting report and we know that we just need to compete."
Sophomore wing Jalen Wilson echoed McCormack's thoughts but in even simpler terms.
"We have to want it more," Wilson said after scoring 13 points and grabbing seven rebounds in the loss.
There's no doubt that Kansas will have to be better on the boards than they were in Fort Worth if they want to win the rematch. Both before and after Tuesday's game, Self marveled at the collection of athletes that TCU coach Jamie Dixon had put together, many of them coming through the transfer portal during the offseason.
Six different Horned Frogs players grabbed four or more rebounds in their recent win, with center Eddie Lampkin leading the way with nine in 21 minutes. Four of his nine came on the offensive glass, where TCU rebounded 19 of their 39 misses throughout the game.
The Horned Frogs' activity on the offensive glass kept Kansas off balance and looking up at the TCU athletes playing above the rim and led to a 13-5 advantage in second-chance points. In a game won by 10, that eight points loomed pretty large.
KU's issues on the glass made their defense look worse than it probably was. TCU shot just 42% for the game and made just 3-of-15 shots from 3-point range. Both are numbers that would typically lead to a Kansas victory.
"It all just goes down to rebounding," Wilson said. "We were getting stops. They were just getting offensive rebounds. I don't think it was a defensive breakdown. It was more just rebounding."
While KU's emphasis on the glass figures to be at an all-time high at Allen Fieldhouse in the rematch, it's pride that figures to be the most important factor.
Pride does play into rebounding in many ways, of course. But for a team that still can win a share of the Big 12 regular season title with wins over TCU on Thursday and Texas on Saturday, the Jayhawks appear to be more focused on responding to their ugly outing in Fort Worth with better effort, energy and intensity.
"Defending the fieldhouse is really what it's about," said McCormack after Tuesday's loss. "And making sure we all collectively understand what's at stake."
Added KU senior Remy Martin in his pregame radio interview with Brian Hanni: "We just need to go out there and win and everything else will take care of itself."