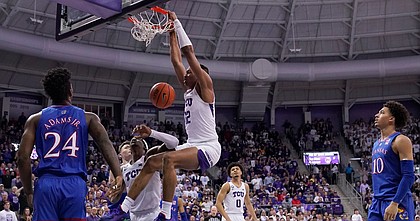 It was back-to-back losses for Kansas and back-to-back wins over ranked teams for the first time in TCU history for the Horned Frogs on Tuesday night in Fort Worth, Texas.
After falling to Baylor in a hard-fought showdown at the top of the Big 12 standings last Saturday night, the sixth-ranked Jayhawks were bullied on the glass and beaten in just about every other aspect of a 74-64 loss at Schollmaier Arena.
"They dominated us on the glass," KU coach Bill Self said after the loss. "They're so athletic and long and, of course, we played so unathletic tonight. Really a poor outing. I don't think you could say that anybody really played well. That hasn't happened to us this year at all, I don't think. But they had a lot to do with it."
The loss — KU's second 10-point defeat in the Lone Star State in the past four days — put Kansas a half a game behind Baylor in the Big 12 standings with two games remaining for Kansas and one left for Baylor.
If the third-ranked Bears (25-5 overall, 13-4 Big 12) beat Iowa State at home on Saturday, KU will need wins over both this same TCU team on Thursday night at Allen Fieldhouse and Texas at home on Saturday to earn a share of this year's Big 12 regular season title.
Related document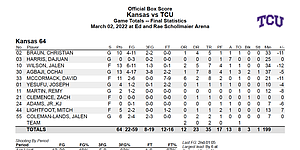 Box score: TCU 74, KU 64 ( .PDF )
"We've got to win these last two games," said KU sophomore Jalen Wilson after Tuesday's loss. "We came way too far to let somebody else take what we've earned."
Tuesday's defining moment, on a night full of them for the Horned Frogs, came with just over seven minutes to play, after Kansas freshman KJ Adams missed a 4-footer in the lane that would have cut TCU's lead to eight. Running off of the miss, TCU got the ball to sophomore forward Xavier Cork, who, in one motion, displaced Adams from the lane on the other end and followed with a vicious two-handed jam that gave the Frogs their biggest lead of the night, 61-49.
"Our guys played under the rim and they played above it and they were relentless going after (the ball)," Self said of the Horned Frogs, who stacked Tuesday's win over No. 6 Kansas on top of an upset win over No. 9 Texas Tech last weekend.
"They're an NCAA Tournament team," Self said of TCU, which improved to 19-9 overall, 8-8 in Big 12 play and picked up its fourth win over a ranked opponent this season. "They're a lock."
After Cork's highlight-reel hammer, Self immediately called timeout and the Jayhawks (23-6, 12-4) found a way to hang around. But TCU was clutch at the free throw line down the stretch (15-of-19 on the night) and that kept a late Kansas rally from pushing the road team all the way over the hump.
A 3-pointer by Jalen Coleman-Lands with 1:50 remaining pulled Kansas within six, but the Frogs immediately answered with a Cork dunk on the other end after beating KU's full-court pressure.
A 3-pointer by Christian Braun on the next possession pulled Kansas within five and two free throws by Agbaji with 47.2 seconds to play cut the TCU lead to four. But that was as close as the Jayhawks would get.
TCU shot just 42% from the floor, but got 19 of their 39 misses back (48.7%), giving them second and third opportunities at a bucket on several possessions.
To put that number in perspective, TCU entered Tuesday night as one of the top offensive rebounding teams in the country, getting 38.5% of their misses back for the season. The national average in offensive rebounding percentage is 28.2%.
"We let a team get to their strengths," Wilson lamented after Tuesday's loss. "We knew that they were a good rebounding team and we weren't able to take that away. We knew that if we did take it away, we'd win the game. I think it just shows exactly what we have to do on Thursday — rebound the ball."
It wasn't just the rebounding battle where Kansas struggled.
Led by a rough shooting night by senior guard Ochai Agbaji, who finished with 13 points on 4-of-17 shooting in 37 minutes, the Jayhawks shot just 37% from the floor for the game, including 35% (14-for-40) on 2-point attempts.
The Jayhawks also missed two crucial front ends of one-and-one trips to the free throw line in the game's final five minutes, which did significant damage to their hopes of crawling back into the game.
"You always have games like this every year," Self said. "But it seemed like to me we were just never in sync for 40 minutes tonight. We just didn't look like we competed. I don't know if we're tired or what."
Kansas actually led by one at halftime (35-34), after Agbaji drained a 3-pointer that hit nothing but net from in front of the TCU bench and then watched Coleman-Lands drill a 3-pointer from the opposite wing.
But that was the last time things went well for the Jayhawks on any kind of consistent basis. After a David McCormack bucket to open the second half gave Kansas a 40-37 lead, TCU responded with a 6-0 run to take a 43-40 lead.
The Frogs maintained the lead the rest of the way, twice building leads of seven points while keeping an out-of-sorts Kansas team on its heels throughout the second half.
"They came out very intense," McCormack said after the loss. "We kind of came out slow, (with) a little bit of a lid on the rim and, from there, it was just kind of an uphill battle."
Added KU senior Mitch Lightfoot, who was asked what Kansas needed to do in the next 48 hours to be ready to face this same Horned Frogs team at Allen Fieldhouse: "It starts with energy. We have to play with better energy, contagious energy."
Thursday's tipoff is slated for 7 p.m. on Big 12 Now/ESPN+.