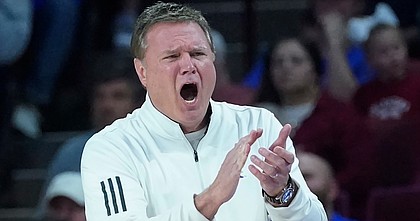 The Kansas men's basketball team will face a series of difficult opponents as it attempts to defend its national championship with games against Duke, Kentucky, Indiana and Missouri included on the schedule for next season.
The schedule, finalized Tuesday, includes the first game of a home-and-home series between the Jayhawks and Hoosiers that will be played Saturday, Dec. 17, at Allen Fieldhouse.
The two legendary programs last played in Honolulu in the 2016-17 season opener and have not played in Lawrence since Kansas won 86-83 in overtime on Dec. 22, 1993.
The Jayhawks will play Duke, which they last faced to open the 2019-20 season, in Indianapolis as part of the 12th annual Champions Classic on Tuesday, Nov. 15.
They will also face Missouri and Kentucky for the second consecutive season, though both games will be on the road. The game against the Tigers, the second of a six-game renewal of the longstanding rivalry, will take place on Saturday, Dec. 10, and the Jayhawks will face the Wildcats as part of the SEC/Big 12 Challenge on Saturday, Jan. 28.
Kansas passed Kentucky in all-time wins during the NCAA Tournament, with the Jayhawks having won 2,357 games and the Wildcats having won 2,353 games.
Those four marquee nonconference games are in addition to Kansas' participation in the eight-team Battle 4 Atlantis, which will take place in the Bahamas over Thanksgiving weekend. The Jayhawks will play three games in three days, and although the brackets have not been finalized, the other schools set to compete in the event are Butler, BYU, Dayton, NC State, USC, Tennessee and Wisconsin.
Kansas will open the season with an exhibition game against Pittsburg State at Allen Fieldhouse on Wednesday, Nov. 2, then will play its first regular-season game against Omaha on Monday, Nov. 7.
It will host North Dakota State on Thursday, Nov. 10 and Southern Utah on Friday, Nov. 18, then will face Texas Southern, its first-round opponent in the NCAA Tournament in March, at Allen Fieldhouse on Monday, Nov. 28.
The Jayhawks will play Seton Hall in the Big 12/Big East Battle at home on Thursday, Dec. 1 and will play just three games over the next three weeks. After facing Missouri and Indiana, Kansas will face Harvard at home on Thursday, Dec. 22, before Big 12 games begin on Saturday, Dec. 31.
Dates, times and locations for Kansas' Big 12 games have yet to be finalized.
"Once again, we have a nonconference schedule that should prepare us for what will be another strong Big 12 schedule," Kansas coach Bill Self said in a statement. "This is a very attractive home schedule with games against Indiana and Seton Hall. Also mixed in is Duke in the Champions Classic in Indianapolis and road games at Missouri and at Kentucky. The Battle 4 Atlantis is a stacked field that includes USC, Tennessee and Wisconsin. Those, along with the Big 12, makes this a very competitive schedule, and if we do well, it will enhance our chances for another high NCAA Tournament seed."
Kansas went 34-6 last season, including 14-4 in the Big 12, en route to Big 12 regular-season and tournament championships and the NCAA title.
2022-23 Kansas men's basketball nonconference schedule
Wednesday, Nov. 2 – Pittsburg State (exhibition)
Monday, Nov. 7 – Omaha
Thursday, Nov. 10 – North Dakota State
Tuesday, Nov. 15 – vs. Duke (Champions Classic, Indianapolis)
Friday, Nov. 18 – Southern Utah
Wednesday, Nov. 23 – vs. TBD (Battle 4 Atlantis)
Thursday, Nov. 24 – vs. TBD (Battle 4 Atlantis)
Friday, Nov. 25 – vs. TBD (Battle 4 Atlantis)
Monday, Nov. 28 – Texas Southern
Thursday, Dec. 1 – Seton Hall (Big 12/Big East Battle)
Saturday, Dec. 10 – at Missouri
Saturday, Dec. 17 – Indiana
Thursday, Dec. 22 – Harvard
Saturday, Jan. 28 – at Kentucky (SEC/Big 12 Challenge)