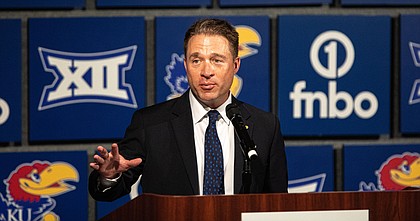 The first 10 days of Dan Fitzgerald's time as the head baseball coach at Kansas were spread between a number of tasks.
After all of the smiles and handshakes and introductions, it was time to work. And work he did. For a while, he went at it alone. That's because he was still in the process of putting together his coaching staff.
Fitzgerald recently told the Journal-World that, although he had people in mind that he wanted to reach out to if he were to get the job, none of that correspondence was done before he was hired. So, a good chunk of his first week and a half on the job was spent on finalizing his coaching staff, which he did Thursday.
The other big chunk of time during the early days was spent on familiarizing himself with his players. That meant watching film, chats on the phone and in the office, returning text messages, talking to family members and evaluating exactly what he had at his disposal.
"Literally everything else was spent on recruiting," Fitzgerald told the Journal-World.
All of it fell in place fairly smoothly. After all, a coach can't fully recruit until he has his staff in place. And that staff can't successfully recruit until it knows what it needs. So Fitzgerald said the order of things made sense and helped him stay energized and afloat while working some crazy hours.
Thursday night, with his entire coaching staff in the office together for the first time, Fitzgerald said the entire night was spent on the phone, with a different assistant coach walking into his office every few minutes with a recruit on speaker phone.
"I think I left the office at like midnight," Fitzgerald said. "And we were on the phone all night. It was just constant. I don't even know what time the other guys left."
While trying to juggle all of that and also working to relocate his family from Louisiana to Lawrence, Fitzgerald said there was an element of the immediate aftermath of his hiring that seemed a little overwhelming at times.
"The craziness is all good stuff, though," he said.
As for what he's learned about his roster so far, Fitzgerald said there were bright spots and obvious areas that needed improvement. Like any baseball coach, he said most of his attention, especially early on, will start on the mound and up the middle, with Fitzgerald and his coaching staff looking to add as much quality starting pitching as possible and for a replacement for shortstop Maui Ahuna, who entered the transfer portal and is headed to Tennessee.
Ahuna was not the only player who contemplated leaving. But Fitzgerald said his conversations with others who have either entered the transfer portal or were considering doing so had gone well.
"I don't really speed up the recruiting part of it," Fitzgerald said. "There's a certain level of patience that's required. It does feel like we're doing some catch-up, but the hardest part is trying to identify what we are and what we really need."
Fitzgerald said he has led with sometimes-brutal honesty in that regard and that his message to every player who might be on the team next spring was simple.
"I do not want a player here unless they really want to be here," he said. "So, we basically have told them, 'We'd love to have you back, but it's your decision and we're going to have a baseball season either way.' But the conversations have been really good; they've all been super-positive."
Spring sports athletes have until Friday to enter the transfer portal in order to be eligible to play at a new school in 2023. Players who already have entered the portal are allowed to withdraw their name at any time, but it will be up to their original school whether to take the player back and restore his or her scholarship.