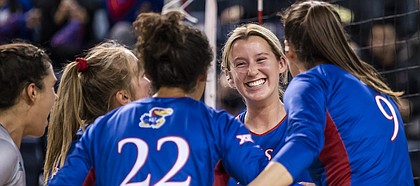 After playing big roles in helping lead the Kansas volleyball team to the Sweet 16 in 2021, returning Jayhawks Caroline Bien and Rachel Langs both landed spots on the preseason all-Big 12 team, the conference announced this week.
Kansas is one of four programs with multiple players selected to the preseason all-conference squad, and both players are on the team for the second time in their careers.
The all-Big 12 teams were voted on by the league's coaches, who could not vote for their own players and also were asked to vote for how teams will finish in 2022.
Kansas was picked fourth in the preseason coaches poll, one spot behind Iowa State in third place and also behind preseason favorite Texas, which received eight first-place votes, and Baylor, which finished second in the voting and received the other first-place vote.
Bien, a sophomore hitter from Kansas City, was one of seven unanimous selections to the team. After being named the conference's preseason freshman of the year, Bien backed it up with a stellar first season at KU.
She led the team with 336 kills while hitting .216, which earned her honorable mention All-American nod from the American Volleyball Coaches Association. She also was named the AVCA Reigonal Freshman of the Year and the Big 12 Conference Freshman of the Year.
In addition to becoming a star at Kansas, Bien competed in the U.S. Women's National Team Open Program in February and also was part of the 2022 Women's Under-21 National Training Team for USA Volleyball earlier this month.
Langs returns to Kansas for her super-senior season after leading the team in blocks last season, with 131. That ranked seventh in the Big 12 during the 2021 season. She also recorded 161 kills and hit .251 on the attack.
The next match she plays in will be her 100th career match at KU, and Langs enters her final season with the Jayhawks with 532 kills and 409 blocks for her career. She was named to the preseason all-Big 12 team in 2019 and also is a three-time Academic All-Big 12 first team selection.
After summer workouts, KU will open the 2022 season on August 26 and 27 at the Utah Classic in Salt Lake City.