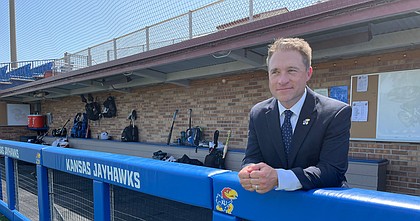 New Kansas baseball coach Dan Fitzgerald announced his first coaching staff on Thursday afternoon, and the trio of assistants he's bringing to Lawrence all carried the title of recruiting coordinator at their previous stops.
That was by design, according to a news release announcing the hires, which came one week after Fitzgerald was formally introduced by KU.
Brandon Scott will handle KU's pitchers. Tyler Hancock will be KU's hitting coach. And Jon Coyne will be the program's full-time recruiting coordinator. Fitzgerald also announced he was retaining director of operations Wally Marciel, a former KU pitcher who has been in that role for the past eight seasons.
Photo Gallery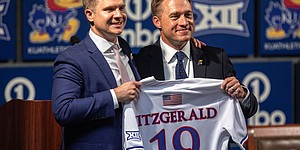 Dan Fitzgerald introduced as new KU baseball coach
Dan Fitzgerald introduced as new KU baseball coach
Fitzgerald said keeping Marciel on staff would be "invaluable," and he pointed to his relationships with current and former KU players as well as people in the community as one of the most important aspects of his role.
"I am extremely excited about this staff," Fitzgerald said in the release. "All three of these men are excellent leaders, developers and recruiters. It's critical to bring in a group that has worked in different settings and can combine their philosophies to teach our student-athletes. The knowledge and hard work this coaching staff will bring to the program will help us compete in the Big 12 on an annual basis."
During his introduction, Fitzgerald made it clear that the people and the sense of togetherness he felt at KU was what most attracted him to the job.
That theme carried into his assistant coaching hires and the group he announced on Thursday appears to have traits that go beyond their knowledge of baseball.
"We've got to get the right people in place," Fitzgerald said at his introduction last week. "There are already great people in place here, and we've got to bring more. We've got to recruit at a really elite level, and I'm super confident that we'll do that. And we need to develop at a really elite level."
Scott, a native of Henderson, Kentucky, comes to KU from Southern Illinois-Edwardsville. Fitzgerald said Scott was one of the first people he called about the position after accepting the job.
He also has experience at the junior college ranks and worked with Fitzgerald at Des Moines Area Community College for three seasons from 2007-10.
"His familiarity of the Midwest region and ability to identify top pitchers will be essential in bringing some of the best talent to Kansas," Fitzgerald said of Scott.
Hancock, a Washington, Oklahoma native, comes to KU after two seasons at California Baptist, where he worked with catchers, infielders and outfielders. Like Scott, he also worked with Fitzgerald in the past, serving as a volunteer at Dallas Baptist during the 2019-20 season. Hancock's playing career included stops at Kansas schools Cowley County Community College and Newman University.
"Tyler is a bright, rising star in college baseball coaching," Fitzgerald said. "Tyler was an outstanding college baseball player and hitter. He will be able to instill his hitting knowledge into our student-athletes to help make us one of the best offenses in the Big 12."
Coyne, who also was the infielders coach who worked directly with the hitters last season at New Mexico, also coached as a volunteer assistant at Wichita State from 2013-14 shortly after his playing days at two colleges in Texas.
Between stops at the Division I level, the Fort Worth, Texas, native also coached juco baseball at Cisco College and Howard College.
"Jon is one of the best recruiters in the country and that's one of the reasons I asked him to come to Kansas. His ability to connect with student-athletes and develop them into great baseball players and men is extraordinary. Jon's recruiting roots are in the south and we will use his expertise in that region to identify and sign top talent."