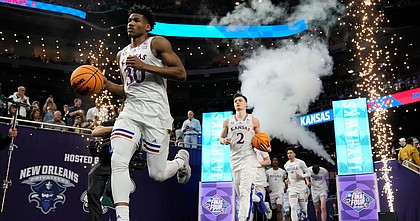 Kansas basketball junior Jalen Wilson wholeheartedly believes that he would've been drafted on Thursday night if he had decided to keep his name in the NBA draft pool.
Instead, he chose to return to Kansas for his junior season and now he plans to watch this year's draft closer than ever, with two of his KU teammates and best friends projected to be selected in the 58-pick draft in Brooklyn, New York.
Depending on where you look, former Jayhawks Ochai Agbaji and Christian Braun are both slotted in the first round of the draft. Both players and their families will be in New York for the festivities, with Agbaji earning an invitation to sit in the green room. And Kansas coach Bill Self also is expected to attend as a guest of Agbaji's.
This is nothing new for Self, of course. He has been to more than a dozen drafts and watched 19 of his Kansas players become first-round picks, with 11 of those being taken in the 14-pick lottery.
For Wilson, though, the experience is something new entirely, and he said this week that he was eager to flip on his television at 6:30 p.m. Thursday to see where his friends wind up.
"I believe they're both first-round (picks), obviously," Wilson said earlier this week after returning to campus for summer school and team workouts. "Och had one of the best careers or years I've ever seen, and CB showed that he can do pretty much everything, so I don't see how you pick 30 guys over those two."
Wilson said he always watched the draft growing up, and, to this point, the biggest highlight for him came in 2020, when longtime friend R.J. Hampton, who nearly joined him at Kansas before electing to jump straight to the professional ranks through Australia, was selected by Milwaukee with the No. 24 pick in the first round.
That night was special for Wilson and his family. But this one figures to be off the charts.
"Seeing my closest friends there, I'm so happy for them and just proud that I was able to help them get there and be a part of their story," Wilson said. "I'm super excited. It's what everyone dreams about. Winning a championship is really special but that first dream's always the NBA. To be able to have both (in one year), that's pretty cool."
Completely at peace with his decision to return to KU for another season, Wilson said he was locked in on following in the footsteps of his former KU teammates. That starts with a strong 2022-23 season and commitment to being the face of the KU program for the next year. He hopes it continues to the same spot that Agbaji and Braun find themselves sitting in today.
"I just told them I'll be there soon, just give me some time and I'll be there," Wilson said.
After weeks of workouts, interviews and showcases designed to put their skills on display, Agbaji and Braun are on the brink of learning where their basketball journeys will continue.
Most mock drafts have Agbaji projected to be selected by Cleveland with the No. 14 pick. Many of those same prognosticators have Braun landing anywhere between pick No. 24 and No. 34.
Regardless of when they're drafted or by which team, Kansas coach Bill Self said one thing already was certain about their basketball futures.
"They'll bring a winning attitude and add to your culture in a positive way," Self said. "There's no doubt about that. I don't think there's any NBA person that's talked to either one of them that would say anything different."
Former Wilson teammates and 2022 national champs Jalen Coleman-Lands, Mitch Lightfoot, Remy Martin and David McCormack also are eligible to be drafted on Thursday night, but no one in that group is expected to hear his name called in the 58-pick draft.
All six former Jayhawks will likely have a chance to catch on with a team at the upcoming NBA Summer League action in Las Vegas, Salt Lake City and San Francisco.