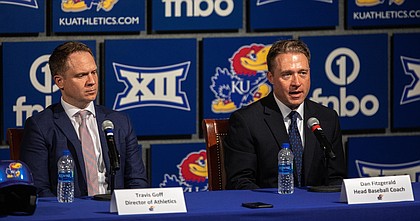 After a whirlwind few days surrounding his hiring, new Kansas baseball coach Dan Fitzgerald was back in Louisiana on Monday, trying to tie up loose ends and get ready for the move Lawrence.
In between the handshakes, hellos and travel, he spent whatever free time he had recruiting and he told the Kansas Athletics Inc., board of directors on Monday that his search for talent to join him in Kansas had gone "great" so far.
"We are sprinting," Fitzgerald said during a brief introduction to the board at Monday's quarterly Zoom meeting. "We've hit the ground running in terms of recruiting. I haven't slept a whole lot since all this started and don't plan on doing much of that soon."
Officially introduced as KU's next head baseball coach last Thursday, Fitzgerald made it clear then that his approach to rebuilding the program would be an all-hands-on-deck effort.
From his yet-to-be-hired coaching staff and support from the KU administration to planned collaboration with current Jayhawks and everyone in the department, Fitzgerald believes that the only way to build something of substance is to do it together.
With several of KU's top players from last season moving on either through graduation or by entering the transfer portal, Fitzgerald will have an early opportunity to build a roster that fits his philosophies. Options will be limited, though, and he likely will have to sign several players out of the transfer portal to fill the roster for his first season.
While that will limit the range of players he can add, Fitzgerald said at his introduction that he believed in out-teaming anybody by working together and committing to hard work to build a winner.
The few days he spent in and around Lawrence after being hired demonstrated that there are a lot of people around the program who want to help.
Whether that list includes former players or other coaches in the area who can help him identify and evaluate talent or donors and others in the athletic department, Fitzgerald said his first week on the job had been "a dream come true."
"We had an incredible trip to Lawrence," he said during Monday's meeting. "Everyone has been incredibly welcoming and kind. Conversations have been awesome, with both the current team and potential members of this year's team. It's been great. I'm super thankful for the opportunity and I continue to pinch myself (to make sure) this is really happening."