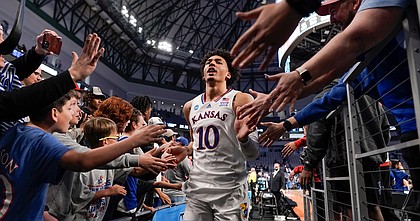 Months before his stay-or-go decision was due, Kansas forward Jalen Wilson started thinking about what it would look like to leave KU.
This was before the national championship — before the Big 12 championship even — and long before he ever worked out for NBA teams or played his way into an invitation to the NBA combine.
A lot happened between then and now, but Wilson said Tuesday that the memories of his final game inside Allen Fieldhouse during the 2021-22 season stuck with him throughout the pre-draft process.
"I remember playing against Texas (on March 5), not knowing NBA or not, and I'm like, 'Man, I don't know if this is my last game (here),'" Wilson said Tuesday in his first meeting with the local media since announcing his return. "It's crazy just feeling the love from everybody. It's once in a lifetime to play in a place like this, where everyone's here to watch and love you. I don't know why you'd ever want to rush a place like this. It's really special."
There was much more to Wilson's decision to return than enjoying the rush of playing in front of 16,300 basketball-crazed fans every night.
There was feedback from NBA scouts and executives. There were workouts, both good and bad. And there was the feeling inside of him that there was still work to be done in Lawrence.
Wilson said Tuesday that he had been leaning toward staying in the draft up to a week before the June 1 withdrawal deadline. But the lingering thoughts about what more he could do and be led to his final decision. He said the decision to return to Kansas came down to one simple thing — "what was best for me."
"My biggest thing was just patience," he said Tuesday. "If you look at all the guys that were on our team last year, a lot of them it was their third, fourth year playing."
All-American Ochai Agbaji was one of those players, and Wilson said Agbaji's path, and that of others who returned to school rather than leaving early in the past, helped him see that another year as a Jayhawk was his best move.
Agbaji went from a likely-second-round draft pick with limited upside to a lock first-rounder and likely lottery pick who spent an entire year improving his game and showcasing his skills night in and night out.
Both Wilson and Kansas coach Bill Self believe a similar path could be on the horizon for the Jayhawks' top returner from the national title team.
"I'm pretty sure Och could've got drafted last year if he would've stayed in, but that's not the point," Wilson said. "It's to be in the best position for yourself and not just rush the process. It is a process. It's a long process, a hard process. But it's supposed to be."
Wilson said Tuesday that he was proud of his performance during the pre-draft process — particularly his improved shooting — and he noted that he received good feedback from the NBA coaches and scouts who worked him out.
"I pretty much heard everything I wanted to hear," he said. "It was just what I wanted to do."
Wilson said he met with someone from every NBA team and worked out for the Spurs, Nets, Knicks and Bucks, twice, and added that making the jump to the NBA does not have to be about what other people think of you or whether they think you're ready.
"It's based on if I'm ready," Wilson said. "If I want to go there and take the next step and if I feel like what I've shown in the last two seasons is enough in my standard. … That's why the decision took so long. I was getting good feedback, but at the end of the day I knew what was best."
For Wilson, that was another year Kansas, where he hopes to add to the already-great memories he has in an even bigger role than he played in the past.
Self said last week that he thought Wilson could and should be a player who scores in the mid-teens on average. What's more, Self noted that Wilson likes those types of expectations.
"Jalen, I think, is up to the challenge to carry that that load," Self said. "I think he thrives (on) that."
Wilson has not been shy about shifting his focus to helping the 2022-23 Kansas basketball team do what the 2021-22 group did. And while winning a second straight national title certainly will not be easy, Wilson believes his leadership and experience could help this team make a run at it.
Wilson arrived in Lawrence on Sunday and participated in his first practice of the summer on Monday.
"I really want to focus this year on communicating, being a good leader," he said. "Because the next class is always going to learn from the older guys, and I just want to be the best example I can be.
"It feels great (to be back). I missed Lawrence. It was a great process. I got to learn a lot about myself and I'm just really excited for this new year we have. I just really want a complete year of good basketball."